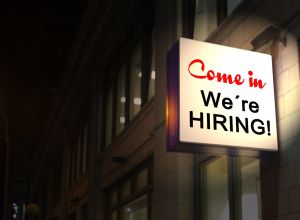 Hiring your first employee is a big and often daunting step for any start-up. Not only are you responsible for yourself and the business, you are now adding to the sense of responsibility with a new team member! Quite often, once your business is ready to take on the first employee, the second and third are not far away.
No matter what industry you're in, it's important to have quality employees that help run and grow your business. And there's no doubt that finding the right employees and knowing who to hire can be pretty tricky!
We spoke with Anne McGregor from Contractor Compliance and she agreed that making the jump to hire her first employee was a big one.
"Over the years I'd worked as a sole trader or contracted my services to other companies, but I'd never actually run a business with staff," she says.
"Initially it was just myself with no financial backing, and as I earnt more money with each week, I was able to grow it from there."
"Now we have five staff in Canberra, one in Sydney and we're looking to add some more administrative staff in Sydney in early 2016."
As often happens in small business, Anne looked to her family, specifically her three sons, when she started looking for her first employees.
"They're each their own person and all bring unique qualities to the business. It may be unusual; but we all work really well together!"
Having grown up in the construction industry, just as she did, Anne's sons have always helped her with the business at home. Now two of her sons, one of which runs the New South Wales office, are employed in the family business.
"My middle son came straight out of school and wanted to work for me, but I made him go and work for a local landscaper first to better understand why I do what I do," she says.
"My youngest came fresh out of high school – he has a learning disability and couldn't find a job anywhere so I told him that he would come work for me and help in the office. And my eldest is living in Brisbane is about to open up our Queensland office and run it for us."
So what's Anne's advice for hiring new employees? It starts with who NOT to hire.
"When it comes to hiring staff; it's best not to engage friends," she says.
"I've done it and when I found out he wasn't doing the work I had to let him go, and then I lost my friendship as a result."
When working out the type of person you want as your first employee, Anne says having a good understanding of your own skill set really helps with identifying the type of person you need.
"It's a matter of knowing what you're good at and bringing in those people who help you where you really need it," she says.
"I know what I know, but there's so much out there I don't. And I don't have the time, let alone desire to know it all – so I look for those people who can come on and help fill the gaps."
Anne is a big supporter of hiring people with disabilities. Her youngest son was finished with school and looking for work but was finding it hard to find employment so she gave him a job and he has gone from strength to strength.
"He's brilliant, because of his mild Asperger's, he's very process driven and thinks very logically," says Anne.
"He's put himself through a Certificate IV in Human Resources and is now one of our junior auditors."
A big believer in treating everyone equally, Anne's view on life is that everyone has something personal to manage.
"We're all normal but with varying differences, that's how I see it."
"So my youngest might have a learning disability but that's just who he is. My middle son is really tall and has a bad back so we've adjusted the office to suit him; it's as simple as understanding the issue and working out how you can accommodate so that they're at their best for themselves and the business."
Anne says she's been very lucky with her team; everyone supports one another and will pitch in when things get busy.
"At the end of the day, I'm accountable and responsible for it all, but we all work closely together. We have regular meetings to find out where everyone is up to; find out if anyone needs help," she says.
"That's the culture we've developed."
Anne's final tip? It's simple really – don't forget to have fun!
"Work should be enjoyable, and the people you work with should be fun – as long as the work gets done of course!"
About Lighthouse Business Innovation Centre
Since July 2008, Lighthouse has worked with over 990 distinct enterprises and provided group and peer based services to over 3400 enterprises and individuals. For over five years Lighthouse has successfully delivered business advice, education, mentorship and networking opportunities to help these businesses commercialise their ideas and grow their companies. Lighthouse also delivers programs such as the ACT Microcredit Program for the ACT Government. Visit www.lighthouseinnovation.com.au for more information.