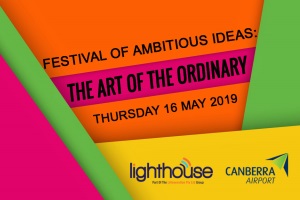 'The Art of the Ordinary' is the theme for the upcoming Festival of Ambitious Ideas on Thursday the 16th May. It's a unique event that brings together people with ideas from all corners of Canberra. The quarterly event is collaboration between local innovation consultancy, Lighthouse Business Innovation Centre, and the Canberra Airport.
Using the fast-paced Ignite format, speakers each only have 5 minutes to tell their story and 'ignite' the audience. In a little over an hour, guests are treated to a range of different ideas and perspectives. The event is designed to be fast-paced, informal and fun with opportunities to network and explore topics further after the presentations.

Lighthouse CEO Anna Pino says, "The Festival of Ambitious Ideas provides a platform for the intersection of different fields and disciplines; where academics, public servants and entrepreneurs; experienced speakers and students can all engage in conversation".


"We are firm believers in the 'Medici Effect' where innovation happens when you bring together people from different disciplines to share ideas," says Ms Pino.


According to Ms Pino, the inspiration for the event comes from the Medici family, who in 15th century Italy were instrumental in bringing together scientists, poets, artists and architects in the town of Florence. Here they swapped ideas, learned from each other, and collaborated. This brought about one of the most creative and innovative periods in history - the Renaissance.


"The Festival of Ambitious Ideas is our way of bringing together people in Canberra who are prepared to give things a go and do something bold," says Ms Pino.


The speakers for this Festival of Ambitious Ideas - The Art of the Ordinary include:

Harold Dimpel – mHITs
Harold Dimpel is an experienced entrepreneur with a focus on technology. In the last 15 years Harold has specialised in mobile payment technology and services through his multi-award winning financial services technology business mHITs Limited. He is a mobile payment industry pioneer and has a track record of bringing multiple first-to-market, innovative and disruptive services to market in Australia and internationally. Many of these services have received awards for innovation and export excellence. Harold will be presenting his talk 'Reducing Global Wealth Inequality using Mobile Technology'.

Michelle Templin and Colleen Cooper, Ladybird Play
Inspired to take the humble pallet destined for land waste to useful play pieces for children, Michelle has created two businesses along the way. The latest being an Indoor Play centre for children based on role play. The unique concept has proven to be so popular in Canberra, Michelle is now planning to increase the footprint nationally. Michelle and Colleen will be presenting their talk 'From pallets to play'.

Marg Wade, Canberra Secrets Personalised Tours
Marg Wade, owner/operator of Canberra Secrets Personalised Tours, is a passionate Canberran. Three editions of 'Canberra Secrets', guidebooks delving deep into Canberra's heart and soul, were the catalyst for creating her successful tour business providing unique, bespoke tours for residents and visitors alike. Marg will be presenting her talk, 'Canberra Secrets Personalised Tours — anything but ordinary'.

Zarko Danilov, Head of Projects at Canberra Airport
Zarko Danilov is an experienced project director, design and construction manager and architect. He is responsible for several remarkable projects including the powerful and unique design of the Vibe Hotel at Canberra Airport and the forthcoming Constitution Place precinct in Canberra. He holds a Bachelor or Applied Science in Environmental Design, a Bachelor of Architecture and an Associate Diploma of Civil Engineering from the University of Canberra. At Festival of Ambitious Ideas, Zarko will present his talk 'Ordinary People Doing Extraordinary Things'.

Thor Diesendorf, Thor's Hammer
Thor Diesendorf has been recycling timber since 1990. His business, Thor's Hammer makes furniture, joinery and architectural products using recycled timbers, and has just moved after 25 years at the old Brickworks in Yarralumla. Thor is also into backcountry skiing, dance and sustainability. At Festival of Ambitious Ideas, Thor will present his talk 'The Art of Ordinary Timber'.

Michele Black and Ben Preston-Black – Creations Jewellers
Michele Black, founder and director of Creations Jewellers since 1991, is a qualified gemmologist and licensed Jewellery valuer. Michele combines her love of nature, art and the creation of fine jewellery in their family business. Ben Preston-Black is an award-winning designer and jeweller. Most recent awards include 2018 Australian Diamond Guild Solitaire and Coloured Diamonds categories. Passionate about life and all things jewellery, Michele and Ben will be presenting their talk, 'The creation of special moments'.

Dr Reena Ghildyal, University of Canberra
Reena Ghildyal is Professor of Microbiology at the Faculty of Science and Technology, University of Canberra. A developing interest of her research group is drug repurposing for antiviral development, arising out of her prior research investigating the host-virus interface. Reena will be presenting her talk 'Drug purposing – new uses for old medicines.'

Anna Reimondos - Canberra Lost Pet Database
Canberra Lost Pet Database (CLPD) is a volunteer run lost and found service for pets, started in 2013. It came about from a desire to bring order and structure to the ad-hoc and confusing way pets were being reported as lost or found across various official and non-official platforms. Anna will be presenting her talk 'Who let the dogs out? Using Facebook to reunite missing pets'.

Michelle Swadling and Miguel Gallagher - TheCanberra5
Michelle Swadling and Miguel Gallagher are media professionals creating high-quality Top 5 videos. They have produced Canberra's Best Burgers, Cocktails of Canberra and kid-friendly dining options, amongst others. TheCanberra5 is passionate about everything Canberra and love sharing their local experiences. Michelle and Miguel will be presenting their talk, 'Capturing Canberra'.

Claire Corby, Capital Buyers Agency
Founder of the real estate business Capital Buyers Agency, Claire Corby specialises in making it easy to buy property, and to buy well. Her financial background in tax advisory and her love for real estate combined to form a unique offering for Canberrans, providing representation exclusively for buyers to level the playing field when buying their home or investment property. Working as a buyer's agent, Claire provides clear-cut and honest advice to guide her clients through the process and buy with confidence. Her work is guided by the principal of finding the right property at the right price for each of her clients. Claire will be presenting on the topic of 'Buying property without the stress'.

Greg Bender and Norman Marshall - Australian Soil Management
Greg Bender, Director ASM Pty Ltd, is one of Australia's most experienced and knowledgeable scientists in the field of carbon farming. He is passionate about smarter land management, meaning the integration of sophisticated natural systems with modern farming practices to build better soils, landscapes and businesses. Norman Marshall, Director ASM Pty Ltd, is a results-focused director with a reputation for building new businesses to support worthwhile causes at a national level. His property in Australia's high country is a sanctuary for rescue horses and is also a bio-diversity reserve. Greg and Norman will be presenting their talk, 'CLIMATE CHANGE How can you make a difference'.

Cara Matthews and Ben Drysdale - Rebus Theatre
Ben and Cara make up two thirds of Rebus Theatre's management team. Rebus is a mixed ability company using theatre for social change. Rebus runs classes and workshops, delivers workplace training, and produces creative projects that raise awareness about a range of social issues. Cara and Ben will be presenting their talk 'Death by PowerPoint'.