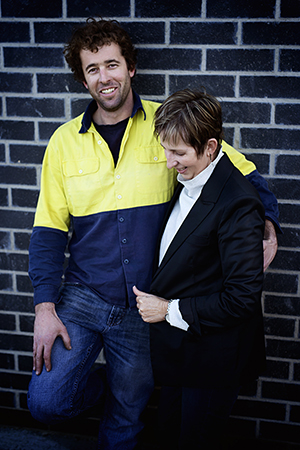 Aussie Man Hands creates products for tradies, nurses, gardeners, hospitality workers, in fact anyone that suffers a lot of daily wear and tear on their hands. The fast-absorbing, non-greasy creams provide protection for what is essentially a tradie's most important tool – their hands.
Not only are dry, cracked hands uncomfortable, they are a petri dish for bacteria which can lead to infection. Infection means time off work and can also lead to conditions such as Cellulitis. Severe cases of Cellulitis can lead to amputation of the limb. Aussie Man Hands is designed without heavy perfumes, the hand repair cream hydrates and is absorbed quickly into the skin without leaving a sticky residue.
Australian made and owned, Aussie Man Hands is available from stockists around the country and even ships to places as far away as the Rankin Inlet, an Inuit hamlet in remote Canada.
Sometimes the business finds you….
Aussie Man Hands was founded by Maree Gregory when her tradie son, Jake, came close to having his arm amputated due to a nasty skin infection (Cellulitis) that rapidly travelled up his arm. Ten days of antibiotics didn't work and as a last resort, an IV antibiotic drip in hospital over five days was administered. Luckily, this worked and he was discharged, with a stern warning from his specialist to take care of his hands - no nicks, no cuts, no really dry or rough hands. Being a typical tradie, Jake agreed, then jumped in his truck and was off to his next plumbing job. Work came first and he put the advice to one side. At the time, his partner Belinda wasn't working, they had two little girls and a mortgage. Belinda and Maree tried every product available to help protect his hands, but none appealed to Jake. They were too greasy, too fussy and too high end. Jake complained that they made him smell like Nana. Eventually Maree decided to take matters into her own hands and worked with a compounding pharmacist for six months. After a number of attempts they hit upon the magic formula using natural ingredients that Jake would use. It was hydrating, non-greasy and no-fuss. While the cream was originally only intended for Jake, soon his workmates on-site were asking him to 'get your mum to send us some more hand repair cream'. Jake was like 'mum can you get yourself a website or something!' So Aussie Man Hands became a business. Maree was 58 years old at the time and never intended to start a business, but it found her. Maree knows tradies. Her husband is a semi-retired plasterer, her son Jake is a plumber, her brother is a builder and most of her nephews are in construction. Now in its 3rd year, Aussie Man Hands has sold over 16,000 tubs of hand cream.
Putting the infrastructure in place to handle large orders
Maree says that creating a resilient supply chain goes a long way to building confidence that you can meet large orders. Aussie Man Hands originally only had a Sydney manufacturer and Maree says that while the Sydney manufacturer is really good, they have a four-to-five-month lead time. They are now also set up with a Melbourne distributor and manufacturer that has much shorter lead times. This means, that if required, any big orders can be fulfilled through Melbourne within tighter timeframes.
The COVID-19 pandemic did slow growth slightly last year, however, there has been an organic increase in international sales in 2021. Maree says sales are starting to pick up into America, driven largely by social media and word of mouth. Feedback from some chippies in France, has also seen follow-on sales. Maree believes that England and New Zealand are also a potential growth market and there has been interest from a distributor based in New Zealand.
Speak your customer's language
National and international sales of Aussie Man Hands products are driven through the company's social media channels. The tradies engage mainly through Instagram and tradie wives, who are often the purchaser of the product, through Facebook. Maree says Facebook groups have been a very effective channel. One night someone put up a picture of their hubbies' thumb that was very cracked and split and someone suggested Aussie Man Hands. Maree said her phone just kept going ding ding ding all night as the sales came in.
Maree believes that the success of their social media strategy is that they talk the language of their customers. Not only does Maree have a good understanding of tradies, but she employs staff who speak the same language. For example, the person managing the social media for the company worked with tradies in the Kimberleys and Maree actively participates in Facebook Groups that are specifically geared at tradie wives.
An understanding of the market is reflected in the language and humour used in product descriptions and advertising copy. For example, "Say goodbye to dry, cracked, 40 grit sandpaper hands" and "The Apprentice exfoliating soap is what you need to scrub off all the man glitter you've collected during the day". This authentic approach is reflected in the growing number of followers on social media, growing steadily from 540 to 4222 in 3 years.
The importance of reputation in smashing the glass ceiling
Maree says that in the current Covid-climate, you have got to have a good reputation. And if there is one thing that her earlier career working for a major airline taught her, it is that you are the face of the business. That means if an order is delayed or there is some other problem, it is important that your customer service is excellent.
Maree strongly believes that your reputation follows you and this is particularly important for Aussie Man Hands as they begin to target the bigger stockists. Maree says that she has been in to stores and the person behind the counter loves the product. However, everything goes through head office and it feels like you are hitting a glass ceiling because you can't get anybody in the head office to take notice.
This is where a great reputation and a growing social media presence helps to open doors. Maree tells the story of visiting a well-known store in Canberra when she first started. The retail assistant at the counter was so excited, saying the product was long overdue. However, when the assistant went to show it to the manager, he wasn't interested. Recently, this company got back in touch wanting to stock the product.
Giving back: Supporting men's' health initiatives
Each month Aussie Man Hands makes a donation to a men's health initiative, asking followers and customers to suggest an organisation or charity close to their heart. In 2021 donations have been made to the Centre for Rural and Remote Mental Health; St Mary's House of Welcome; Mr Perfect - a grass roots charity that brings men together at BBQ's in local parks across Australia; BackTrack - Keeping kids alive and out of jail; Mates – an industry-backed, research-based, suicide prevention and support for the mining industry; and the Wayside Chapel.
Building the skills to grow the business
Maree says that when it comes to exporting, she is learning as she goes. Having structures for growth in place early on is very important. Maree has also found that working with a mentor and joining a peer support group has been one of the most effective ways of building skills and knowledge as well as for sourcing recommendations for suppliers and expertise. The diversity of ages and industries in the peer group has helped Maree to grow her confidence, ask questions and to explore different strategies and marketing tactics.
Maree currently uses a distributed model when it comes to accessing certain skills, specifically around marketing and copywriting. Marketing is becoming an increasingly specialised field and it is hard to find one person with all the skills you need. Maree therefore employs a social media manager with a good understanding of the target audience as well as a copywriter to craft marketing materials for their corporate clients.
Where to from here?
One of the problems that potential stockists raise is where do they display the product. It is a completely new category of product in a hardware store. There is no aisle for skincare and as such it does not fit into any of the traditional merchandising. Maree says that the product belongs near the counter, so that tradies can see it when they are standing at the checkout. The next opportunity for Aussie Man Hands will be to work with customers and stockists to develop an effective retail merchandising strategy.
The product range for Aussie Man Hands has been steadily growing with lip protection and soaps added to the product list. Maree also plans to focus marketing efforts on other target markets that have expressed support for the cream, such as florists, bartenders, nurses, and farmers. The focus of international efforts is likely to be New Zealand the UK in the first instance.
For more information about Aussie Man Hands visit https://aussiemanhands.com/.
An initiative of the ACT Chief Minister's Export Awards
The ACT Chief Minister's Export Awards aims to showcase and celebrate the achievements of Canberra region exporting businesses. These Canberra and region businesses transact significant parts of their business activities (legal, accounting, production, research etc.) through the ACT as they develop international markets. The ACT Chief Minister's Export Awards aims to build the pathway for new and emerging Canberra region businesses seeking to internationalise their business. If you are a new or existing exporting businesses in the Canberra region, you can access a range of support as well as network with other exporting businesses, including...
The ACT TradeStart Program helps ACT exporters to achieve long term success in international markets. The TradeStart program allows the ACT Government to work closely with Austrade and access key Austrade resources such as their export database, trade mission activities, their off-shore offices, intelligence and international connections for the trade and investment activities to support ACT exporters.
The International Business Engagement Program is being delivered by Canberra Business Chamber on behalf of the ACT Government. Its main objective is to maintain, rebuild and find new opportunities for Canberra and region businesses to engage internationally. The program focuses on building the Territory's exporting community; providing training and support by facilitating seminars and workshops; creating links between local industry and other government support programs; assisting the ACT Government in co-ordination of business trade delegations (outbound and inbound).