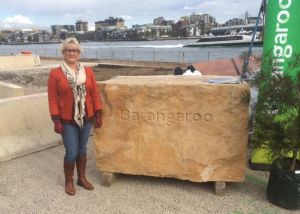 The construction industry, as Australia's third largest industry, is a significant driver of the Australian economy. As of July 2015, it comprises of 330,000 businesses nationwide and employs almost 9% of the Australian workforce [1].
For local business owner Anne McGregor the construction industry is second nature.
"My father and grandfather were both builders so I've grown up in the building industry. I've always worked in the industry in some capacity, whether as a project manager or bookkeeper."
Five years ago, as a newly single mum Anne was in need of a job and found herself inspired by a new business idea – offering contractors assurance services to ensure that their subcontractors are legally compliant.
"Starting the business was a bit of a fluke really! I was looking for a new way to make some money and had a business model ready, so I went to Master Builders in Canberra and presented it to them," says Anne.
"They loved the idea, offered me a workspace in their Fyshwick office, and promoted my service to all of their members."
The business has gone from strength to strength – starting out with no financial backing, Anne has managed to grow Contractor Compliance on a national scale.
"It started with just me, and now we have five staff in Canberra, one in Sydney and after Christmas we're looking to take on more administrative staff in Sydney to help with the work load, and will even add an office in Brisbane."
Contractor Compliance uses a checklist to establish and maintain compliance on worksites across all industry sectors, including required insurances, registrations and certifications. Anne says what has been key to their success is the relationship with their clients. Her team takes the time to explain to subcontractors what it is they're missing, what they do and don't need, why they need it, and offers to help get them get registered or insured so all the boxes are ticked.
"Rather than saying 'No, sorry you're not compliant and therefore you can't go onsite', we walk them through the process so that they can be brought up to speed," she says.
"This way, in the end both our clients and their contractors are happy, and we get paid. Everyone wins!"
As with many small businesses, Anne has developed her business model over time. Approached by a large construction company to do a compliance audit of all their worksites, Contractor Compliance has started working on some of the biggest development projects in Australia.
"We've helped out some major projects – in the Northern Territory, Queensland, Western Australia, ACT and New South Wales," says Anne.
"So in just five years we've been all over the place. We've done projects worth $10,000, all the way up to a current $6 Billion project where we manage every contractor on site and continue to assess them annually, six monthly or quarterly depending on the project requirements."
As successful as the business is now, Anne does admit that starting out was not easy and definitely had its ups and downs – even with her bookkeeping experience Anne found invoicing to be a real challenge.
"I knew what to include with my bookkeeping background but valuing my time and efforts was new to me," says Anne.
"It comes back to my own self-worth and properly valuing my time. I always thought 'No I can't charge them that much', and then they would say 'Is that all?' What I had to overcome initially was my own self-doubt that I wasn't worthy of charging so much."
It's no secret that the construction industry has long been male-dominated, and in the instance of her business, Anne has faced a number of unique challenges as a woman in a field largely led by men.
"Being a woman in a male dominated industry has been interesting," she says.
"It's hard, there are a lot of guys out there that make it hard, but it is getting better. Especially in the last few years, I've been able to build up a bit of a reputation. I get shown a level of respect; if I go onsite the guys will change their language and most offer me somewhere to sit."
"I have worked in the industry for over 30 years and have accumulated a vast range of industry knowledge throughout this time. So when I speak about compliance and what you can and can't do, and who can and can't be onsite for whatever reason, people listen. I'm lucky in that respect because I'm confident in what I know."
And when it comes to the fear of failure, Anne says you're not alone especially when it comes to self-doubt.
"Starting a business is one thing, but then you've got your own personal demons that you also bring with you. You really need to address those as well while running and growing a business," she says.
"Some days I would wake up in a cold sweat and think 'I just can't do it today', but a new client would call asking for help and so I would take it as a sign to keep going. Day by day, month by month, more clients would call and I just kept going."
Perhaps the best tip Anne can give anyone starting, or even just thinking about starting a business, is get advice from the right people.
"Surrounding myself with people that knew more than I did about running a business really helped."
And on a final note,
"Just take the risk and jump, and see what happens!"
[1] http://www.aigroup.com.au/portal/binary/com.epicentric.contentmanagement.servlet.ContentDeliveryServlet/LIVE_CONTENT/Economic%2520Indicators/
Construction%2520Survey/2015/Construction%2520industry%2520profile%2520and%2520Outlook.pdf
About Lighthouse Business Innovation Centre
Lighthouse has a strong track record of supporting entrepreneurs, researchers and inventers on the path from concept to commercialisation. Since July 2008, Lighthouse has worked with over 990 distinct enterprises and provided group and peer based services to over 3400 enterprises and individuals. For over five years Lighthouse has successfully delivered business advice, education, mentorship and networking opportunities to help these businesses commercialise their ideas and grow their companies. Lighthouse also delivers programs such as the ACT Microcredit Program for the ACT Government. Visit www.lighthouseinnovation.com.au for more information.