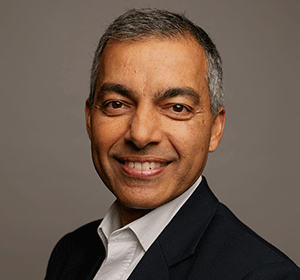 Founded in Canberra in 2008, QuintessenceLabs is a pioneer in quantum cybersecurity. The company provides centralised enterprise encryption key and policy management, a high-speed true random number generator, ultra-secure quantum key distribution, and highly secure encryption for data in uncontrolled environments. This means QuintessenceLabs can protect data, wherever it resides: on a physical premises, in the cloud, or in hybrid IT ecosystems.
Integrating quantum technology with high-value security, QuintessenceLabs has been recognised for its innovative products around the world, including most recently, as global finalists in the XTC 2021 Extreme Tech Challenge. In 2020 they were selected by the World Economic Forum to join the 2020 Global Innovator Community as well as winning a prestigious 2020 CyberTech100 Award.
Discussing some of the lessons learned during their exporting journey, Dr. Vikram Sharma the CEO of QuintessenceLabs, says that from the beginning they recognised that cybersecurity is a global play and as a result being global is in the company's DNA.
"I was fortunate in that, just a few years prior to founding QuintessenceLabs I had the opportunity to be in the United States at graduate school and as a result, I had some great contacts there and within three years of founding we established a US subsidiary" says Vikram.
Understanding the implications of setting up an overseas office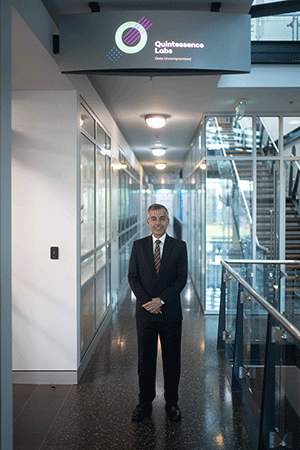 In 2013, QuintessenceLabs decided to make a bigger commitment to their US market and established an initial team of three people based in their US office.
"Building commercial traction in an overseas market can be challenging and our early approach was to just have Australian personnel fly in and out of the US. However, once we actually set up a US office, our engagement in that market grew strongly.
"Having said that, though, emerging exporters should understand that it is an expensive affair, and often winds up costing more than you anticipate."
Vikram explains that companies planning overseas expansion may believe that they could hire just a single person on the ground in-market and that will meet their representation needs.
"I think the truth of the matter is that overseas market development typically requires significantly greater resources. You will also need support staff and other facilities to complement sales and business development".
Vikram acknowledges that this will vary from business to business. However, thinking about the structure and financial commitment needed to properly address a target export market is something that should be carefully considered and provisioned for early on.
Choose your geographies
The second piece of advice Vikram would give emerging exporters is to carefully choose where to focus their efforts.
"Choose geographies which make the most sense for your particular business. In our case, we chose to focus on the US in the first instance and the UK as our second overseas market.
"For us, the analysis was relatively straightforward as the US is by far the largest cybersecurity market. Further, cybersecurity that's globally deployed often follows adoption trends in the US. The UK is the second largest cyber market and is somewhat similar to our home market in terms of market dynamics, the legal system, and business culture".
Vikram cautions that if you are not selective in your target markets and aim to win small contracts in several disparate markets, you may wind up achieving little or no success.
When considering markets to enter, Vikram suggests that some of the factors to consider are the market potential (TAM, SAM and SOM1); your ability to service it; sales revenue you can realistically expect to capture; cost of market entry; and, if relevant, your ability to offer ongoing support to customers in that market.
Understand the competitive landscape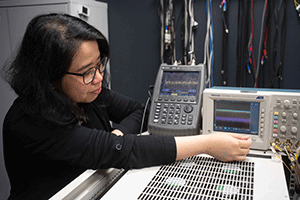 Vikram says the third piece of advice he would offer is to really understand the competitive landscape in each target market.
"In our case, the United States is an enormous market which makes it hugely attractive. But at the same time, it's extremely competitive, particularly in the sectors within which we operate.
"This means that that there are a range of prerequisites that we needed to have. So, for example, in-country support for our product was important as well as being listed on relevant approved panels. As we supply not just software, but hardware as well, we had to develop supply chain logistics to support delivery of our products.
"Coming in as a foreign company, you also need to think about how you will compete against local firms in export markets. What are your differentiators, your competitive strengths and how will you communicate these to the market? As an exporter, you often have to jump twice as high and twice as far to effectively compete against domestic incumbents".
Vikram suggests that focusing on specific sectors can help develop a deep understanding of the customer landscape, customer challenges, competition and market opportunity. This will enable you to best articulate your value proposition in a language that's likely to resonate with target customers in that sector.
"So, understand your market, both from the customer perspective and equally what it takes to win business and deliver a successful customer experience" says Vikram.
Hiring the right sales team for your sales cycle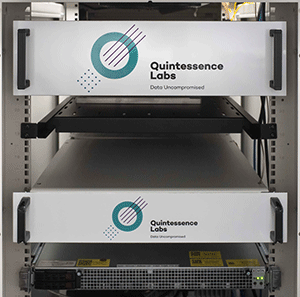 QuintessenceLabs sells primarily to Forbes Global 2000 companies. This means that while their typical sale sizes are large, the sales decision cycle can be anywhere from three to six months from initial contact to achieving the sale. Ensuring they hire the right salespeople is critical to success.
"We typically don't rush into employing personnel just to fill a role. We'd rather be patient until we are satisfied that we've completed all our due diligence - to the extent that you can. This includes background checks as well as ensuring the person or persons have a proven track record of delivering commercial success within our sector.
"Once those prerequisites have been met, another important factor for us is the 'Rolodex' they can bring in terms of customer contacts from previous roles".
For companies with long sales cycles like QuintessenceLabs, ongoing evaluation of the sales process is very important so as to allow challenges to be addressed early on.
"You have weekly or fortnightly meetings with sales staff to review strategy, calls they are making, the quality of those calls, and the outcomes being achieved. Almost anyone can make a cold call and say 'I've made the calls', but what level of secondary engagement have they had?"
Vikram says that in the technology space assessing the effectiveness of the sales effort extends beyond the sales team.
"What are your customers saying? After they have had that first call with the salesperson, do they want to learn a bit more? Are they asking to speak to your technical experts for a more technical deep dive?"
"Finally, what does your pipeline look like? Of the sales that haven't converted, what were the challenges to conversion? Have use cases been developed, a quote been provided, or has a pilot program been discussed with the potential customer?"
Vikram says this kind of information can help provide early insights and success indicators for a new salesperson.
While finding the right staff in-country can be challenging, Vikram says having an established US office has facilitated this process for QuintessenceLabs.
"Our Chief Operating Officer has significant industry experience and therefore has an extensive network that can help validate and cross check initial assessments. If we didn't have access to that network, especially now in the context of the pandemic, it would be much harder".
Planning to scale
Vikram says that one of the big achievements for QuintessenceLabs in 2020 was that they have made the approved products list for a $2 billion programme run by the US Department of Homeland Security. There are about 100 US agencies participating in the programme which has the stated objective of strengthening data protection across participating agencies.
"It was quite a long process and took us almost three years to make our way through all the requirements and assessments for that particular listing. However, now being an approved product within the programme opens opportunities at enormous scale with US federal agencies," says Vikram.
QuintessenceLabs has approached the problem around scaling through strategic partnerships with organisations that have long term experience in working in these markets and who have a deep understanding of contract vehicles used for federal procurement.
"We have entered into strategic teaming agreements with a number of organisations to accelerate access to the federal segment. Equally, we're developing partnerships with some of the largest defence prime contractors who are looking to embed our products into solutions being delivered into significant contracts with US government agencies.
"We have found that you have to be selective in the partners that you choose to work with, however if you do it right, it can really accelerate your commercial success in market".
QuintessenceLabs is going through a really exciting growth period. They are in the process of closing a capital raise to support their global growth.
"Being deep tech, it took us a number of years just to mature the science and then build that science into technology, and then match that technology to solving real world problems. On the back of that maturation, about five or six years ago, we started to see our first large scale commercial deployments.
"We've built a referenceable customer base with deployments in 10 countries and the next phase is all about leveraging those successes and replicating them within our targeted sectors of banking, financial services, cloud providers, federal agencies and defence. The next 18-24 months are all about scaling!".
For more information about QuintessenceLabs, visit https://www.quintessencelabs.com/
1 https://blog.hubspot.com/marketing/tam-sam-som
An initiative of the ACT Chief Minister's Export Awards
The ACT Chief Minister's Export Awards aims to showcase and celebrate the achievements of Canberra region exporting businesses. These Canberra and region businesses transact significant parts of their business activities (legal, accounting, production, research etc.) through the ACT as they develop international markets. The ACT Chief Minister's Export Awards aims to build the pathway for new and emerging Canberra region businesses seeking to internationalise their business. If you are a new or existing exporting businesses in the Canberra region, you can access a range of support as well as network with other exporting businesses, including

The ACT TradeStart Program helps ACT exporters to achieve long term success in international markets. The TradeStart program allows the ACT Government to work closely with Austrade and access key Austrade resources such as their export database, trade mission activities, their off-shore offices, intelligence and international connections for the trade and investment activities to support ACT exporters.

The International Business Engagement Program is being delivered by Canberra Business Chamber on behalf of the ACT Government. Its main objective is to maintain, rebuild and find new opportunities for Canberra and region businesses to engage internationally. The program focuses on building the Territory's exporting community; providing training and support by facilitating seminars and workshops; creating links between local industry and other government support programs; assisting the ACT Government in co-ordination of business trade delegations (outbound and inbound).