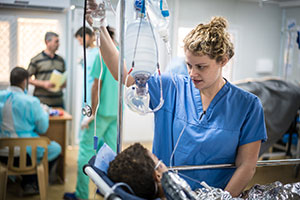 When the COVID pandemic first hit, one of the major concerns was how well prepared is the world's health system to respond to an outbreak of unknown scale. How quickly could countries mobilise resources and people power to build facilities, and then staff them, to deal with the very high number of cases that were expected? High wealth countries would be stretched by the outbreak, but the most devastating impacts would be in those countries with poor health systems, ongoing conflicts or existing infectious disease issues.
It became apparent at the very early stages of the pandemic that this was going to be a major challenge and all countries, including Australia, began looking for ways to fast track solutions to the projected tsunami of cases. One of those solutions was the vast experience and expertise offered by Canberra-based Aspen Medical in establishing not only medical facilities and hospitals but also staffing, testing, training and monitoring regimes.
Aspen Medical has a long-established reputation as the world leader in the delivery of healthcare solutions in any setting. The company's ability to facilitate these services in remote, challenging or under-resourced areas is without peer.
The company operates across Australia, the Pacific, Africa, the Gulf region, the UK and the USA, and as of today employs close to 3,500 dedicated medical, strategic, logistics and administration staff and demand continues to grow.
Aspen Medical has won countless awards over the past 17 years including the gold medal in the International Humanitarian Aid category at the International Project Management Association (IPMA) awards in 2016. The same year founders were named the 2016 Australian Entrepreneurs of the Year. The company has won the ACT Exporter of the year award on a number of occasions and was a joint winner of Australian Exporter of the Year in 2018.
The company founders are proud of their Canberra roots and their headquarters continue to be based in the ACT.
The beginning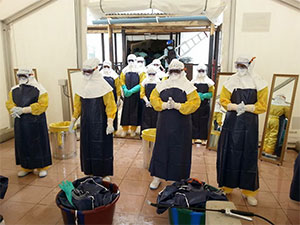 Glenn Keys AO, Executive Chairman of Aspen Medical says that they want people to understand that what they really export is Australian compassion.
Aspen Medical started back in 2003 with its first contracts based in the UK and the Solomon Islands. The company was headquartered in Canberra and its only employee, Glenn Keys, was working out of his dining room.
"I'd been working for a large defence company here in Canberra and was over in the UK for some work. I was talking to a very good friend of mine, a surgeon, who said that Tony Blair was going to completely revolutionise how healthcare is delivered in the UK," says Glenn.
Glenn points out that the NHS is the third largest employer in the world, with only the Chinese Army and the Indian Railways employing more staff. This was clearly going to involve some major changes.
"They needed people to come from outside the country to change the thinking. The NHS had become the victim of groupthink on a national level. Everybody in the healthcare system was from the healthcare system. Even the private healthcare system came out of the NHS so everybody thought the same way. The UK government wanted new people to come into the system to work with them on how to do things differently."
The term additionality1 became commonplace when discussing additional capacity in the NHS health system.
"This friend said they're going to need help and that's how we kicked off the Aspen Medical model – as a consultancy. Our very first piece of business was working out how to reduce the two year waiting list for orthopedic services - initially to six months and then to a six-week waiting list".
Glenn believes that a good consultancy is the best marketing tool possible. "Instead of sitting across the table with us trying to sell to them, we are on their side of the table and I'm sitting with them developing ideas and working collaboratively on an answer. What was really fantastic is that we got to intimately understand the things that really bothered them".
The key to the problem was that the NHS didn't employ the people who would actually deliver the service and clear the backlog. Glenn says that Aspen Medical was contracted to clear 5,000 hip and knee replacements, 7,000 minor orthopedic procedures, and 5,000 outpatient appointments across seven sites in the north of England in 12 months.
During the consultancy, Aspen Medical discovered that the two-year waiting list was actually more like four years and much of it was due to double and triple handling of patients.
"Patients were referred to an orthopedic surgeon which was a nine-month wait, then referred for an MRI, that's a seven-month wait, then back to the surgeon which was only a four-month wait because you have seen him before. Then the patient is put on a two-year waiting list for surgery.
"We looked at the process and said rather wait for an appointment to be told you need an MRI, why not get the surgeon to do a file review and determine if the MRI could be done first and then meet with the surgeon?"
Glenn said it was a pretty simple solution and it immediately cut the number of pre-surgery appointments for the surgeon in half. Then we suggested that the MRI be booked for the same day as the specialist appointment.
"A process review ended up reducing the patient's treatment schedule by 13 months".
Aspen Medical completed a similar project in Northern Ireland where they cleared up a two-year ophthalmic surgery waiting list, clearing 200 cases in two weeks compared to 10 cases a week in their current configuration.
I'm not a clinician, I'm an engineer, says Glenn, and this has been the best training for this job.
"I'm all about workflow".
I see doctors, nurses, patients, wards people and receptionists as parts of the solution. A lot of doctors involved in this industry think that the most important people in the room is the doctor; it's actually the patient".
Glenn says that engineers think in a very specific way - if you do this, it's faster than doing that. It's about a process and particular way of doing things.
The now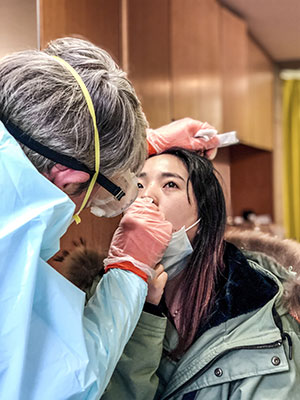 Aspen Medical continues to do much of it work offshore, but COVID has also seen a sharp increase in the amount of work they are doing in Australia.
Glenn is a big believer that every crisis is an opportunity in disguise and you need to be flexible and think laterally in order to take them on.
"We have probably employed around two and a half thousand people, a mix of medical and administration staff, this year alone.
People say to me, we read in the paper that you are doing so much, but in reality, about 90 percent of what we are doing is not in the paper," says Glenn.
Aspen Medical is currently in 154 aged care facilities and providing testing teams to test 43,000 residents and staff, they are providing the clinical COVID support for disability housing in Victoria as well as providing clinical staff to do the contact management for contact tracing.
The company has also rolled out over 150 respiratory clinics around Australia and significant volumes of Australia's PPE for the National Medical Stockpile. They have delivered online training courses for COVID on behalf of the Department of Health to 2.6 million people around the country to date and have managed the quarantine for thousands of people in Australia, Japan and the US.
Glenn says with great pride that throughout these quarantine activities not one single staff member, security guard or health professional has contracted COVID during those quarantine periods. This is a testament to the company's expertise, experience and best practice methods.
Aspen Medical has also worked with ACT Health to set up a specially designed and built COVID ED. The company was also contracted by the UAE government to provide 2200 clinical staff for their hospitals.
"We developed the ICU training and unless you have completed this training in UAE, you are not allowed to run a COVID facility. The hospitals that call themselves the best hospitals in the world are being told that unless you have done the Aspen Medical ICU training, you cannot open or operate your COVID ICU facilities.
"We have also set up prisoner COVID care facilities in other parts of the US," says Glenn.
Aspen Medical has also set up COVID facilities in Canada and supported COVID activities in the Middle East, Fiji and Papua New Guinea.
Such big projects clearly require a large number of resources. Glenn says that the company currently has around 3,500 staff located across 16 different countries and a database of over 10,000 people that are already credentialed. This in itself is a huge logistical exercise with the staff being a mix of full time, part-time, casual, full-time contractors and subcontractors.
Glenn says, if you could think of an employment model, we have it and the reason we have it is so that we have the flexibility to pull together the pool of people we need.
It not just about healthcare
Glenn says that some people ask is Aspen Medical a project management company or a health company? He says that at a minimum Aspen Medical are a project management health company, but we are also a technology provider.
"We rolled out nine apps and platforms in seven weeks around the world during COVID to manage different aspects of the health process.
In respiratory clinics around Australia, we captured all of the data at the end of the day. This went to a central data repository, which was reviewed every single day by the Department of Health to work out which suburbs or areas were hotspots," says Glenn.
Aspen Medical have also developed a personal health declaration app and technology solution so that people can get back into the office. They have done the same for schools, with the added complication of meeting privacy and other requirements for students under 18. They have developed touchless and contactless temperature sensors because customers were concerned that when their people come up to take the subject's temperature they are inside the 1.5-metre zone.
Glenn says that Aspen Medical is also working in new industries. The cruise line industry for example has approached Aspen Medical to help them develop processes and methods to create and adapt to the new COVID normal environment. This is even more important given some cruises are operating in the current COVID environment.
"This is a completely new opportunity for Aspen Medical," says Glenn.
Glenn goes back to his comment about describing Aspen Medical's core business – we are an end-to-end healthcare outcome-based company.
"You tell us what the outcome you desire, what is it you want, and we will design and develop a solution that will get you there. We provide the advocacy, the advisory, the people, the equipment, the pharmaceuticals, consumables, technology, facilities, ambulance, and aircraft, whatever you need to deliver that solution. We provide as much or as little as you need to get that complete solution.
"We really had no idea this was what we were going to become when we started out," says Glenn.
The inspiration
Glenn says that there are a number of things that contribute to his drive and vision.
The first is growing up in a family that ran businesses.
"Mum and Dad owned shops and we all worked in the shop. I'd come home from school and help out in the shop clearing boxes alongside my mother; it was a very gender equal business. We were one of only seven businesses in Australia that sold every single brand of Paton's wool. That was a big thing for us. Dad would go down onto the knitting machine at night, and he would do all the buttonholes and the cuffs and the collars because that was what customers wanted. I learned a lot about how to treat staff, what gender equity looks like and how to care for customers".
The second was working for Defence.
"Defence teaches you to make the best of people. You get moved every two or three years in a job and it doesn't mean you are the expert for the job. But you will have a lot of people working for you with great knowledge of their area and you draw on them to make the best decisions. Defence also teaches you that there might be all of those people, but it all comes down to me and its my butt that is going to get kicked when something goes wrong.
"I also learned a lot about clarity and focus. Working with soldiers and all the way up the chain of command, you learn how to give clear directions and you know what has to be done. There is always too much information, so you have to work out what is the most important information. There are always too many things to do, so you work out what the priorities are".
The third is giving back.
Glenn says that Aspen Medical has a very clear social purpose. "It's at the core of what we do and it's always in the top two reasons why people stay. Staff turnover is half that of any other health-based business in Australia".
Glenn says that for him Aspen Medical was never about growing a company that would afford him the trappings of personal wealth, it was about creating a legacy for his family and enabling them to pursue the opportunities that were important to them.
It was also about giving Glenn the opportunity to follow some of his other passions about providing people with intellectual disabilities the ability to own their own homes. This gave rise to a charity called Project Independence (homeownership for people with an intellectual disability), which is another amazing story.
Some sage advice
Glenn says that Aspen Medical never promises anything it can't deliver.
"You may try to fake it, but if you can't deliver, you will never get that chance again. You can spend a decade building a reputation but if someone takes a bet on you and you can't deliver on your promise, no one's is ever going to ask you again".
"COVID has presented a number of opportunities and challenges and in some ways has leveled out the playing field for some industries", says Glenn. Aspen Medical is used to working in complex environments and has developed the capacity and capabilities to deal with those challenging locations over the years.
"If you are a startup in this environment, one of the challenges is the need to move quickly. You may need to trim back, but if you are completely open and transparent with your team from the get-go, this can be managed but you can't employ anyone if you don't exist.
"Have the conversation with your staff and say if you are prepared to accept 70% of your salary rather than 100, then that's what I want to do. But if you want to leave, I get that too. But the moment we start to grow again, you are the top of the list to revisit. You need to build trust and empathy within your team", says Glenn
The other thing to consider says Glenn is to think about how you might work with partners. "Look at what was achieved in designing and building ventilators in weeks, rather than the normal multi-year process".
"Be honest and say I know I'm really good at this, but I'm not very good at that, so I'm going to ask someone else who is good at that and say let's do this in partnership. There is no time for dinners and meetings, so get to work out over a couple of Zoom meetings, build the trust, set the ground rules and then crack on to get this done fast and build something no one else has done".
Some lessons Aspen Medical has learned
It hasn't been all business as usual for Aspen Medical either this year.
"I mentioned working in Canada, the US, UAE and Papua New Guinea and normally I'd be flying people from here to deliver those projects. But we can't fly people anywhere during COVID. So we went out to the small groups of people we did have on the ground and said what can we do to expand the resources on the ground. In the UAE for example, we had an office with 23 staff, which has now grown to 1400".
"We had people here at two in the morning, doing interviews for people in the UAE to help with recruitment. Aspen Medical received 2000 CVs in less than a week so we developed an automated process to scan them and filter them out based on set criteria. We got down to 500 suitable applications. We then said there are only 500 interviews to run, rather than 2000. You can't think about the process not working, its about how do you make it work, because we needed the people on the ground and fast," says Glenn.
Glenn says that during the first few months of COVID, the staff were working 7 days a week around the clock.
"We were having two planning meetings a day, every day – at 11 and then at 4. This allowed us to deal with local issues in the morning, and then issues elsewhere around the world. We have about 30 people on each call with a set agenda but not everybody was speaking. For example, on one day, we were asked to stand up several hundred clinical people for a virtual call centre. One of the clinical team said we have a whole lot of people who have compromised health conditions that can't work in hospitals right now because they are vulnerable. They are sitting at home crying out for work. Why don't we reach out to them to help us out?
"This was the perfect solution for us. Here we were thinking that we were going have to set up some sort of call centre with all its challenges. But if they are working from home we just let them stay there. We worked out that we didn't have to provide hundreds of computers, but created a segmented folder on the drive. Together in literally about 15 minutes, we scoped a solution to our problem", says Glenn.
Aspen Medical was particularly keen to avoid setting up a call centre because a company that did had a COVID outbreak and not only did it have to close but all the close contacts of its 300 staff had to isolate. In Aspen Medical's set up, even in the event one person was sick, that didn't stop the other 499 attending to calls.
1 Additionality is the property of an activity being additional. It is a determination of whether an intervention has an effect when the intervention is compared to a baseline.
An initiative of the ACT Chief Minister's Export Awards
The ACT Chief Minister's Export Awards aims to showcase and celebrate the achievements of Canberra region exporting businesses. These Canberra and region businesses transact significant parts of their business activities (legal, accounting, production, research etc.) through the ACT as they develop international markets. The ACT Chief Minister's Export Awards aims to build the pathway for new and emerging Canberra region businesses seeking to internationalise their business. If you are a new or existing exporting businesses in the Canberra region, you can access a range of support as well as network with other exporting businesses, including

The ACT TradeStart Program helps ACT exporters to achieve long term success in international markets. The TradeStart program allows the ACT Government to work closely with Austrade and access key Austrade resources such as their export database, trade mission activities, their off-shore offices, intelligence and international connections for the trade and investment activities to support ACT exporters.

The International Business Engagement Program is being delivered by Canberra Business Chamber on behalf of the ACT Government. Its main objective is to maintain, rebuild and find new opportunities for Canberra and region businesses to engage internationally. The program focuses on building the Territory's exporting community; providing training and support by facilitating seminars and workshops; creating links between local industry and other government support programs; assisting the ACT Government in co-ordination of business trade delegations (outbound and inbound).