Photo by: Rialba PhotographyCarla Papas from the Merrymaker Sisters graced the Canberra Wise Women at our launch event in December 2015. Then, Carla told us all about the business she created with her sister Emma, which focuses on real food for a real lifestyle. Their books, podcast, recipes and articles all support this sole
(and soul!) purpose. Back then, the sisters were full of energy, positivity and determination and,
clearly - nothing has changed.
Well, there has been one big change - the girls have left Canberra and relocated to the Gold Coast in pursuit of warmer climes. While Canberra misses the Merrymaker Sisters, we will, generously share the Merrymakers with the rest of Australia!
Carla was the first to complete her follow up interview with Canberra Wise Women, for Canberra
Business News, and her responses were characteristically speckled with excitement and verve!
CWW: What's happened since you were on the Canberra Wise Women stage?
"We've actually moved to the Gold Coast to be near the water and sunshine! It's bliss! We launched an amazing Merrymaker Meal Plan Membership, our second hard copy cookbook, launched the #MerryBiz podcast where we interview epic people to inspire others to live their happiest most magical life possible, we're about to finish writing our new book 'Get Merry: Lessons to go from Mediocre to Magical' and we're about to launch our #MerryBiz Hustle social media and blogging program! Woohoo!"
CWW: How do you develop connections?
"In real life connections are always the most powerful! We attend loads of live events and make sure we keep up those connections by connecting on social media and email. If there's someone we really want to connect with who inspires us, inviting them on our podcast to share their story always helps!"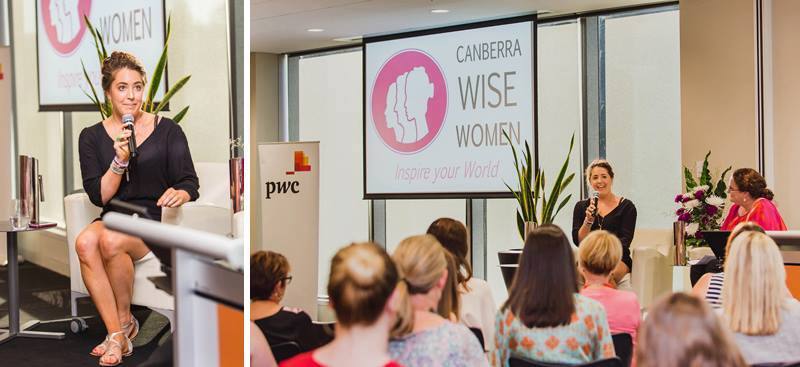 Photo by: Tracy Lee Photography
CWW: How do you keep yourself motivated?
"It helps having a biz partner! We delegate tasks each week and project manage the tasks and projects using Trello boards, this way we're motivated to smash our goals! Plus we surround ourselves with other amazing people doing epic stuff. We're like WHOA they did that?! Let's think BIGGER! What else can we do?!"
Never having heard of Trello boards, I did some sneaky research... Trello boards are described as a "web-based collaboration tool organising items with a board metaphor."
Check out www.trello.com for more information.
CWW: How do you inspire others?
"Our #MerryBiz Podcast and Hustle Program would have to be the two places where we inspire most people in life changes. We see people starting businesses and changing their entire mindset after listening. Then of course we're on social every day, and our goal with social is to inspire and connect with our audience. Hopefully the action we're taking with our lives inspires others too, to dream big and follow their bliss!"
Kristen Holzapfel for Canberra Wise Women
Kristen Holzapfel is a 39 year old Canberran who left her social work career in 2014 to begin her own pet-sitting business - Canberra's Friendly Petsitter. In February 2016, she released her first book, "Selfless: a social worker's own experience of trauma and recovery." Kristen was a Canberra Wise Woman in April 2016 and is now one of our feature writers.