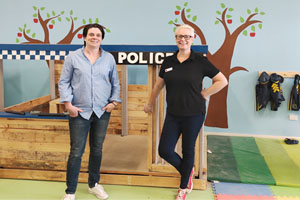 We all experience defining moments in our lives and for Michelle Templin it was when a shipment of imported cubby houses was delayed.


Michelle's background is in IT, but her entrepreneurial streak has seen her develop a number of side hustles over the years, specifically around importing. At one point, Michelle ran a very successful company importing products for a number of the large group buying sites. Looking for a new challenge, she saw an opening in the market and decided to start importing cubby houses. Then her shipment was delayed for two months.

"I thought, I'm paying rent for this warehouse, so I need to do something," says Michelle.
"I'd always built cubbies for nieces and nephews and I loved the idea of the upcycled pallet cubbies that I'd seen on social media, so I thought I'd have a go at that.
"It just took off and it superseded the imported stuff, so I stopped importing and focused on the pallet cubbies".
The warehouse had a showroom so families could come in and have a look at the different products available for purchase.
"The kids loved it and didn't want to leave," says Michelle.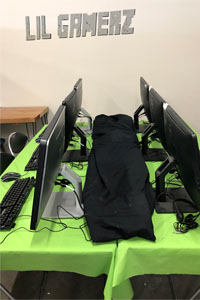 This proved to be another defining moment in the growth of the business.
"I imagined something a little bit bigger - I saw a little town with little roads; basically everything I wanted as a kid, so I built that".
Michelle's partner, Colleen Cooper, has been her sounding board for various entrepreneurial ideas over the years and when she was enthusiastic about the idea, Michelle knew she had to give it a go.
"Canberra felt like the right market in terms of being very family-friendly and very supportive of small businesses and mums are quick to share the word, so we thought let's do it!"
"We also knew that there was nothing else like it," says Michelle.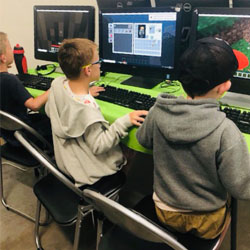 Michelle and Colleen stress that there have been many lessons learned along the way.
"Besides the amount of hard work that's gone into it, we didn't fully consider the fact that come 12 o'clock all of these little people are asleep.
"We would sit here in the first couple of weeks and come 12 o'clock the place would be empty and we'd think what have we done!"
"However, as word spread the kids that don't need to sleep in the afternoons started coming in.
"At the moment our numbers are really good between 9am and 12pm, but we are also starting to attract preschools looking at lunchtime onwards for excursions," says Michelle.
"The mums love it because they can actually relax and switch off for a bit. When they first arrive their kids might ask them to come to the pretend shop or to get their hair done at the little hairdressing salon, but then the kids go off and do their own thing.


"They can be here for hours and it's not unusual to have them go from one area to another with their games.
"We've got our regulars and some mothers groups come in weekly and stay for hours. The mums say they can actually relax here and that's what we want; a place where mums can also enjoy themselves with proper coffee and good food.


"We've got some really good staff and we are passionate about our centre and proud of what we do".
According to Michelle, they have also started catering for the older siblings that come in with their families on the weekends.
Using Michelle's IT skills, they decided to add a Minecraft gaming room where older siblings can play together. Because they also have the café on site they will be offering Minecraft birthday parties.
Michelle and Colleen have big plans for the future. Down the track they plan to open a few more Ladybird Play venues before exploring a franchising model.
For more information visit https://www.ladybirdplay.com.au/

Come and listen to Michelle and Colleen tell their story at the Festival of Ambitious Ideas on the 16th May https://faiartoftheordinary.eventbrite.com.au



About Lighthouse Business Innovation Centre
Lighthouse has a strong track record of supporting entrepreneurs, researchers and inventers on the path from concept to commercialisation. Since July 2008, Lighthouse has worked with over 990 distinct enterprises and provided group and peer based services to over 3400 enterprises and individuals. For over five years Lighthouse has successfully delivered business advice, education, mentorship and networking opportunities to help these businesses commercialise their ideas and grow their companies. Lighthouse also delivers programs such as the ACT Microcredit Program for the ACT Government. Visit www.lighthouseinnovation.com.au for more information.