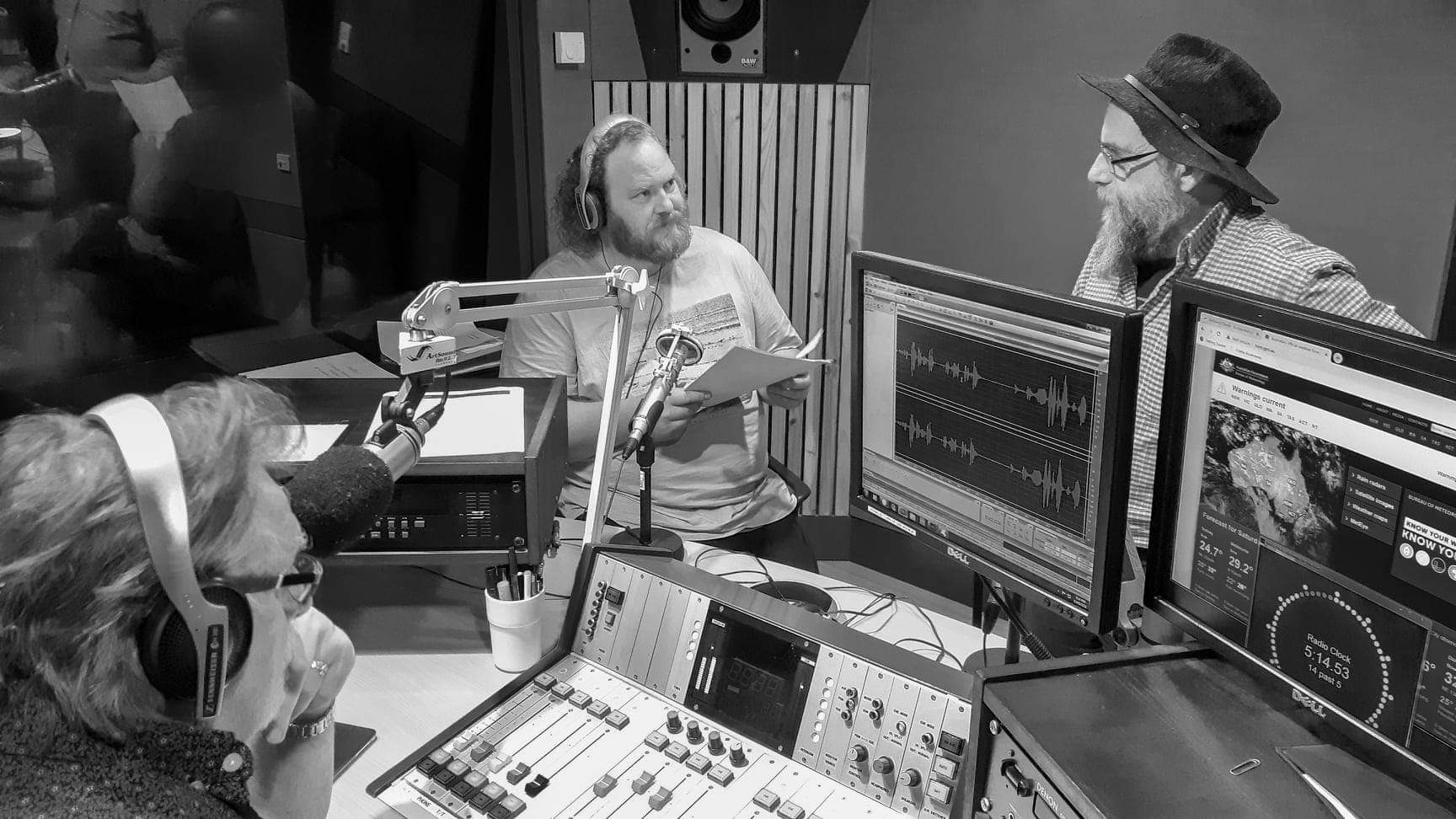 Bart Meehan, Peter Fock and Cameron ThomasLast year, radio drama returned to ArtSound FM, Canberra's arts and music community radio station, with the addition of ArtSound Radio Theatre. Now the program has reached its first anniversary, and is going strongly.
"We've had a great response from local writers and actors, who have enthusiastically taken on the challenge of producing work for radio," says the program's producer, Bart Meehan, a prolific local playwright.
Each 30-minute episode of the series, heard Sundays at 4pm (and repeated Tuesdays at 4pm) features one or two short plays. Many are original works by contemporary playwrights of the Canberra region, while others are either sourced from the ArtSound archives or are new productions of classics from writers such as George Bernard Shaw and Charles Dickens.
"The first year of production has been memorable in many regards," Meehan said. "With many local productions cancelled or postponed due to the pandemic, the show has provided an alternative creative outlet for many within the Canberra theatrical community. Well known writers such as Kirsty Budding, Harriet Elvin, John Lombard, and Greg Gould have provided original works, while actors like former heads of drama at the Australian National University, Tony Turner and Geoffrey Borny, have directed and performed productions."
While the majority of the plays in ArtSound Radio Theatre's first year have been performed by experienced local actors, many were new to radio and said the process of developing performances for a radio audience was stimulating and allowed them to further develop their theatrical craft. Playwrights have expressed similar sentiments, acknowledging the challenges of writing drama where there are no visual cues.
"We are always on the look out for great radio drama," Meehan says. "We'd love to hear from writers, actors, or theatre companies if they have plays no longer than 25 minutes, or work suitable for serialising over two or three shows."
Bart Meehan has responsibility for the production of future programs with back-up and production assistance from Bill Stephens. Interviews can be arranged by contacting the ArtSound office at admin@artsound.fm.
Details of some episodes are listed below.
The plays are recorded at the ArtSound studios in the Manuka Arts Centre.
ArtSound Radio Theatre clearly is a timely addition to community radio airwaves. Reports from around the world suggest that radio drama is reviving in many locations – via the BBC, several theatres in Seattle, and more.
ArtSound FM broadcasts at 92.7FM, 90.3FM in the Tuggeranong Valley, online at artsound.fm, and via digital radio.
ARTSOUND RADIO THEATRE
My Skinny Girlfriend, written and performed by Nigel Palfreman
Let Me Play the Lion, Too by John Lombard; performed by Darcy Stanford
Three Monologues by Kirsty Budding; performed by Heidi Silberman, John Cuffe, and Adele Lewin
Letters to Harold by Harriet Elvin; performed by Amy Crawford, Kit Berry, and Dairinn Bannister; directed by Lyn Petersen
Swansong by Anton Chekhov; performed by Tony Turner and Geoffrey Borney
Love, written and performed by Adele Lewin
Strathbogie by John Reid; performed by Tony Turner
The Tractor Actor by Bart Meehan; performed by Neil McLeod and Elaine Noon
A Matter of Husbands by Fernec Molinar; performed by Elaine Noon and Nikki Hunter
Mrs Manstey's View by Edith Wharton; performed by Simone Pappalettera
For more information visit https://artsound.fm/