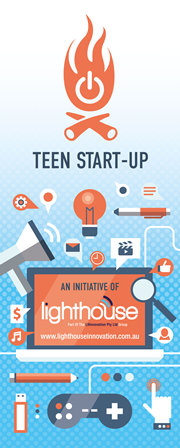 Yesterday the winners of the first Teen Start-Up weekend were announced. Winning first place was Team Novice Coders.
Their project focussed on building a website that connects student coders with not-for-profit mentor clients.
Nine teams pitched to a panel of judges on the Sunday with projects ranging from an application that prevents cyber bullying; wearables that assist the visually impaired; a game related to cyber security; shoes that generate energy; wearables that balance exercise with screen time and many more great ideas.
The weekend's activities formed part of a pilot project to gauge the appetite of school age students for participating in innovation and entrepreneurship events.
The pilot was initiated by Lighthouse Business Innovation Centre (Lighthouse), who organise the annual Start-Up Camp Canberra event which they have been delivering for University students and local entrepreneurs for the past 5 years.
"We had an excellent response from both students and schools, including a team that came up from Bega," said Lighthouse CEO Anna Pino.
"The students had a unique opportunity to hear from successful Canberra entrepreneurs and even try out technology such as 3D printing, robotics and the Oculus Rift".
Roslyn Clark, parent of a Year 7 and Year 5 student taking part in the event believes that programs like Teen Start-Up are beneficial for young people to attend as it encourages them, and indeed teaches them, to think outside the box.
"It also gives them more experience in working in a group environment with short time limits, which is what they will face as they leave school and enter into Uni and workplaces, " says Ms Clark.
She adds that another benefit of attending a program like Teen Start-Up is the opportunity for the kids to meet young entrepreneurs who have developed their ideas into viable businesses, showing the students that they don't have to be restricted in their search for what they will undertake as young adults.
Mentor and judge, Dr Lachlan Blackhall from Reposit Power was very impressed with the quality and ambition of the ideas. "Everyone was passionate about solving real problems and making the world a better place, "said Dr Blackhall.
For more information about Teen Start-Up visit http://www.startupcampcanberra.com/