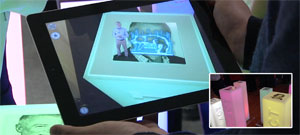 When the University at which she worked offered a round of voluntary redundancies, Amber Standley jumped at the chance to start her own business.
She has completed an augmented reality exhibition for a joint initiative between AusIndustry, the ACT Government and virtual business accelerator Lighthouse Business Innovation Centre, to develop a traveling exhibition that showcases some of Australia's most innovative entrepreneurs.
Building on her skills as a designer, creative director and project manager and her study for a Masters in Digital Design, Amber launched APositive, a design company focused on unique, innovative, and interactive communication solutions.