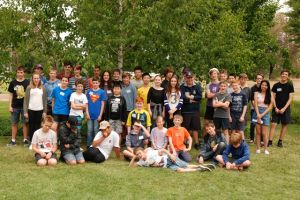 During the January school holidays Teen Start-up once again introduced Canberra's teens to the entrepreneurship process.
The theme for the January Teen Start-Up competition was "First Responders" and teams looked at problems encountered by our first responders in managing emergency situations – the police, paramedics, State Emergency Services, fire brigade and more. Participants were challenged to come up with innovative solutions to predicting, managing and avoiding emergency situations.
"We were really impressed with the student's ideas which ranged from re-designing defibrillators to improving response times with new communication and monitoring applications," said Anna Pino and Candice Edye from Lighthouse.
Our first place winner was team Aqua Ventus who came up with a new design for an indoor targeted fire sprinkler system. Second place was awarded to team VIDassist who designed a communication app for mobile devices that allows for footage to be captured during an emergency call to 000 and sent through to the operator in real time. Third place went to team Connect 000 who developed a small pocket-size device that acts as an alert system to contact 000 in an emergency when making a phone call isn't possible. Awards were also given to two students for delivering a stand-out pitch and displaying great presentation skills – one of which was our youngest participant at 10 years old.
42 students took part from 18 different schools (public and private) in Canberra and surrounding region, including two students from Sydney who specifically came up for the camp.
The youngest student was 10 and oldest 16.
Over the three days, 14 teams were formed and all teams pitched to the panel of judges on the third day.
The students listed the guest presentations, spending time with the mentors and coming up with ideas to solve real-world problems as some of the things they enjoyed most about Teen Start-Up.
96% of students surveyed after the camp said they would do another Teen Start-Up Camp.
After listening to guest speakers, students felt they were able to explore things like coordination and logistics, communication and data, safety and security, technology, communities and people aspects as well as engineering, transport and health and incorporate them into their ideas.
Students had access to mentors from a range of organisations including Aspen Medical, Royal Flying Doctor Service, ACT Government Community Services Directorate, the Australian Federal Police, New South Wales Emergency Management, iSimulate, Poppin Code, Roslyn Clark Photography, Rollercoaster Digital, Lifeline Canberra and Canberra Airport.
The next youth innovation event is the Teen Accelerator program which starts on the 14th February.
About Lighthouse Business Innovation Centre
Lighthouse has a strong track record of supporting entrepreneurs, researchers and inventers on the path from concept to commercialisation. Since July 2008, Lighthouse has worked with over 990 distinct enterprises and provided group and peer based services to over 3400 enterprises and individuals. For over five years Lighthouse has successfully delivered business advice, education, mentorship and networking opportunities to help these businesses commercialise their ideas and grow their companies. Lighthouse also delivers programs such as the ACT Microcredit Program for the ACT Government. Visit www.lighthouseinnovation.com.au for more information.