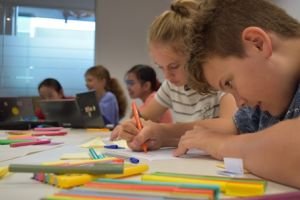 An innovative program that invests in our future thought leaders, change-makers and status-quo challengers is being launched at Orana Steiner School in Weston on the 8th May. The new 'Social Impact' Teen Accelerator is open to all Year 6 to 12 students in the ACT and region.
The after-school program is delivered by Lighthouse Business Innovation Centre (Lighthouse), the organisation that delivers the popular Teen Start-Up school holiday competitions.
According to Lighthouse CEO Anna Pino, each term will focus on learning a particular 21st Century skill like problem solving, creative and critical thinking, presentation skills and working effectively in groups. Students will have the opportunity to apply their new skills to real world problems in a fun and interactive environment.
Principal of Orana Steiner School, Linda Baird believes that what makes this program unique is its focus on social impact, something the Orana school community feels strongly about.
Throughout the term students will be encouraged to come up with ideas that address challenges their generation will face with a focus on coming up with solutions that are 'good for people and good for planet'.
The program also introduces students to experts from science, technology, engineering and artistic backgrounds to encourage students to make the connection between what they are learning in class and how it translates to life beyond school.
The 'Social Impact' Teen Accelerator program will run on Wednesdays from 3:30pm to 5pm at Orana Steiner School in Weston starting on the 10th May.
For more information visit www.teenstartupcamp.com.au