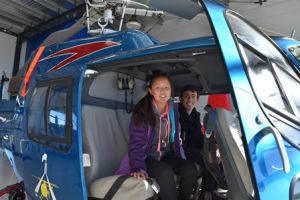 Students from 28 different schools participated in Aviation Teen Start-Up 2017, an annual competition held during the July school holidays as a partnership between the Canberra Airport and local innovation consultancy, Lighthouse Business Innovation Centre (Lighthouse).
Forty-five 11 to 16-year old students, including some who travelled from Sydney and Melbourne specifically to take part in the 3-day innovation camp; got to see 'behind-the-scenes' at Canberra Airport and Canberra Helicopters.
Over three activity-packed days, students were taken through the innovation development process from idea to execution, pitching their ideas to a panel of judges from the aviation industry and a local investor on the final day.
Students formed teams to identify and tackle both practical and big picture problems facing the aviation industry. Winning first place was a project that focused on harnessing the kinetic energy generated by foot traffic through the terminal. Projects ranged from ideas that made it easier for people travelling in wheelchairs; safety training programs; technology solutions to reduce queues and delays; a meal ordering system that offered greater customisation; improved experiences for younger travellers; looking at how wearables could be used as part of airport security; and even an idea to prevent the spread of illnesses onboard aircraft.
Students had the opportunity to learn firsthand from people in the industry. They spoke to representatives from the Royal Flying Doctor Service - one of the largest and most comprehensive aeromedical organisations in the world; the air traffic control manager; airfield electrician; senior managers for both terminal and airfield; and they even enjoyed a walking tour with the Canberra Airport architect!
"The tours helped to educate the students about the important functions of an airport with a focus on areas such as employment, its history and its role in the community," said Canberra Airport's Head of Aviation, Grahaem Duff. "They really let their ideas take flight as they navigated their way through the terminal to follow the passenger experience from check-in through to the boarding area of a gate lounge."
"With plenty of hands-on activities, guest speakers and a behind-the scenes tour of the airport, Teen Start-Up introduces students to skills like creativity, problem solving and teamwork in a fun and interactive way," said Lighthouse CEO, Anna Pino.
About Lighthouse Business Innovation Centre
Lighthouse has a strong track record of supporting entrepreneurs, researchers and inventers on the path from concept to commercialisation. Since July 2008, Lighthouse has worked with over 990 distinct enterprises and provided group and peer based services to over 3400 enterprises and individuals. For over five years Lighthouse has successfully delivered business advice, education, mentorship and networking opportunities to help these businesses commercialise their ideas and grow their companies. Lighthouse also delivers programs such as the ACT Microcredit Program for the ACT Government. Visit www.lighthouseinnovation.com.au for more information.