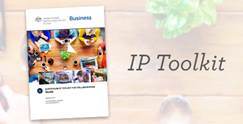 The Australian IP Toolkit for Collaboration (IP Toolkit) is designed to simplify and improve the way businesses and researchers work together.
The IP Toolkit has three parts to help you use and manage intellectual property (IP) in collaboration:
1. Guides – how to develop partnerships between business and researchers and provide advice on how to manage intellectual (IP) in collaborations;
2. Tools – including a checklist of key IP issues that need to be considered before entering into collaborations and templates for a confidentiality agreement and term sheet.
3. Contracts – a template that can be used to draft up the contracts for collaborations.
The full IP Toolkit is designed to be used for collaborations of around $100,000 or more. A mini version of the IP Toolkit can be used for lower value and/or less complex collaborations.
How does the IP Toolkit help RESEARCHERS?
Identifies important issues in developing collaborations;
Assists in understanding what is important to business;
Helps to develop effective partnerships with business; and
Helps to attract funding for research.
How does the IP Toolkit help BUSINESS?
Helps to deal with key issues before starting projects with researchers;
Reduces the need for legal advice in building the partnership; and
Provides key information to start negotiating with research organisations.
For more information or to download the IP Toolkit, visit www.business.gov.au/IPToolkit