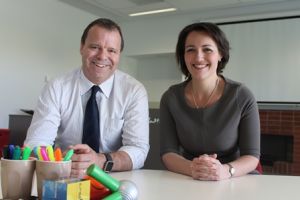 We spoke to Rod Hattch and Jana Clyde from Wisdom Learning, a Canberra-based Registered Training Organisation. Wisdom was recently recognised as the '2016 Service Champion – Small Business' at the, Customer Service Institute of Australia's, Service Excellence Awards held in Melbourne.
Since commencing operation in 2002, Wisdom has been widely recognised in education and business. We were particularly interested in finding out how they use small innovations to create the 'Wisdom Experience', something anyone who has ever attended a Wisdom training course will recognise.
In this first part of our three part series we talk to Rod and his new business partner Jana about how they have gone about creating a strong brand with a real focus on customer service.
How did Wisdom start?
Rod Hattch: My business journey started when I was 18 years old. I started a VHS video movie rental store in my home town of Wellington. When I think about it, I just sort of did it. I think business was in my blood. I was working shift work on the railways, so I had time and recognised that there was a gap in the market. I had no idea about how to run a business, but I taught myself and landed up being quite successful. I sold that business and started another one in fashion retail. Then I reached a point where I had to decide whether I would stay in the railway or commit to the business full time and being young and inexperienced I decided to stay in the railway. I left town and moved to Canberra and stayed in the public service for a decade. Then I got into training and went out on my own in 1996. For the first 6 years I worked under my own name as a sole trader and as it started to grow I realised I had to create a brand entity that was more than just me. This is when I created the Wisdom brand.
What made you choose the name 'Wisdom'?
Rod Hattch: The definition of Wisdom is knowledge, coupled with experience and tempered with humility. That reflected who I was as a professional and the business I wanted to create. So the Wisdom brand was created with a set of values that are still our values today – professionalism, respect, honesty, innovation and humility. This reflects how we grew as a business to 15 people and in the last couple of months having Jana come on as a business partner.
How do you incorporate innovation in your business?
Rod Hattch: From the get go our journey was based on innovation because what we did was turn training on its head. For instance, we were very much client focused, creating a five star experience for our clients while achieving their outcomes.
The Wisdom 5 star experience is not something we see as a strategy because strategies can come and go. It's at the very core of who we are. We want to provide the best for our clients and that best means a whole range of little things that make a difference. It's not something we do this year and then maybe next year, it's part of who we are and who we want to be as an organisation. The Wisdom experience incorporates the whole experience - the quality of the venue, the quality of the catering and the quality of the products. It's part of our DNA rather than a strategy.
Jana Clyde: Even when training is delivered off-site we will lug all the things necessary to create the unique 'Wisdom experience' with us. We recently went over to Wellington for the InvestACT Canberra Week and we literally sent 70kg of luggage over that had all the key elements of the Wisdom experience.
How have you built the Wisdom brand?
Rod Hattch: What that 5 star experience represents is not something superficial at the front end, the 5 star experience is central, it goes right to the backend and goes right across the business. What that leads to is that clients have confidence in us. They engage Wisdom to deliver a service and they know they are guaranteed to get what they've asked for and it will be consistent, it will be reliable and it will be quality. What happens then is clients have confidence in the relationship and we are able to partner with them along the way. Many of our clients have been with us for years.
We like working with good people and there are lots of great clients out there. We position ourselves based on who we want to be and what we want to achieve for our clients. We believe in creating learning partnerships. For example, we have been in the property training industry for 12-13 years. When we started in that sector Wisdom as a brand had no experience or position in the market, but we were a specialist training organisation so I engaged some specialist real estate experts who shared our values and we built that market from nothing to at one stage having about 85% of the market. What we've done from our side is maintain our focus on why we are here. We've won dozens of awards and that's external validation, but we've never lost sight of the fact that the reason we are here is to service our clients.
I say to people it's a lot harder to stay on top than it is to get there. Once you get there you've got to fight complacency, you've got to fight competition and you've got to maintain a point of difference and freshness.
Read more on our interview with Wisdom Learning:
Part 2 - Keeping your Brand Fresh: Systematic Innovation
Part 3 - Training and Preparing for the Future of Work
About Lighthouse Business Innovation Centre
Lighthouse has a strong track record of supporting entrepreneurs, researchers and inventers on the path from concept to commercialisation. Since July 2008, Lighthouse has worked with over 990 distinct enterprises and provided group and peer based services to over 3400 enterprises and individuals. For over five years Lighthouse has successfully delivered business advice, education, mentorship and networking opportunities to help these businesses commercialise their ideas and grow their companies. Lighthouse also delivers programs such as the ACT Microcredit Program for the ACT Government. Visit www.lighthouseinnovation.com.au for more information.