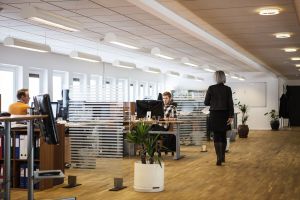 Your startup company surely can't remain a startup forever - unless you intend it to stay that way. As you refine, develop and market your product and services, you'll be needing more resources, partners and employees to carry out the day to day operations of the company.
Growth is a good thing for startups, but it also means a growing set of tasks and responsibilities. And it also means you need to accommodate a growing number of employees that can competently perform the necessary tasks to achieve growing targets and company goals.
Along with this growth is also the need to move on to a bigger office. With a growing team, a small office will get more cramped with each additional hire, and a crowded office will not leave a good impression on potential partners, investors and even additional talent that can be a great addition for your team.
Aside from a growing number of employees, here are 5 other signs that you need to move to a bigger and better office:
1. The company needs more storage space.
Even though most transactions and documents are kept digitally these days, keeping a hard copy of very important papers such as those containing personal client information, portfolios, ledgers, company reports and the like is still considered a good practice for most industries. Aside from that, you need extra storage for all office equipment and stationery such as bond papers, filers, organizers, pens, and even a spare work desk and chair.
If you find that your office is already in dire need of extra space to keep documents and store necessary equipment and tools, it may be time to consider moving to a bigger and better space. Otherwise, your small office might look cramped with stacks of documents in a corner - making a poor impression on guests and potential partners who might happen to visit your office any given time.
2. It becomes harder to schedule a meeting.
More teams mean more people, and it also means that more meetings will be held. A growing number of teams mean that it gets harder to book a schedule on the meeting room without necessarily disrupting timelines and productivity.
Meetings are necessary for every team because it is where plans and new projects are detailed and delegated. Without meetings, miscommunication and project delays will most likely happen within the team. That's why as much as possible, it's best to have enough meeting rooms to meet a bigger team and its growing needs.
Although lunch-out meetings are an option (like holding a meeting in restaurants or coffee shops instead in the office), this can prove to be more costly in the long-term. Also, restaurants and cafes can become too loud and crowded that it will eventually defeat the purpose of holding a team meeting.
3. Your revenue has reached a more or less fixed point.
Moving into a bigger and better office space entails higher costs, and you should be prepared for it. If your revenue is still not stable, or has not reached a point that can actually sustain rising operational costs for the company, then don't rush towards a bigger office yet.
If you really want to save on costs, you can also shop for offices in suburbs where rent could be lesser. In Australia for example, renting an office space in Sydney is more expensive compared to renting one in Brisbane or Perth. Cities with high vacancy rates among offices and buildings are more likely to offer lower rental rates. Of course, you must also take into consideration if the new location is actually favorable for you and your employees.
4. The company is accommodating more guests than ever.
Increasing guests - whether that be friends or family members of your employees, potential clients, business partners and investors, are also signs that the company is already on the line for expansion. A crowded office space will not leave a good impression among partners and clients, and it could also hamper productivity among employees too.
5. Increasing problems with basic amenities.
If your employees are constantly complaining about how hard it is to find a parking space, or how long the bathroom queues are, then these are signs that your current office space is not compatible with your company's needs anymore. Comfort in the workplace can contribute to overall employee satisfaction and productivity. Taking too much time to look for a parking space for example can cause employees to punch in late at work - and can consequently lower their productivity on that day.
Basically, whenever your startup is catering to a growing list of responsibilities - whether that be for clients, investors or the employees themselves, these are already small signs that an expansion should be included in your agenda. Moving to a bigger office space should be well planned out, especially since this also involves moving all your equipment out, and ensuring that the new location is still accessible to every employee.
About Gemma Reeves
Gemma Reeves is a seasoned writer who enjoys creating helpful articles and interesting stories. She has worked with several clients across different industries such as advertising, online marketing, technology, healthcare, family matters, and more. She is also an aspiring entrepreneur who is engaged in assisting other aspiring entrepreneurs in finding the best office space for their business. Check out her company here: www.findmyworkspace.com