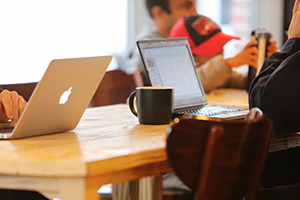 Marketing guru Seth Godin believes that people want connection more than things. However, our experience of connection and community has changed in a single generation.
Many of our close friendships now happen online and there are special interest groups for every passion. Whether its computer games, book clubs or knitting circles; nowadays if you don't find the right community, it's easy enough to start your own Facebook group.
If it's so easy to connect with others online, why did a 2018 research study by the Australian Psychological Society and Swinburne University find that 1 in 4 Australians feel lonely? The study found that younger Australians especially report feelings of anxiety about socialising and thirty per cent of those surveyed don't feel part of a group of friends. The survey also found that higher levels of loneliness are associated with higher levels of social interaction anxiety, less social interaction, poorer psychological wellbeing and poorer quality of life.
The internet is an incredibly powerful tool. Seth Godin believes that in the connection economy those who connect others will succeed. Anyone can reach out and connect others who feel passionate about the same thing. However, community is more than just shared interests. With many organisations now setting up Facebook Groups and other user communities, here are 5 ways you can create a group where there is a strong sense of connectedness. The goal of such a group is to create ties that extend beyond common interests to a real sense of community, shared values and belonging.
1. Clearly communicate your values
It's important to clearly communicate the values of your community, for example, many Facebook Groups and forums have group rules that you have to accept before you join. This boundary helps to create a safe space for members to share ideas and questions. This provides an equitable empathy environment where members can feel that the other group members are likely to understand where they are coming from without being judged. For example, many mother's groups and parenting forums develop strong communities because they are strictly for parents and they can share the trials and tribulations of parenthood.
2. Provide recognition and welcome
Many online groups will include a post that explicitly welcomes recent newcomers and invites them to introduce themselves. While this is nothing like initiation rituals at college or university, it is still an active recognition that a newcomer has joined your community and is welcome. Many message boards or forums will include buddy groups to help newcomers find friends. There may also be ways that active contributors to the community are recognised such as badges, reputational points or the number of posts that they have contributed.
3. Build a tolerance for Error
Most forums will also include a pinned housekeeping section that addresses frequently asked questions and site rules, making it simple for someone new to the group to quickly get up to speed with 'how things are done' in your community.
4. Learning through stories
We learn through stories. All communities are full of stories. It is very easy for newcomers to feel excluded if you don't have a way people can share or learn your stories. A good starting point is to have a visible origin story. How and why did the community come about? Who was involved in setting it up? Very often this story is located in the "About" section. Other stories that embody the values of the organisation are often pinned as useful resources, blogs or feature member stories.
5. Creating a space for your community
One of the major advantages of online communities is that they aren't bound by time and space. Whenever someone wants advice and support, they can simply go online. Depending on the platform, identity is also protected and members can interact freely without feeling that they will be judged. Members that meet online will sometimes take their friendships offline and connect in real life. Some online communities will hold a physical event or conference once a year where members can meet in real life.
A community is more than just shared interests and a supportive online community can contribute enormously to someone's wellbeing and sense of belonging.