At Jamberoo Recreation Park, the newest, and most harrowing ride is the Funnel Web.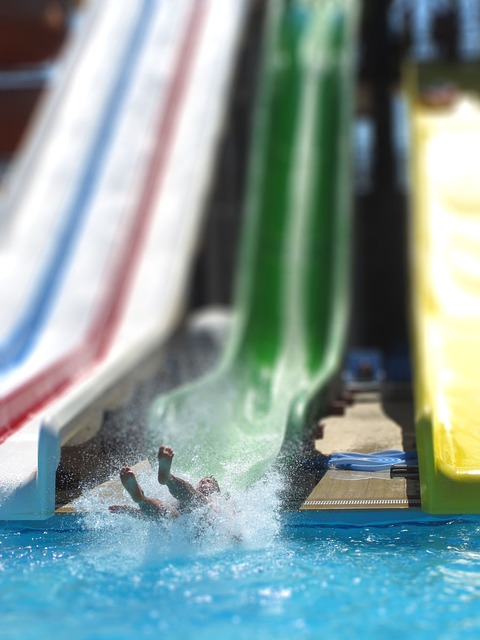 It's a waterslide that begins with a dark, twisting tunnel, then a sharp drop that spits you out onto a gigantic funnel.
Your raft shoots up the slide till it feels like you're about to tip over, then back down and out into the pool.
"I'm not sure I'm up for this," I thought, watching the rafts from the viewing platform.
But I was already in line, and my six-year old niece was going with me.
The first time, I hated the Funnel Web. Our raft went down with me backwards, which didn't help my overall comfort levels. The second time, I knew what to expect and loved it. The fourth time, it was business as usual.
Running a business regularly puts me back at the top of a waterslide.
New types of work. New clients. Back when I was in the public service, my role was rarely exciting, and often frustrating, but it was predictable. I knew the type of work I'd be doing, and who I'd be doing it with.
When I heard everything that starting a business would demand of me, I wondered, 'Can I handle it?'
I've grappled with anxiety and depression for most of my adult life. Back in my twenties, I had a research contract at Newcastle University. I had so much autonomy I may as well have been self-employed. I worked in my bedroom in my dressing gown, with no one to talk to all week, limited feedback and no support. That didn't go so well.
When I thought about starting a business, I was scared I'd go back there.
Here's how I did it.
I realised that I couldn't guarantee that nothing bad would ever happen. Maybe I'd get depressed again. Once I gave up on any expectations of absolute control, the game shifted from protection to risk mitigation. And if there's one thing that the public service taught me, it's how to manage risk.
I set a six-month review date, with three criteria to decide if I stayed with the business or went back to my government job:
· am I making money?
· do I enjoy it?
· am I healthy?
With both finances and mental health, I set early indicators to flag if a problem was emerging, and an escalating series of steps to take if it did. Having that plan gives me enough confidence to climb up the top of the slide.
Even today, there are still plenty of times when I'm well outside of my comfort zone.
That's normal. All I need to do is push off, then when the ride is finished, come back up for round two.
About Matt Fenwick
Matt Fenwick is a Canberra writer and author of 'Life without lanyards: from public servant to entrepreneur.' Find out more about Matt's book, and the Kickstarter campaign he's running to get it published: https://www.kickstarter.com/projects/1373553647/life-without-lanyards-from-public-servant-to-entre