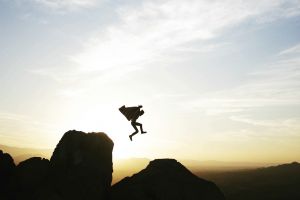 Nowadays everyone needs an entrepreneurial mindset, not just people wanting to start a business. Entrepreneurship is a way of looking at the world; it's about seeing possibilities rather than just challenges. No one needs to adopt this approach more than those facing difficult career transitions.
Technological change, outsourcing, off-shoring, increasing numbers of people who can only find part-time, contract or freelance work – these all point to a very competitive job market. However, it's not all doom and gloom. Our working lives are getting longer, which means you have time to explore two or three different careers over your working life.
When planning a career transition in a competitive market, you need to think like an entrepreneur. Just like many failed start-ups are the result of a product in search of a customer; many failed job applications also focus on the applicant rather than the problem they solve for the employer.
There is a great tool used by start-ups called a Value Map. It is used to identify the real value the business provides to potential customers. The benefit of this tool is that it challenges founders to see the world through their customer's eyes – what problems are they dealing with, what jobs need to be done and what surprises and delights them. It's a great tool in that it can be used early on, when the start-up doesn't even have a first customer.
For the 'Start-Up of You' planning a career transition with potentially limited experience in your new field, this tool can help you identify the problem you solve for a potential employer, giving you a competitive edge that will get you a foot in the door.
Lighthouse Business Innovation Centre strongly believes in investing in the individual; building skills and capabilities that help people develop an entrepreneurial mindset and achieve their goals. To that end, we will be running a short workshop for anyone interested in learning to use the Value Map to assist them in making a career transition and building a CV that demonstrates real value to a prospective employer.
When: Tuesday 27 June 2017
Time: 9:30am – 12:30pm
Cost: $50.00 (+GST)
Where: Unit 6, 65 Tennant Street, Fyshwick
Register at: https://www.eventbrite.com.au/e/the-start-up-of-you-tickets-34738467692
About Lighthouse Business Innovation Centre
Lighthouse has a strong track record of supporting entrepreneurs, researchers and inventers on the path from concept to commercialisation. Since July 2008, Lighthouse has worked with over 990 distinct enterprises and provided group and peer based services to over 3400 enterprises and individuals. For over five years Lighthouse has successfully delivered business advice, education, mentorship and networking opportunities to help these businesses commercialise their ideas and grow their companies. Lighthouse also delivers programs such as the ACT Microcredit Program for the ACT Government. Visit www.lighthouseinnovation.com.au for more information.