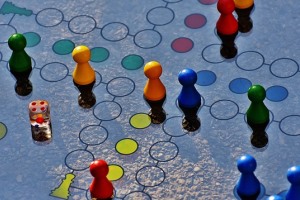 Board games are often reserved for family holidays or 'quality family time'. With television, social media and video games; board games are often overlooked. However, board games also tick a lot of educational boxes.
Have you ever stopped and reflected on the real-life skills that board games teach us? Negotiation, patience, strategy and problem-solving - these can be difficult skills to learn, however board games can help us to practice these skills.

Chess can improve and challenge your strategic and logical thinking. Chess reinforces the importance of planning, strategy and foresight.
Another amazing benefit of chess is its ability to help prevent Alzheimer's. The most active part of our body while playing chess is our brain. You can consider the brain as a muscle that needs regular activity and exercise to help keep it healthy. A study from The New England Journal of Medicine stated that "people over 75 who are involved in mind exercising activities like chess are less likely to develop dementia than their non-board-game-playing peers"[i]. In fact, regularly playing board games helps to keep the mind active and cognitive functions lubricated which reduces the risk of a variety of mental diseases that can occur in old age.

On a simpler level, even games like Connect 4 have their benefits! While relatively uncomplicated, Connect 4 helps to develop investigative and problem solving skills. To win Connect 4 the player needs to be able to plan ahead their own moves, while also calculating what the opponent may be considering, this style of thinking can be difficult for children to grasp so Connect 4 is a fantastic way to develop this skill in a fun way. Connect 4 can also increase your child's pattern detection, problem solving and probability skills.

Monopoly is another classic board game that has some really interesting benefits! Monopoly teaches children a variety of skills. Monopoly reinforces and teaches maths, finances, trade and negotiation skills in an entertaining and relevant way. For some children monopoly is their first interaction with counting their own money and weighing up the positives and negatives of purchasing a property.

For adults, board games can also be a fantastic stress reliever. Board games require a certain level of concentration and focus allowing you to switch off from your other daily worries and distractions. When played with some close friends, board games are a great way for adults to laugh, bond and form closer relationships with each other with the added benefit of lowering stress and exercising your brain.
If you have a child who loves games our upcoming July school holiday program introduces them to game design principles and challenges them to design a board game that solves real life problems in the aviation and aerospace industry. To find out more visit https://www.teenstartupcamp.com.au/
[i] https://woochess.com/en/blog/10-benefits-of-teaching-kids-to-play-chess


About Lighthouse Business Innovation Centre
Lighthouse has a strong track record of supporting entrepreneurs, researchers and inventers on the path from concept to commercialisation. Since July 2008, Lighthouse has worked with over 990 distinct enterprises and provided group and peer based services to over 3400 enterprises and individuals. For over five years Lighthouse has successfully delivered business advice, education, mentorship and networking opportunities to help these businesses commercialise their ideas and grow their companies. Lighthouse also delivers programs such as the ACT Microcredit Program for the ACT Government. Visit www.lighthouseinnovation.com.au for more information.