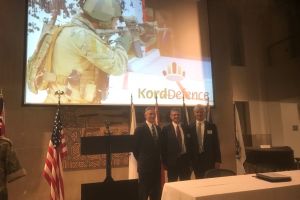 Kord USA Board - Dr Peter Moran, Major General (ret) Mike Regner, Uwe BoettcherMinister for Defence Industry, the Hon Christopher Pyne MP, today attended a signing ceremony to mark the success of Australian company, Kord Defence Pty Ltd winning a contract to develop innovative products for the United States Marine Corps.
Minister Pyne said Kord Defence was awarded a contract by the United States Marine Corps worth US$2.25 million over 18 months that would see up to an additional four staff employed, including two engineers under the United States Foreign Comparative Testing (FCT) program.
"Kord Defence is an innovative company with technology that fundamentally improves the capacity of the soldier in the battlefield," he said.
"Kord Defence will develop a Rifle Accessory Control Unit for soldiers to mount on the front of their rifle."
The universal controller allows the soldier to take control of all electronic devices from one location, without taking their eyes away from the target or hands from the weapon.
"This contract reflects the innovative technologies emerging from Australian defence industry being imbedded into partner countries," Minister Pyne said
"Australian capability is cutting-edge and globally competitive. We are seeing increased attention on what Australia has to offer."
The FCT program invites tenders from overseas companies who are at the forefront of innovative technologies in their respective fields.
The contract is for the design, programming, production and subsequent trial of a Rifle Accessory Control Unit (RACU), fitted to the M27 and M4 rifles, and the Infantry Assault Weapons used by US Marines.