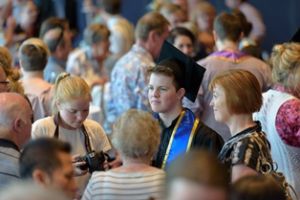 As one of the slowly growing group of people who were born and bred in Canberra, I accept her many foibles and peculiarities but will also fight to death to defend her. I've grown up in a family that has run several businesses in Canberra and while it's always been hard, we have been lucky enough to have enjoyed the good lifestyle that it has afforded us. It is because I know how hard it can be to do business in this city that I can't speak highly enough of those locals who have big ideas and plans for Canberra.
John De Margheriti took a punt in 1996 and started an education institution focused on animation, visual effects and the video games industry. Many people are still asking why he chose Canberra. His answer remains the same – 'why not'.
The Academy of Interactive Entertainment (AIE) continues to grow and produce some leading edge games developers. More recently AIE has moved into the film industry and have a visual effects and post product facility to work on industry partner feature films. AIE now has campuses across Australia and the world and one might think that John had done enough. But one of his biggest projects is yet to come.
The AIE is based at the Canberra Technology Park site in Watson and its future is currently up for discussion. AIE has been the primary tenant at the location for over 20 years. The plans for the site are not specific yet, but they do include plans to expand the education offerings and also accommodation for tenants in the Technology Park and students. The current buildings on the site need some updating and repairs and the public green spaces need to be better utilised.
Unlike many of the other major development projects in Canberra, locals will get input into the development plans before anything is actually built. The Watson site has been operating in various guises since 1965 and John understands that locals want to have their say as to what the site should look like and how the community can actually continue to gain benefit from it. 'We are looking to make a significant investment in the development over the next 20 years, but we want to make sure we get it right for everyone,' says John.
The ACT Government agrees that the community must have its say and is conducting a public consultation process to see if there is enough community support for the redevelopment of the site. If the feedback is positive, a competitive sales process will be conducted. The sale would be limited to its use as a higher education and student accommodation facility.
If the sale doesn't go ahead there is no clarity on what happens to the site or John's future plans.
Regardless of the outcome it is important for both the community to make its views known on this project and to continue encouraging Canberran's to have big hairy audacious goals.
The consultation process closes on 16 March and you can have you say by visiting https://www.yoursay.act.gov.au/future-site-use-old-watson-high-school
About Lighthouse Business Innovation Centre
Lighthouse has a strong track record of supporting entrepreneurs, researchers and inventers on the path from concept to commercialisation. Since July 2008, Lighthouse has worked with over 990 distinct enterprises and provided group and peer based services to over 3400 enterprises and individuals. For over five years Lighthouse has successfully delivered business advice, education, mentorship and networking opportunities to help these businesses commercialise their ideas and grow their companies. Lighthouse also delivers programs such as the ACT Microcredit Program for the ACT Government. Visit www.lighthouseinnovation.com.au for more information.