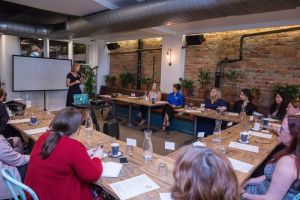 Photo by: Esh PhotographyA new space for Canberra's business women to connect and network has arrived in Canberra. The Sydney based organisation 'Women with Altitude' are bringing their program to the Nation's Capital in 2018.
'Women With Altitude' was started by businesswoman Andrea Turner-Boys after she began her first business in 2001. Andrea quickly realised that being in business was a difficult and challenging path. When she reached out for support from existing business networks she struggled to find one that felt right for her – who spoke her language and held the same values on collaboration, openness and support as she does.
So in true entrepreneurial fashion – Turner-Boys founded 'Women With Altitude' in 2003.
'Women With Altitude' held a small VIP soft launch in to Canberra in November 2017 and have held open events in February, March and April this year at Highgate House in Kingston.
Andrea has been excited by the warmth and excitement that her new offering has been welcomed to Canberra with. "I love the energy and heart of Canberra women." Explains Turner-Boys. "There is wonderful innovation and boldness here with women breaking through. We want to bring these tribes of women together to collaborate and lift each other up into new opportunities and ideas."
The March Women With Altitude event saw two Canberra organisations – CWB: Canberra Women in Business and Canberra Wise Women, join with Women With Altitude to celebrate International Women's Day.
"CWB was delighted to partner with two wonderful sister organisations." Said Peta Swarbick, President of CWB. "Collaboration and cooperation is key to harnessing the talents, energy and vision of all the amazing women in our community. I am personally committed to seeing more women's groups work together for common goals. I am excited to see collaborations across all kinds of women's organisations happening. Collaboration is our greatest power to effect change."
"It was an honour to speak at the joint International Women's Day event." Explains Lisa LaMaitre, Creator of Canberra Wise Women. "I spoke on the importance of connection in business and how being supported by other business women can aid our success. I love the energy of understanding and enthusiasm that abounds at a Women With Altitude event! It's wonderful to work alongside other women who value collaboration in business."
About Lisa LaMaitre from Canberra Wise Women
Lisa LaMaitre is a Health Expert, Connector, Communicator and Business Creative. She is the Principal Practitioner and Managing Director of Therapy Masters, a health practice in Canberra City. She is the Creator of Canberra Wise Women, a platform for sharing connection and inspiration through live events. Lisa shares her business knowledge as a mentor with Inspiring Rare Birds and Global Sisters, and is a teacher at the Canberra Institute of Technology.