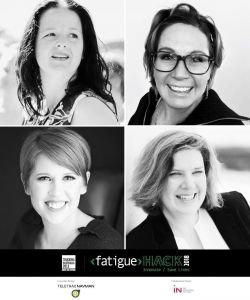 Tomorrow (Wednesday April 18) sees the launch of FatigueHACK in the Nation's Capital. FatigueHACK is a competition being co-hosted by the Canberra Innovation Network and the Australian Trucking Association. The competition will see 10 teams compete over two days to find a solution to the issue of Driver Fatigue in the trucking industry.
Amongst the 10 teams is a team of four Canberra business women, the only ALL female team in the competition. Team Captain of W.O.W. – Lisa LaMaitre of Therapy Masters and Canberra Wise Women explains why the women have entered.
"I first bought the team together in April 2017 for Lighthouse Business Innovation's Start Up Camp, where we won for our concept of a wellbeing app. Last year I hand selected the team from my female business friends to showcase the depth and variety of expert knowledge that Canberra business women have. It was the first time any of us had competed in such an event, and we had a wonderful time."
"Driver fatigue in the trucking industry impacts our community and nation as a whole. Incredibly long hours and arduous conditions, which we've discovered during our research, are the current standards in the trucking industry. We are looking forward to combining our talents and expertise, to problem solve this major health issue. And we understand that four business women, that have no trucking experience, are not the expected entrants in a competition like this. And that's what we love about innovation! It's about taking concepts, ideas and solutions from vastly different industries and bringing them together to create a novel solution. This is the space the four of us thrive in!" LaMaitre explains.
The W.O.W. team is made up of Indiana Holley of Three Feathers Healing, Lynne Goodyer from Locals Can, Sheena Ireland with Specialists in Communication and Lisa LaMaitre. Indiana has a background in government, medical research and health coaching. Lynne has extensive expertise in all things design. Sheena is known for her communications and PR acumen. While Lisa brings retail, business and health experience to the team.
FatigueHACK is being held at the National Convention Centre this Wednesday through to Friday (April 18-20). With the teams pitching on Friday to a panel of judges and industry representatives to see who will take home the $10,000 in prize money.
About Lisa LaMaitre from Canberra Wise Women
Lisa LaMaitre is a Health Expert, Connector, Communicator and Business Creative. She is the Principal Practitioner and Managing Director of Therapy Masters, a health practice in Canberra City. She is the Creator of Canberra Wise Women, a platform for sharing connection and inspiration through live events. Lisa shares her business knowledge as a mentor with Inspiring Rare Birds and Global Sisters, and is a teacher at the Canberra Institute of Technology.