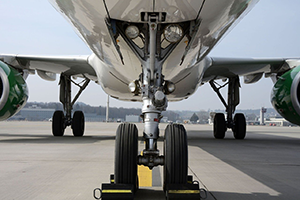 Like most things this year, airfreight, while still leaving Australia, has been hugely affected by the COVID-19 pandemic and the absence of international flights. Nathan Bevan, Head of Pak Fresh Handling Australia, describes the pandemic as the ''gift that keeps on giving".
Prior to March this year, the value of Australian produce exports continued to increase to an estimated value of over $3.6b per year and volume of around 100million tonnes according to the ABS. Around 59percent of Australian exporters are defined as small businesses and account for around 85percent of the total export value.1
These statistics aren't lost on Nathan.
Pak Fresh Handling was established in 2010 as a specialised airfreight handling facility. The company specialises in providing an end-to end service that includes international freight handling, national freight, cargo terminal operations and a wide range of cold chain services.
When describing the current situation, Nathan was remarkably upbeat and optimistic. "There are some things that are certainly helping the industry out like the International Freight Assistance Mechanism (IFAM) being extended to airlines and shippers, which has been great. Capacity is far from what it was but has provided some stability over the next 6 months at least", said Nathan.
The IFAM was introduced earlier this year by the Department of Agriculture to support the re-establishment of key global supply chains that had been disrupted by COVID_19. This included the agriculture, seafood and health care sectors with the aim to help secure items critical to the ongoing provision of health care services2. The support is provided for a number of priority goods and destination countries. The majority of major capital cities have had IFAM supported flights including some larger regional locations.
Pak Fresh currently operates out of Adelaide, Brisbane, Darwin, Melbourne, Sydney and Townsville. Just before COVID_19 hit, the company opened its new facilities at Canberra Airport.
Why Canberra?
When asked 'Why Canberra'? Nathan said that it was really a 'no brainer' for him.
"I started the business nearly 12 years ago in South Australia. There was a need for accredited facilities to capture the opportunities for the entire market. Freight forwarders perform a specific function, but not all them have their own facilities. Our business was focused on infrastructure, a high-end service and facilitating the process at airport terminals to make it all happen, says Nathan. Freight forward essentially would deal with us as and we would be the handler through our accredited facilities.
"We did this in Adelaide and have been successful for 8 or 9 years and have developed a trusted brand and reputation". During this time, Pak Fresh had developed a very close relationship with Virgin Airlines and decided to start expanding to support its customers and carriers.
"We expanded and purchased a business in Brisbane, which had 4 international carriers into the pacific that we still service". Nathan says that this continues to be a very busy branch even with limited international flights.
"Then Stephen Byron from Canberra Airport reached out and we came to an Expo to hear about Canberra and the need to develop a regional catchment area for perishables and regional producers." Nathan said that everyone had some ideas about what could be done in the region but no one put their hands up to actually do it.
"So after a number of conversations with Stephen we decided to put our hands up." Within a week, Pak Fresh had signed up Virgin Airlines, which was an exciting first step, and the company started moving some freight. Nathan said that shortly after this, Pak Fresh worked with the airport and Qatar to opened up some capacity on their flights and recently had similar discussions with Singapore Airlines.
Like many smaller airports, Nathan says that nothing is moving out of Canberra now because international carriers aren't operating. "We are also the cargo terminal operators for Virgin Airlines and we are starting to see some increase in domestic flights, which is fantastic. Hopefully, this will increase as border restrictions start to relax. But we are unlikely to see any international traffic for some time at least until well after Christmas".
Nathan says that this paints an ugly picture for doing any real business now. "Like many businesses we are holding fixed assets and costs associated with the facility, but no activity to support it. We spent the last year and a half setting it up and its fully export certified and customs bonded. So the capability to handle load capacity is there but unfortunately the aircraft aren't".
"It's not just us feeling the impact", says Nathan. "Local exporters are also struggling due to the absence of international aircraft. Prior to this we were making some fantastic inroads and starting to move some decent volumes and then just before Christmas we had the bushfires. Not many people know how badly the fires affected both infrastructure and producers. This made a lot of producers feel like it wasn't the right time to challenge the status quo".
For shippers3, the status quo meant either going ex-Melbourne or Sydney. Nathan said that to culturally change a process, which in Canberra meant introducing some capabilities with Qatar and Singapore Airlines, it takes time and can be quite challenging for producers. Then throw COVID in and it is a royal mess".
Regardless of the challenges and interruptions, Nathan says that Pak Fresh is committed to Canberra for the long term. "There are a lot of exciting opportunities in the regional areas and we will just have to ride it out for now".
Nathan believes that Canberra presents opportunities that are not dissimilar to South Australia in the early days, in that it bleeds4 a lot of its freight across the border too. He says that while you need a number of carriers to support this movement of freight, there are opportunities to structure an outcome so that it supports the infrastructure to grow with demand rather than building a big hub on day one.
"Many think that if you build the hub the freight finds you, and we all know that it doesn't work that way", says Nathan.
The producers
"Prior to COVID, we had met with some really good producers and significant volumes of produce where starting to come through. Bega oyster growers, for example, are keen to get produce out of Canberra quickly. This will continue to build over the next 18 months and I have every confidence that our investment will pay off and we are excited about that. We think Canberra has significant value. It is now like Adelaide was many years ago, and we have seen significant growth there", says Nathan.
International aircraft provide a clear opportunity but there are also the domestic transport opportunities that can be done ex-Canberra.
"Many people still think that the only way to move produce is to ship it through Sydney or Melbourne. We now provide the option to capture it all in Canberra and we do the end-to-end functions required because we have a national footprint and can arrange whatever on shipping functions is required.
"There are a lot of opportunities that exporters in general aren't aware of because we only really became fully operational before the January bushfires and then this all hit".
Nathan says the opportunities also arise from a number of other developments going on around Canberra. For example, given Western Sydney Airport will be a competitor to Sydney Airport carriers may well become fragmented. "We think it's time for Canberra to put a flag in the ground and start developing opportunities together within the industry as the economic benefits are far-reaching in the long term"
"There is plenty of opportunity but we need international airlines to support us. Singapore Airlines, through its national manager, has been very supportive of Canberra and we look forward to continuing working with him on the forwarders (those dispatching or delivering goods) that represent some of the volumes happening.
"We have had tremendous support from the ACT Government and Canberra Region Joint Organisation (CRJO) while we did some recent tours. Local producers are excited and we look forward to engaging further when things settle down and keep building on new opportunities. There are some fantastic primary producers in the local region and right now too much of this freight bleeds outside the region."
From experience, Nathan has found that producers want things to be more amenable and closer to home.
"We also know that a lot of the products out of regional NSW need different handling. Look at cherries out of Young". Nathan went on to explain that there are protocol markets and non-protocol markets. Protocol versus non-protocol relates to the specific treatment required before shipping. Some countries such as Korea, insist that their requirements are complied with prior to shipping.
Some of these protocols require cold treatment and fumigation. "These are expensive treatments to service through specialised infrastructure", says Nathan.
"Having already invested significant capital in building a brand-new facility in an airport hanger, these other services will be added on as demand grows. But we can do this at some of our other facilities for now as part of the end-to-end service."
Building capacity
Trucking loads also impact the various pieces that make up the system that moves freight on. Trucks that come into Canberra very rarely get backloads back into the regions meaning that the truck is underutilised and therefore each trip has a higher cost. "This causes enormous issues for us." Says Nathan.
Capacity is also an issue given the Canberra flights share capacity with Sydney, as they aren't direct legs. Strangely enough trucks with regional NSW product head north to end up on the same flight that tranships in Canberra.
"Qatar Airways, for example, is principally supported by meat exports. So we are limited in that sense".
Nathan believes that working with a few primary producers who want to give it their full support for at least one season will cement the relationships with carriers. He says there are a number who are willing to support this.
"The great value of shipping out of Canberra is the location and ease of access." Nathan would like to think that the service is better and more personalised. He says you can spend a lot of time in queues in Sydney. "The temperature control chain process is nowhere as good as somewhere with an airport interface, which we have in Canberra - this is a definite advantage".
Pricing is always an issue for any producer, but Nathan thinks that there is an opportunity to align similar prices if the carrier is working with the producers directly.
The disadvantage comes back to the trucking component into Canberra because of the backload issue.
The other challenge for Canberra is that we are limited for carrier options and there is always competition from Sydney and Melbourne via the cheaper Asian carriers.
Nathan agreed that many exporters are driven to support their local areas and will do anything to support Canberra if the opportunity is there. "Collaboration, particularly now, is really important."
Where next for Pak Fresh?
Nathan says that Pak Fresh is busier than ever out of Brisbane, which mainly services the Pacific. "Out of South Australia we are handling 3 flights a week of international cargo. Melbourne is servicing a lot of IFAM initiative driven cargo and we are still moving a fair amount out of Sydney.
Nathan estimates that the business is down 80+percent on where it was before COVID. "It's a big drop but we are a 52 weeks a year business and we are keeping our heads above water and still very busy in a heavily diluted environment".
Preparing for next steps is really out of Pak Fresh's hands, it's an international business that relies on the markets dictating movements. Nathan says things are slow into the US, but we are seeing more demand coming from Europe.
What does innovation look like to you?
Pak Fresh has a strategy in place and has a much broader capability than most players in the market. "The fact that we have air side facilities in the areas that we do, and we have other big facilities where we handle international freight, like Port Botany in Sydney (its only facility not located at an airport).
"This means that if we can get the catchment area (i.e. good volumes), shipping out of Canberra becomes a no brainer", says Nathan.
Looking forward
Nathan says that the most important thing is to keep the wheels turning.
"The current situation can be depressing but we are confident that we are one of the very few who can achieve a true outcome for Canberra and its regional producers. It will take a while and we need to continue to work on key relationships. We need to get the further engagement in normal trading times so that we can achieve what we want to do. It's an amazing area with great produce".
"We need to maintain our accreditation and be on the front foot when we return back to business as usual. Once the planes get back we are back in business but we want to keep having the conversations. There are a lot of things we can offer to other service providers in Canberra through our ports and we will look into how that system might come together. It is good to have so much passion from those who support us and it keeps us going.
"One thing we have found is that the people in the regions are wonderful and really want to work on a personal relationship basis, they are welcoming, honest and upfront and they are genuinely interested and passionate about making it work", says Nathan.
1 https://www.abs.gov.au/ausstats/abs@.nsf/mf/5368.0.55.006
2 https://www.agriculture.gov.au/coronavirus/export/air-freight
3 The person or company that transports or receives goods by land, sea or air.
4 Bleeding across borders means that freight does not get sent from its state of origin.
An initiative of the ACT Chief Minister's Export Awards
The ACT Chief Minister's Export Awards aims to showcase and celebrate the achievements of Canberra region exporting businesses. These Canberra and region businesses transact significant parts of their business activities (legal, accounting, production, research etc.) through the ACT as they develop international markets. The ACT Chief Minister's Export Awards aims to build the pathway for new and emerging Canberra region businesses seeking to internationalise their business. If you are a new or existing exporting businesses in the Canberra region, you can access a range of support as well as network with other exporting businesses, including

The ACT TradeStart Program helps ACT exporters to achieve long term success in international markets. The TradeStart program allows the ACT Government to work closely with Austrade and access key Austrade resources such as their export database, trade mission activities, their off-shore offices, intelligence and international connections for the trade and investment activities to support ACT exporters.

The International Business Engagement Program is being delivered by Canberra Business Chamber on behalf of the ACT Government. Its main objective is to maintain, rebuild and find new opportunities for Canberra and region businesses to engage internationally. The program focuses on building the Territory's exporting community; providing training and support by facilitating seminars and workshops; creating links between local industry and other government support programs; assisting the ACT Government in co-ordination of business trade delegations (outbound and inbound).