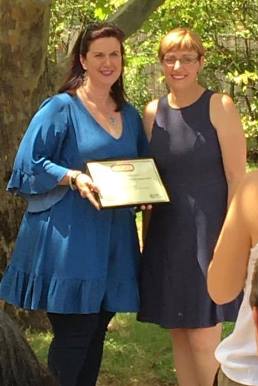 The Yogie Awards recognise, celebrate, promote and reward outstanding practice in working with young people in the ACT and surrounding area. The Yogie Awards are an initiative of the Youth Coalition of the ACT and supported by the Community Services Directorate, ACT Government .
Lighthouse Business Innovation Centre (Lighthouse) received a Certificate of Commendation for the Teen Start-Up program in the Innovation in Service Delivery Category.
This category recognises organisations that have identified new ideas, programs and/or practices that have been useful in working with young people, the community sector, government, business and/or the broader community. One of the main drivers for innovation recognised in this category is the organisation's courage and energy to create a better society for young people.
According to Anna Pino and Candice Edye from Lighthouse, this award would not be possible without the commitment and enthusiasm from all the mentors, presenters and helpers that contribute to the program.
About Lighthouse Business Innovation Centre
Lighthouse has a strong track record of supporting entrepreneurs, researchers and inventers on the path from concept to commercialisation. Since July 2008, Lighthouse has worked with over 990 distinct enterprises and provided group and peer based services to over 3400 enterprises and individuals. For over five years Lighthouse has successfully delivered business advice, education, mentorship and networking opportunities to help these businesses commercialise their ideas and grow their companies. Lighthouse also delivers programs such as the ACT Microcredit Program for the ACT Government. Visit www.lighthouseinnovation.com.au for more information.