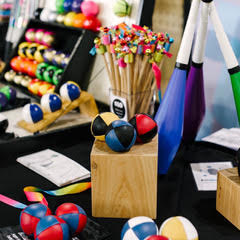 Balls for your Mind had been promoting the benefits of juggling long before Todd Sampson demonstrated how juggling can increase 'brain speed' in the ABC program 'Redesign my Brain'.
Fiona Stone from Balls for your Mind says that Juggling is great for increasing focus and concentration; improving coordination and the connection between body and the mind. Other mental health benefits include stress relief and helping you to feel calm, balanced and centred.
The inspiration behind Balls for your Mind came when Fiona and partner Michael, arrived in Melbourne after travelling around Australia from Adelaide.
Michael had learnt how to make juggling balls when he was in London. Looking for an opportunity that would allow them the flexibility to lead the kind of lifestyle they desired, they decided to start making the juggling balls in Australia. Their first market in Victoria was in 2001 at St Andrews Market and they have been going strong since then.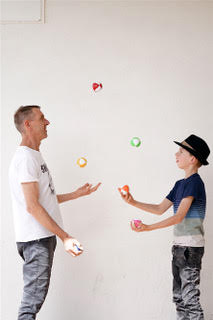 Fiona says that they would make the juggling balls during the week and then head out to markets on the weekend. Michael would drop Fiona off at the Arts Centre Makers Market every Sunday and then head down to St Kilda to trade at the Esplanade Makers Market. Fiona marvels that both market set ups fitted into their small Ford Focus hatch.
They have since added other products to the juggling balls, especially catering to the younger customers. Fiona says juggling balls are great for 8 years and up, but products such as their Bounce Back Ball is a simple way to improve a younger child's throwing and catching abilities by building hand/eye coordination skills. Fiona says her 12-year-old son Kody is involved in making the Bounce Back Balls, making it truly a family business.
Impact of the pandemic
Balls for your Mind had invested in an eCommerce website long before Covid-19 struck, providing them with the means to continue selling even when attending markets were no longer possible.
Fiona says they are really fortunate that their online store did very well and with Melbourne in lockdown for extended periods of time, many Aussies took up the challenge of learning to juggle. In fact, many businesses ordered juggling balls for their team members. She says that she had to learn how to teach juggling through Zoom meetings which turned out to be a lot of fun. Teaching juggling and interacting with groups has turned out to be an exciting growth opportunity for the business.
A focus on quality
When the 'Redesign my Brain' TV show aired in 2013, Fiona says they experienced a massive increase in demand for their juggling balls and were flat out for about 6 months working until midnight every night to keep up with demand.
While this sudden surge in activity encouraged them to find additional resources that they can draw on when they need to, Fiona emphasises the importance of quality and their desire to maintain control of how the products are made. She says it took them a long time to learn how to create a beautifully round ball that was weighted and balanced and hand-sewn to finish it off. This means keeping it in the family wherever possible.
Participating in markets
The attention to detail in making their products is also evident in the way the team at Balls for your Mind prepares to attend markets such as Handmade Canberra. As the positioning of their stand is different each time, the layout of the stand is tested before they leave home to ensure the products are beautifully displayed and accessible so that Fiona can easily support customers. Fiona says they also have a comprehensive social media strategy that kicks into action in the lead up to the market, letting customers know where they will be and encouraging them to place special orders that they can collect directly from her. There is continued engagement after the market through social media and this has helped to create a loyal customer following.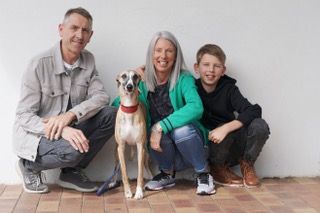 Fiona loves being at markets and interacting with customers. She stresses that you get out of a market what you put in and participating in Handmade Canberra feels like a family reunion – catching up with customers, the market organisers and other stallholders that she has become friends with.
For more information on Balls for your Mind visit https://ballsforyourmind.com.au/
If you are a creative business wanting to get the most out of your attendance at markets find out more about a workshop series specifically for market stallholders https://www.eventbrite.com.au/e/grow-your-creative-business-a-workshop-series-for-market-stallholders-tickets-381502412987