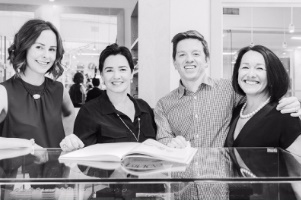 Canberra Jeweller Ben Preston-Black of Creations Jewellers - has won two top awards in the coveted biannual Diamond Guild Australia Jewellery Awards.
Diamond Guild Australia was established to set the benchmark for excellence and to support leading Australian jewellers and diamond professionals.
The Awards aim to promote and encourage excellence, innovation and inspiration within the Australian Jewellery industry, with 2018 marking the 10th anniversary of the Awards.
Creations Jewellers is a Canberra family owned business that's been in operation for 25 years. Creations specialise in designing and handmaking bespoke pieces for clients in the Canberra region, as well as for national and international clients. Creations were the only Canberra Finalists in the Awards.
Ben won top prize for his ring "Fanciful" in the Fancy Colour category. Fanciful beat out entries from 'Jewels of the Kimberley' and 'Refraction Manufacturing Jewellers'. Ben's ring design features a stunning 2.05ct Argyle champagne diamond along with a 0.30cts rare Argyle pink diamond. The diamonds are set amongst a ribbon of platinum and rose gold, and coloured Australian diamonds. This handmade ring is truly original, sculptural designed jewel
Ben is unique amongst jewellers; taking the artistic approach with many of his jewellery designs evolving at the bench. Ben tunes in with emotion and feel rather than from an initial sketch or design concept. "I sit at the bench and gain inspiration from how the metal forms as I shape it." Preston-Black explains. "The diamonds sitting at my bench talk to me - giving an impression of how I would like them to flow in the design. It's the feel that leads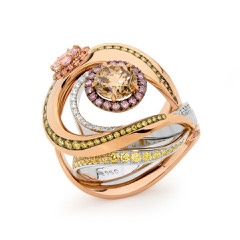 the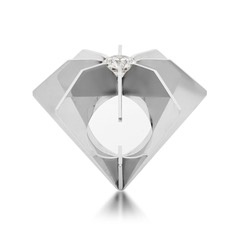 direction of the design. The natural flow finds its way into the design. It's such an exciting process I'm privileged to experience as an artist, with beautiful rare diamonds and precious metals."
Ben's second design award was in the Diamond Solitaire Category, with other entrants being 'Jeff Einstein Jewellery' and 'Levendi Jewellers'. Ben's winning solitaire ring is aptly named "Brilliant"! The ring features a 2.73ct diamond in a sculptural depiction of the round brilliant cut diamond. Creation's jeweller, Rowan Hurrell made the meticulously crafted ring as his first competition entry!
"There is more structure in this design. I was inspired by the beauty and brilliance of the perfect geometry of the round brilliant cut diamond." describes Preston-Black. "The design is a contemporary take on the classic claw set solitaire that has been popular for generations. This piece took more planning.
Three brass prototypes were made before we were happy with the proportions."


About Creations Jewellers,
A team of professionals including award winning designers, gemmologists and experienced jewellers, Creations' aims to provide the highest level of design and manufacture all under one roof.
For more information visit http://creationsjewellers.com.au/