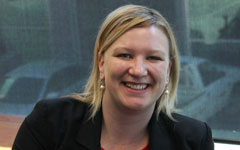 To be human is to have issues. Something could happen to anyone of us and we could land up suffering from a disability and be unable to work in a traditional 9 to 5 job.
Not to be all doom and gloom or anything, but as you get older the chances of something happening that affects your capacity to work increases substantially. In fact, your risk of living with a disability more than doubles between 24 and 45 years and then increases again to 31% of 55-64 year olds.
A new resource for those with a disability comes from Canberra entrepreneur, Jessica May, who recently launched her company Enabled Employment; a recruitment site that connects people with disabilities with teleworking opportunities. We had a chat to Jessica to find out what motivated her to start her business and what lessons she had learnt along the way.

The idea for Enabled Employment came from Jessica's own experience as a person working with a disability. After the birth of her first child, Jessica's existing anxiety was aggravated by a thyroid condition. On returning to work in the Public Service, she found everything was different.
"As soon as they found out I had a disability, the whole world changed. I had all my work taken away from me because my employers did not want me to get too stressed or anxious."
"I had to sit there for 6-12 months with next to nothing to do and I started to think there has to be a better way than this for people with a disability returning to work," she said.

The type of disability a person has can affect their likelihood of participating in the workforce and according to the Australian Bureau of Statistics (Australian Social Trends, March Quarter 2012) those with a psychological disability have the lowest participation rate. Because mental illness can be episodic with good periods and bad periods, people with a mental illness can experience significant work disruption.
"After working through the difficulties associated with my disability, I've noticed resilience is a really big thing you need."
"I believe people with a disability tend to have to work at 200% to be recognised at 100%; you need to be ready to try and do anything.
"Anything can be successful as long as you work hard at it; for me, when I'm working and working hard my mental health is so much better," she said.
It's hard enough to start a business without a disability, but starting a business with a disability can be really challenging so it's important to build a strong support network around you. Jessica sought advice and support from Canberra BusinessPoint and Lighthouse Business Innovation Centre. She also successfully applied for an ACT Government Innovation Connect (ICON) Grant and was accepted into the GRIFFIN Accelerator program.
"I had no idea there was such an innovative culture in Canberra."
"You don't realise but because Parliament is here, you have different businesses travelling to Canberra regularly as well as big businesses based here.
"There are also really great resources in Canberra. There are really good courses and workshops that can be a great support, and in the end everyone you talk to wants to help," she said.

Since launching in April, the growth of Enabled Employment has been incredible with over 400 employees registered and partnerships with multiple Government agencies throughout Australia.
"This last part has been frenetic and fast, and amazing, but there was a lot of work that went on behind it."
"Even though we've had such big growth and everything is going so well after three months, it's because we have contacted hundreds of people and held many meetings, and worked really hard," she said.
Jessica says three of the lessons she has learned along the way are:
"Listen to the advice people give you; do your research; and just have fun!
"Enjoy what you're doing – you have to be enjoying it if you're going to put in the hours of hard work".
As for the future of Enabled Employment, Jessica is really excited about the prospect of expanding into the international market, building their client base and extending their service offering to the indigenous community.
"It's been really exciting," she said, "things are looking really prosperous for the future."
About Lighthouse Business Innovation Centre
Lighthouse has a strong track record of supporting entrepreneurs, researchers and inventers on the path from concept to commercialisation. Since July 2008, Lighthouse has worked with over 990 distinct enterprises and provided group and peer based services to over 3400 enterprises and individuals. For over five years Lighthouse has successfully delivered business advice, education, mentorship and networking opportunities to help these businesses commercialise their ideas and grow their companies. Lighthouse also delivers programs such as the ACT Microcredit Program for the ACT Government. Visit www.lighthouseinnovation.com.au for more information.