Put simply, Kehnan Walsh needed to make a decision - try and get back to full health and work as a personal trainer or risk starting up a business.
Kehnan, 22, is a founder and CEO of KD Ratio, a streetwear and fitness clothing company birthed in Canberra and trading from Sydney.
A graduate from Erindale College and CIT, Kehnan found himself on the usual path of looking for a job and quickly settled into the role of a contractor personal trainer.
But when he contracted glandular fever in 2013, Kehnan was unable to work for a year – the first of several blessings in disguise.
Glandular Fever or the Epstein-Barr Virus (EBV) is an infectious disease common among teenagers and young adults[1]. While many people are exposed to the virus and never develop symptoms; for those who do become ill the tiredness and swollen glands may last for 2 to 3 months or even longer with symptoms reappearing whenever they are run down.
"It was a huge blow mentally and physically," says Kehnan.
"I felt like I had my life on track with graduating and working as a personal trainer, but basically I had that taken away from me almost overnight."
Kehnan took the hand he was dealt and started to think what else he could do.
"I had always been interested in business especially the fitness scene and thought there could be a niche to combine an edgy streetwear look that works on a fitness physique.
"Bodybuilders can really struggle to find good quality casual clothing that fits their shape and allows for their wider shoulders, developed chest and smaller waist.
"They land up having to buy larger sizes to fit across their shoulders, but then they don't fit around the midriff.
"I gained a sense that there could be a real potential for this kind of clothing as the people I was speaking to were always complaining that fashionable clothes simply didn't fit well," says Kehnan
In just a few months, the KD Ratio brand went from idea to launch.
"I began networking with people in the fitness, manufacturing and business scene, making some great relationships and completing a Cert IV in small Business Management through a scholarship awarded to me for my successful business plan.
"I was also one of the successful recipients of the ACT Microcredit Loan Program[2], a program designed to support new and emerging businesses in the ACT."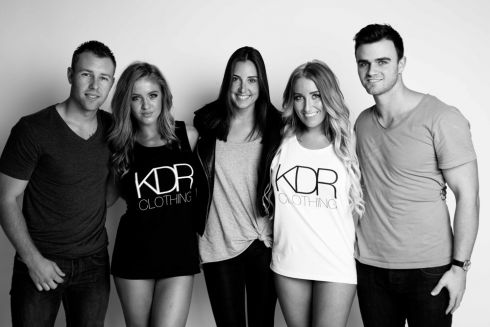 KD Ratio's apparel began to gain recognition outside of clients, friends and family, which created a demand for the clothing online and in local gyms where Kehnan trained.
"I was confident I could do this with my business partner and working independently has certainly given me the flexibility when I needed it.
"At the moment I'm working from home, but with the operation continuing to expand at its current rate, by mid-next year I anticipate I will probably have to move to Sydney."
KD Ratio currently focuses on the design and sales of t-shirts, but will be launching tank tops, jumpers, snapbacks and jeans in the not too distant future.
"I didn't think it would happen at this pace," says Kehnan.
"I've always had a vision of where I wanted to be and I believe you have to set goals, but I didn't think we'd accomplish our goals so quickly."
Kehnan says that similar to other trends in the younger generation, fitness competitions as well as gym apparel and an increasing need to look stylish are becoming the norm.
"Fitness is at its biggest right now with everyone in the gym competing.
"You don't go to the gym, festivals and nightclubs in everyday clothes anymore. People care how they look when they are out, which is why KD Ratio seems to be getting so much traction.
"I wanted to put my own sense of edgy style and tailor it for athletic bodies and people seem to like it."
Kehnan says that while he has had to deal with a number of setbacks around his health, there are big plans for KD Ratio's future.
"I will admit we have visions of a storefront, but that's further down the line. At this point, we're focused on continuing to expand the brand online, looking at moving to Sydney and then possibly a warehouse in the middle of Sydney.
"Work will always be around, but this opportunity won't," laughs Kehnan, "and I'm glad I chose this."
---
[1] http://www.healthdirect.gov.au/glandular-fever
[2] http://www.actmicrocredit.com.au/
About Lighthouse Business Innovation Centre
Lighthouse has a strong track record of supporting entrepreneurs, researchers and inventers on the path from concept to commercialisation. Since July 2008, Lighthouse has worked with over 990 distinct enterprises and provided group and peer based services to over 3400 enterprises and individuals. For over five years Lighthouse has successfully delivered business advice, education, mentorship and networking opportunities to help these businesses commercialise their ideas and grow their companies. Lighthouse also delivers programs such as the ACT Microcredit Program for the ACT Government. Visit www.lighthouseinnovation.com.au for more information.