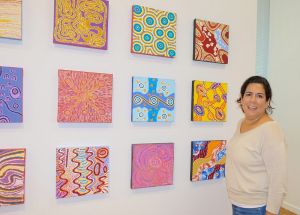 Catherine Jaktman knows a lot about IT Management, enterprise modelling and service delivery models.
In fact, she even has a PhD in all of that.
However, most people who have had the pleasure of meeting American-born Catherine don't know that she has a real passion for Aboriginal art.
This passion has seen Catherine step outside her comfort zone and launch Jaktman Gallery which has just opened its first exhibition to a packed out audience at the M16 ArtSpace in Griffith.
Australian Aboriginal art is recognised internationally as a unique form of art and respected and admired by art critics everywhere and after many years of collecting and studying aboriginal art, Catherine started working with the art centres in the central desert to promote their art in Canberra.
Catherine says, "The most enjoyable part is working with the artists and seeing their joy in painting."
"Their artwork is so vibrant and I feel privileged to be able to share what is essentially a living history of aboriginal people's lives".
According to Catherine the exhibition is titled 'Contemporary Visions of Aboriginal Art – The Warlpiri People' and celebrates the ongoing links between the Warlpiri people and their land and culture.
"The painting movement in the Central Desert communities has been a catalyst for the preservation of culture, environment and society or "Jukurrpa" (dreaming)," says Catherine.
"By reliving the stories, songs, and ceremonies, the artists are able to share their knowledge and display the most beautiful representations of their ageless culture".
As a first-time curator, Catherine says this exhibition has been a big learning curve for her.
"This has been so far removed from my career in IT, but a lot of my project management and people skills have stood me in good stead – from travelling to remote communities and developing relationships with the art centres to logistical tasks like organising a framer and hanging pictures."
"It was important to me that all the artwork was ethically sourced from aboriginal owned art centres and that sales from the art work go directly to artists and support the sustainability of the art centres".
Over 150 people turned up for the opening night and the feedback from the exhibition has been excellent.
Buoyed by the success of her first exhibition, Catherine says Jaktman Gallery will present pop-up exhibitions in Canberra throughout the year prior to opening a gallery at the Kingston Foreshore in 2016.
If you want to see over 30 highly collected and emerging Warlpiri artists consisting of works from multiple generations, head along to the Jaktman Gallery exhibition on until March 1, 2015 at the M16 Artspace, 21 Blaxland Cres., Griffith.
About Lighthouse Business Innovation Centre
Lighthouse has a strong track record of supporting entrepreneurs, researchers and inventers on the path from concept to commercialisation. Since July 2008, Lighthouse has worked with over 990 distinct enterprises and provided group and peer based services to over 3400 enterprises and individuals. For over five years Lighthouse has successfully delivered business advice, education, mentorship and networking opportunities to help these businesses commercialise their ideas and grow their companies. Lighthouse also delivers programs such as the ACT Microcredit Program for the ACT Government. Visit www.lighthouseinnovation.com.au for more information.