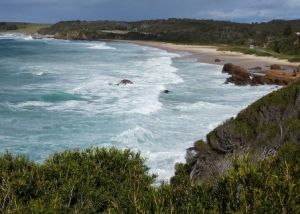 Office View at Accounting 4 BusinessYou might think a seachange is just for retirees or those wanting to open a coffee shop, but for one ambitious entrepreneur a seachange has been the route to exponential growth.
In less than ten years, Susie Robinson from Accounting 4 Business went from a small accounting practice in Gungahlin to opening an additional four shopfronts along the South Coast.
Initially, a decision to make a seachange saw Susie and her partner Glenn open an additional shopfront in Narooma where they were going to live.
"Originally we would do four days in Canberra and one day in Narooma but we were inundated by people coming in and so we expanded the Narooma office, eventually opening shopfronts in Moruya and Bega, as well as purchasing a practice in Bermagui," says Susie.
The geographic growth of Accounting 4 Business has been fortunate but Susie admits that being located across different geographical locations has come with its challenges.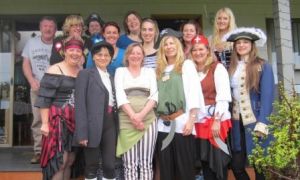 The Accounting 4 Business Team at the Staff Christmas Party
"The biggest challenge with managing multiple offices in different geographic locations has been coming up with ways to communicate effectively," she says.
With new technologies and software available in the workplace, Susie recommends using technology as a way of helping to connect across different locations.
"We've made sure that the flow of communication across all offices is consistent; we have set up an intranet that has all updated information to ensure all staff members receive the same message, and a VOIP system to allow phone calls to be transferred between offices the same as if we were in the same office," she says.
"I don't think the growth of the business would have been achievable without looking into the new technologies available."
As challenging as starting a business is, Susie has found one particular element to be the most difficult.
"I've been running my own business for 8 or 9 years now, and of all the things I've done including opening new practices, the scariest thing I've had to do is taking on my first staff member. For a small business, it is a huge decision to take on another person."
"Over the years I have taken on people who haven't been a right fit for the business and I do think it's crucial for small businesses to be able to assess that pretty quickly and make changes where necessary, "says Susie.
"We're very lucky in that we have a great team of 15 people right now."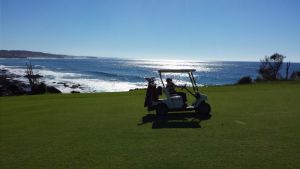 Playing Golf at the Narooma Golf Club

Just like many entrepreneurs, Susie didn't start her accounting career thinking she would be the owner of five practices. Susie was working for a large accounting firm in Sydney when she realised working in the "big firm environment" wasn't for her.
"I wanted to have more contact with my clients; be involved with them on a regular basis and work closely with them throughout the year."
"After building on my experience with smaller firms and making the move to Canberra, I started contracting my services out to large clients as more of a financial controller role."
It was during this time that Susie noticed a disconnect - clients were making big business decisions but weren't talking with their accountant to determine how that would impact them from a taxation point of view.
"To me, the business, the structure, tax, financial planning – everything has to fit together," she says.
"I decided to re-register as a tax agent and set up my own business and that's how Accounting4Business came into being."
Susie admits that starting Accounting 4 Business was daunting in the beginning.
"I was new to Canberra and had never practiced in Canberra before but I opened the doors and just went from there!"
"We started in Kingston and moved to Gungahlin as the area was exploding population and business wise."
Susie says she owes her success to her clients, "our success has come from word-of-mouth because we really listen to our clients."
About Lighthouse Business Innovation Centre
Lighthouse has a strong track record of supporting entrepreneurs, researchers and inventers on the path from concept to commercialisation. Since July 2008, Lighthouse has worked with over 990 distinct enterprises and provided group and peer based services to over 3400 enterprises and individuals. For over five years Lighthouse has successfully delivered business advice, education, mentorship and networking opportunities to help these businesses commercialise their ideas and grow their companies. Lighthouse also delivers programs such as the ACT Microcredit Program for the ACT Government. Visit www.lighthouseinnovation.com.au for more information.