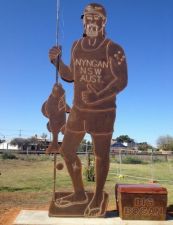 It started in Nyngan, a small, rural town in New South Wales with a population of just 2,000. Located in the centre of the state, Nyngan is home to farmers and miners, not exactly Silicon Valley and not where you'd expect a tech startup to be born.
Among its residents are entrepreneurs Ian Perkins and Richard Bootle, who own farms and a property law firm, lawlab. Lawlab was founded in 1899, and was acquired by the pair in 2000, working with both local and city based clients on their conveyancing needs.
But not content with just operating a successful rural practice, Ian and Richard had plans to create a national branded property law firm with offices all around the country.
Nyngan is very much in the centre of Adelaide, Melbourne, Sydney, Brisbane, and Canberra but with the nearest Capital 500kms away, effortlessly communicating with clients was difficult.
"We had both worked in top tier law firms in capital cities but we wanted to stay headquartered in Nyngan, so we started to grow using traditional methods of communicating and working with clients and property professionals across Australia. Snail mail, emails, phone calls, video calls and face to face meetings were the only tools at our disposal," says Perkins.
"The very nature of property transactions and conveyancing – being in regular communication with everyone involved in a transaction – meant communications was the number one hurdle to overcome to achieve our vision."
They realised that professional collaboration wasn't just a challenge for lawlab, but working efficiently and collaboratively was a challenge for all professional service providers with clients and colleagues across different towns and cities.
That's when Perkins and Bootle turned to Ian's brother Graeme, a technology specialist recently returned from a start-up career in Munich, Germany, to develop a solution. That solution is Rundl, an open business network designed to make customer journeys and business collaboration easy.
"Ian and Richard knew there was a problem to solve, and wanted me to create something that would bring people together regardless of where they were, physically. That's why Rundl works a lot like social media – activity feeds, status updates, requests, profiles – but with private workspaces for every transaction so you securely and easily share documents, organise things and communicate freely with just the people you want in the loop," says Graeme.
"But I didn't stop there. I knew that a community was forming around the business transaction, but this community wasn't served by anyone. The incumbent enterprise software providers helped their customers work efficiently, but only within their own work stream. And while Facebook and other multisided platforms had created an information-rich electronic social environment, there wasn't anything like that for secure business transactions. I was certain the future of work would be outside our four walls. The next wave of efficiency and customer experience improvements were about how companies work together."
Rundl began as a cloud-based platform servicing the property market, inviting lawyers, mortgage brokers, real estate agents and buyers into a group to secure property transactions from anywhere. It meant that the relationship between client and service provider could be managed remotely in a secure, online platform, resulting in a simple and effective property transaction and a happy client.
The software is something that real estate agencies like Barry Plant and LJ Hooker, and mortgage brokers like Aussie and NAB's Advantage have keenly embraced to improve the property transaction process for their clients. It means that their clients can be on the platform and see everything happen before their eyes – they could even take a holiday while their transaction was completed, and return with their only requirement to sign the final document.
| | | |
| --- | --- | --- |
| | | |
| Graeme Perkins | Richard Bootle | Ian Perkins |
But it's not just property that Rundl wants to make easier - growth is something Rundl well and truly has on the cards.
"The property market is just the beginning for us," says Graeme, "our Melbourne-based development team is ready to take Rundl to other sectors where geography and communication has made service delivery a gruelling task."
"Rundl is setting a new standard in professional service delivery, breaking down traditional business information silos to create a smarter way of working in Australia and around the world."
The healthcare sector is ripe for adoption of software like Rundl, which not only helps with simple communication, but also protects personal data and files so patient-doctor confidentiality can be maintained.
Bootle explains that the medical journey can be made far simpler for practitioner and patient with Rundl.
"It starts with a patient who goes to a doctor, and then is referred to a specialist, pathologist, radiologist, physiotherapist... the list goes on, and all of these professionals need access to your medical information in a secure and transparent way. The platform even allows collaboration on booking times at hospitals," Bootle said.
"Traditionally, it's been up to the patient to project manage their treatment but with Rundl, the process can be streamlined to ensure effective communication and collaboration between professional and patient."
Rundl has developed over time to be a living, breathing platform that reflects the most inventive technology Australia has to offer. As the team grows, the software develops and shifts to become even more essential to the everyday service providers and customers whose communications and geographical problems they wish to solve.
Rapid and effortless communication is crucial in the modern business environment, and its tools like Rundl that are disrupting traditional methods and providing companies with the digital tools they need to get ahead and be more innovative.
If you think nothing happens in the outback, you haven't been to Nyngan.