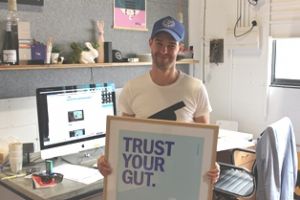 Mat Colley from creative agency, Foundry, shot to fame when his Acting EL1 t-shirt made it into the Canberra Times in October last year and then a remarkably similar shirt went live on Amazon's international site the following day.
We caught up with Mat to find out a bit more about the inspiration behind the idea.
Where did the inspiration for the Acting EL1 #Flexlife t-shirt come from?
I worked in the creative industry for a long time, about 10 years and eventually I left because I wanted to run my own show. I wanted to be my own boss and have more creative freedom as to how I approached jobs, how I did jobs and the sort of jobs I did.
After working at an agency for 9 years, I went to the public service for about 8 months. I went in thinking that maybe it would be okay, but after 6 months I decided this was not for me at all.
One day I was talking to a friend about my time in the public service, the flex-time that EL1's got and some of the perks of being an EL1 and she said, 'you should do a t-shirt'. So, I did.
After the story ran in the Canberra Times, it went gangbusters! I probably sold about 200 t-shirts all online through my website. I got a lot more interest and traction and website visits from it than I expected. I do all my screen-printing in-house and invested $50 in making myself a screen and buying10 t-shirts and printing them. And then I got so many orders, so I thought oh well and bought about 150 and then just rolled them out. I guess for me this is just fun creative stuff and I can do it really quickly and it also gets me away the computer.
Initially, I thought there might be a little bit of backlash against it from people wondering why I was poking fun at the public service, but everyone thought it was hilarious. It's that Canberra environment where everyone can relate to it. I also wouldn't have done it if I hadn't had that experience in the public service, so I feel like I can poke fun at myself too.
How long have you been making t-shirts?
I have always been good at illustration and making tactile things. Actually when I was about 14 I 'borrowed' some screen printing equipment from school to create my own t-shirt brand. I printed a bunch of really crude t-shirts which weren't very good and went down to the markets to sell them. I didn't sell a thing, but 15 years later I was still really enjoying designing t-shirts, but I was paying other people to print them. I worked out the cost and decided to buy the equipment and learn how to operate it.
I can actually do a fair bit and I print for other people as well. The biggest job is probably about 1000 t-shirts, but it's just a sideline. For clients if they were interested in it I could certainly do it, but I don't promote it because my true passion is coming up with ideas and the concepts for it. I like wearing my own t-shirts, I like coming up with ideas and throwing them on a t-shirt and I like making tactile things as well. Printing is hard work – lots of physical labour! It's perfect for a small print run though, so when I was doing markets I'd just do 10 t-shirts to get an idea out onto something without it being a huge investment.
All sorts of things inspire me to come up with ideas for t-shirts – typography and I have had some ideas that have been inspired by Canberra. There's quite a sense of humour behind the t-shirts. In fact, I had a whole lot of suggestions from other people about what I could put on t-shirts after I made the Acting EL1 t-shirts.
What led you to starting Foundry?
I started graphic design when I was 22. I left school at 16 and became an auto-electrician and then came back and studied graphic design at 22. I always really loved doing this kind of stuff but I didn't know it was a job and that you could do it for a living. My dad was a mechanic and I originally followed in his footsteps. I was about twenty when the Internet came along and I did some research and thought 'there's a job that I can be creative in'. I was still pretty young, twenty-two, so for me I could change direction and go back to study. Now it's the perfect career.
When my brother got a space in Fyshwick and said there's room if you want to share the rent, I had no more excuses not to give it a go and branch out on my own.
I think Canberra has grown up a lot in the last 10 years. There are lots of people trying different business ideas outside of the public service. Even Braddon when that all opened up there were opportunities for traders to get in and give things a go without a huge capital outlay.
While Fyshwick was been dead for a little while with empty shops, the rent has come down a bit and that's giving people the opportunity to give things a crack. I hope Fyshwick will experience a new boom. Capital Brewing Co. has certainly brought a lot of people back in on the weekends. Its chockers and that whole space it really cool. It's awesome what they have done and you would never have thought to go down there.
If you're looking for one of Mat's unique t-shirts or need creative work done visit http://foundryco.com.au/.