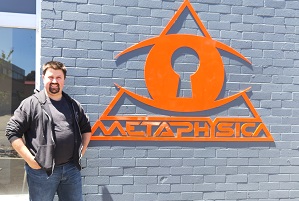 Who would have thought that escape rooms would become a global phenomenon? But there has been a steady growth in the number of rooms around the globe. For the uninitiated, an escape is a physical adventure game.

Players are locked in a room and have to use the various things in the room to solve a series of puzzles and escape the room within a set period of time. They are a great team building activity, perfect for birthdays, bucks nights or just a way to have some fun with a group of friends or the family.
Canberra has a new breed of escape room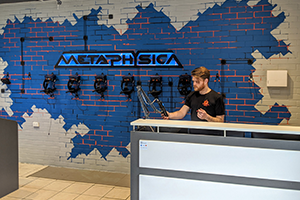 Lightning Rock has been operating in Canberra since 2013, initially as a game development company that moved into virtual reality as a way of enhancing those games. While virtual reality hasn't really taken off in the gaming sector, Lightning Rock has developed some unique expertise over the years that have attracted interest from a number of sectors including education, health and defence.
The opportunity that really caught Lightning Rock's attention was the growing interest in virtual reality arcades.
"People really want to try virtual reality and the different experiences you can have, but you can only do this in short spurts and not many people have the space to dedicate to the experience, so we are opening our own', says Lightning Rock CEO Shannon Pickles.
Metaphysica is Lightning Rock's new virtual reality arcade. Two custom-designed rooms in Mitchell provide a fully immersive experience.
Innovating during COVID-19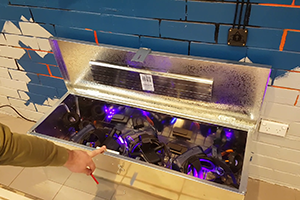 Shannon says their business was just ready to launch in March when COVID-19 struck and everything ground to a halt.
Shannon says that even with the pandemic restrictions, Metaphysica is capturing people's interest.
"We are getting 50 to 60 people coming through a week, which is great and they've really enjoyed it.
"It's a bit of a double-edged sword at the moment, on the one side there are less people wanting to go out and do stuff, but at the same time there's not a lot open. So, it's an advantage for us because we are one of the places that are open and its by booking only."
Metaphysica has put in place a number of precautions to comply with COVID-19 restrictions.
"There is a maximum of 3 players per 36m2 space, and whilst you may occasionally move through the same space as others, there is no requirement for physical interaction between players, and our experiences are designed so it is rare players would be standing close to each other at any stage," says Shannon.
Because Metaphysica only takes bookings, there are no strangers. "You only come into contact with the people you arrived with. It's not like a traditional escape room, you don't touch or hold anything anyone else has touched. The only thing you share is a personal controller and a headset, which is bathed in ultraviolet radiation when you are finished with it".
The VR headsets and controllers are sanitised after each session with a custom-designed ultraviolet sanitising system developed by the engineers at Lightning Rock, and again right before they are given to players.
Fun for all ages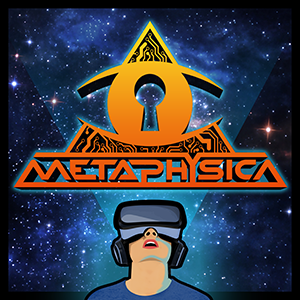 "We had a grandmother, a mother and the teenage son all together playing in one room," says Shannon.
"It appeals to a really wide audience. We've have had parties of 11-year olds come through as well as teenagers, but then we've also had some grandparents and quite a few older people who've wanted to try it".
Shannon says the experience is low impact with no physical exertion required, so it's fun even for those with dodgy hips and knees.
The system is also very easy to understand even if you are not an active computer gamer.
"We try to make the interactive system as intuitive as possible to real world movement. So, there is no such thing as teleporting or any of the classic game movements. It's literally as you move in the space you move in the virtual world. It's that simple. The camera is controlled by your head so when you look somewhere you look that way in the game. The control is in your hand so when you move your hand you move your hand in the virtual world".
"Really you only need to have one arm or use one hand. Because the space is quite small and we don't use heavy equipment, it's also fine even if you don't have great hips or a great back. It's just a light headset and a light controller, so you don't need to have full muscle or arm strength".
New experiences
Shannon says the plan is to bring out a new experience or room every 3 or 4 months.
"We get a lot of repeat business. In fact, we get a lot of people who finish room one and immediately want to do room two!"
"It's also not just puzzles, it's quite a beautiful environment with different worlds and people are quite fascinated by it, it's like a cinematic adventure," says Shannon.
"In the future when we are creating new experiences, we are going to try to make alternate options that are more mobility-friendly. For example, there are still a couple of interactions where you need to crouch. So, we will make options where all objects you have to interact with are at waist height. When it comes to software, this is a really simple thing to do, whereas it's something you can't easily do in a physical room – you would have to go around and change all the locks and switches and move them up a couple of feet".
"We do want to look into the possibility of bringing further accessibility features, but at the moment we are a bit constrained by the physical space we are in. VR does have enormous potential though to allow people to experience places that they can't go – we can take you underwater or to the moon. We are designing our own experiences where we will be able to cater for people who are colour blind. We can play with colour by just click a button. That's the advantage of software, we can change options," says Shannon.
"We recently had our first player coming through in a wheelchair and she had a great time and was able to fully participate".
"The benefit of virtual reality means we can open doors and move from one environment to another creating kilometres of space, even though players never leave the one 36 square metre room. We can custom design and create our own virtual escape room experiences ourselves, which can include a diverse range of narrated adventures with sound effects and all sorts of interesting enhancements'.
At Metaphysica players will get a choice of experiences and adventures, and soon the team at Lightning Rock will be rolling out a new Virtual Reality escape room experience every few months. Something for regulars to look forward to!
To find out more visit www.metaphysica.com.au.