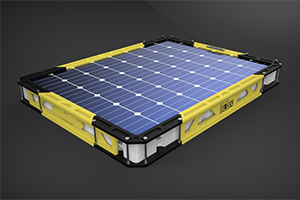 With over 2 million households1 now having solar panels installed, renewables are no longer just a nice-to-have they have become more of a necessity. While in many parts of Australia we are lessening our impact on the environment, Smart Blox is attempting to solve the problem of what happens on the fringes. The Canberra-based company believes that there is a gap between technology and the people who consume energy on a daily basis. Not everyone has the financial ability to move to solar and in some locations it's not practical or even available. Smart Blox believes that this gap is caused by an accessibility problem and this is the biggest hurdle that we need to overcome in our journey towards a renewable energy future.
Smart Blox has developed a product called Solar Blox, which is the brainchild of engineer Tim Larsen. Tim came up with the idea when he was installing solar energy systems in Nepal. Tim saw how complex the systems were. They had many different components and quite often these systems would fall apart after a couple of years because the people just didn't know how to maintain them. Any renewable energy system requires a lot of skills and knowledge to design, install and maintain. It's also not practical in situations where power is needed quickly, such as aid outposts, remote surgeries in the outback or communities in flood-affected areas. The technology behind these systems is also cost prohibitive for the majority of society especially in poorer or developing countries.
To solve this problem, Solar Blox combines all these different components into a single product. It is designed to be simple to set up and use so that anyone can operate it without needing any technical knowledge. Solar Blox includes an in-built battery and inverter, allowing it to output energy through a standard power outlet. It's deployable and lightweight enough to go camping and built to withstand rugged environments so that it can be used in emerging nations, by emergency services, in construction and by aid organisations or for remote operations. A major benefit of Solar Blox is the ability to connect multiple units together, allowing you to increase the power-output and effectively create your own portable micro-grid.
With their Solar Blox product, Smart Blox is on a mission to close that gap and put the power of solar into the hands of those who need it the most. Their focus in on assisting people where renewable energy can have both a social impact as well as an environmental one.
Smart Blox has received both local and international recognition for their product's potential application in disaster recovery as well as the consumer camping markets. They were the winner of the 2017 Global Business Challenge, receiving not only the first prize but also the project prize, Government prize and the energy prize. The company was also awarded an Innovation Connect Grant from the ACT Government as well achieving finalist places in the US based Rice Business Plan Competition and MIT Clean Energy Prize. They are designing and producing their first prototype in Canberra and are now backed by investors and have pilot programs underway.
Using downtime from COVID-19 to build a better product
As an emerging exporter, Smart Blox have adopted a strategy of using the down time caused by the COVID-19 pandemic as an opportunity to revisit some design challenges.
"Our strategy is to ride-out the COVID-19 situation", says CEO Tim Larsen.
"Smart Blox is still in the startup phase with a number of pilot programs underway. We were about to launch into the next phase when COVID-19 hit, so we had to ask ourselves how do we readjust things? How do we make it through this period as a business so that we can be ready once COVID-19 restrictions ease and the world hopefully starts to return to normal?"
Tim says their aim is to be ready with a product that is better than it was to start with, ready to launch into the market post COVID-19.
"What we're doing is focusing on the bits that we can control. We can control the technology, we can improve it, we can make it lighter, easier to move and we can make it work faster".
Being ready to grab opportunities
Unlike virtual products which are easier to build and sell over the Internet, Solar Blox is a physical product.
"It's very much about the interaction between the human and the product which makes it more challenging in the current situation," says Tim.
"This has meant that we have needed to be adaptable. From a business perspective, they say that half of what makes a successful startup is luck and timing. So, we're now trying to position ourselves so that when that right opportunity comes, we're able to scale back up really quickly and grab it".
The importance of being flexible

Tim says that the pandemic has created a number of challenges that they have had to find work-arounds for.
"We have not been able to import parts that we need. Also, getting electronic components has been difficult. We have team members that have been restricted in access to labs and unable to get access to the hardware they need; this has made it hard to iterate software baselines and test those effectively.".
Tim also points to the need to be flexible with regards to the market.
"People are still interested in talking to us, but we think a lot of people are just focused on survival at the moment. People are taking the approach of just waiting to see what happens with COVID-19, whether a vaccine comes into play and how quickly the economy gets stimulated".
There are many unknowns at this point that make planning challenging.
"Will the Government bring in new policies and stimulus packages? Will foreign governments decide that they are going to inject a whole bunch of funding into developing countries? Will they setup aid projects to help drive stimulus to get people out of this this economic disaster? Alternatively, does the Australian Government, for example, become more inwardly focused for a period of time?
"You have to have a business model that is nimble and adaptive and able to rapidly pivot. Even from a leadership perspective, they say everything is always changing and the rate of change in the world is greater than it has ever been.
"It's also important to be lean. With everybody working from home we can see that we can run leaner than we ever thought we could. For example, you can have a no bricks and mortar policy. We know this can work because COVID has shown us that it can work. New ways of working and new business practices can help you to remain more nimble and more scalable. This can help to handle both the ups and downs where you are able to scale up but also scale back down when you need to".
The potential of local assembly
In a post-COVID world Smart Blox is keen on local assembly.
"Previously in Canberra, there wasn't the workforce available. However, with so many people facing unemployment in Canberra, our vision is to help create employment; if we need to scale up our plan would be to train people locally to help assemble our new products", says Tim.
1 https://www.cleanenergycouncil.org.au/news/number-of-australian-homes-with-rooftop-solar-tops-2-million-and-counting
An initiative of the ACT Chief Minister's Export Awards
The ACT Chief Minister's Export Awards aims to showcase and celebrate the achievements of Canberra region exporting businesses. These Canberra and region businesses transact significant parts of their business activities (legal, accounting, production, research etc.) through the ACT as they develop international markets. The ACT Chief Minister's Export Awards aims to build the pathway for new and emerging Canberra region businesses seeking to internationalise their business. If you are a new or existing exporting businesses in the Canberra region, you can access a range of support as well as network with other exporting businesses, including

The ACT TradeStart Program helps ACT exporters to achieve long term success in international markets. The TradeStart program allows the ACT Government to work closely with Austrade and access key Austrade resources such as their export database, trade mission activities, their off-shore offices, intelligence and international connections for the trade and investment activities to support ACT exporters.

The International Business Engagement Program is being delivered by Canberra Business Chamber on behalf of the ACT Government. Its main objective is to maintain, rebuild and find new opportunities for Canberra and region businesses to engage internationally. The program focuses on building the Territory's exporting community; providing training and support by facilitating seminars and workshops; creating links between local industry and other government support programs; assisting the ACT Government in co-ordination of business trade delegations (outbound and inbound).