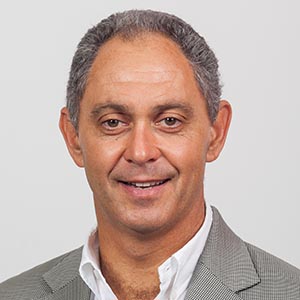 Smartphone technology has transformed the way we do business and organise our daily lives. We use our phones to check email and social media, for online shopping and banking, as well as making calls and sending messages. The number of mobile phone users worldwide is thought to reach over 7.2 billion in 2022. On the other hand, every day someone is fumbling through their pockets or handbag looking for their key, fob or access card to get into their home, office, gym or workplace. Safetrust removes the need for this key finding ritual by delivering contactless access. Using virtual credentials stored in your mobile phone or wearable (i.e. smart watch), Safetrust enables the user/wearer to move seamlessly through secured doors, elevators, turnstiles and parking garages. Safetrust leverages the existing access infrastructure to provide a fast, cost-effective, and convenient upgrade path to touchless virtual credentials.
A simple idea making a big difference
Safetrust was established in 2016 as it saw an evolution occurring in physical access. It utilized the knowledge and expertise it had gained from the IT and physical access space, and brought it together. As organizations move away from traditional cards and legacy ways of identifying people in their infrastructure, it built a suite of products that leveraged the billions of mobile devices already out there. "Phones are ubiquitous these days and you never leave home without them. But you will at some point forget your office pass or wallet at home. It's about having your identity connected to your phone", says Andy Castle, Chief Operating Officer of Safetrust.
The beauty of Safetrust is in its simplicity. The Safetrust Wallet app works on all Android and Apple devices and is available from the App Store and Google Play. Administrators are provided with access to Credential Manager, a cloud-based platform that enables organisations to manage the full lifecycle of the digital credentials,.as well as monitoring, reporting, and business intelligence capabilities. "You don't have to go into the office to get your pass or badge to obtain a valid credential. This is why places like gyms love it. It's 3am and you decide you want to go to a 24-hour gym, you download a credential, get into the gym and no one else has to be involved in the process. "Credential activation range can be configured on a door by door basis and if your security policies allow, access can be granted whilst your phone is still in your pocket ", says Andy.
The idea for Safetrust came from Jason Hart, the founder of Protocom, one of Canberra's early IT success stories. Jason spent 20 years in the smartcard world, and he knew that over time mobile devices and wearables would replace these. The initial target for Safetrust is the Access Control Market. Andy explains that turnstiles in buildings, for example, have been around forever but the access controls in them are mostly proprietary. "You buy a smart card and a reader from a provider, and you are then locked into that system. Our corporate customers with multiple buildings, around either Australia, or around the world tell us that these systems are expensive and inflexible. If you don't own the building, then the landlord dictates the access control".
"Pretty much every office you go to needs a different access card. Safetrust addresses this by giving you virtual credentials across the organisation and you don't have to physically interact with the card reader. So, if I have to go to Brisbane or Melbourne, for example, I don't need multiple passes because I have already been credentialled to access the site on my phone", says Andy.
Safetrust is an open standard product so it can work with all systems. The technology will turn a proprietary reader into an open standard reader simply by inserting a small device. The reader can still read issued fobs or smartcards if that's what people prefer, but it will now also read your mobile phone. "The solution is quick, simple and more cost effective than replacing readers and multiple lost cards, fobs and keys", says Andy.
Addressing the market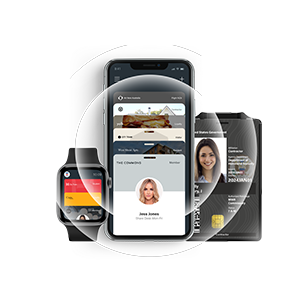 The company is currently focused on the mass credential market (Government, workplaces, memberships) which is approximately an 18 billion credential market size. The majority of this work is with large corporate customers in the US with large buildings and thousands of people moving through their premises every day. The demand has increased as people begin to transition back into offices after the COVID lockdowns.
Andy says that the market opportunities are endless. "Think of the Airbnb market where the host wants to provide short term access. No cards, keys or having to meet the host or get instructions as to how you get into the accommodation. The host loads the credential, (like a "boarding pass") and can put a limit on how long the access is valid as a safety measure. The activation code is emailed or sent via text to the guest's phone, and they can access the property for the period paid for without having to engage with the host".
There is no need to be concerned with spotty mobile reception or poor Wi-Fi connectivity with Safetrust because it doesn't need these to be active in order to let you in the door – it lives on your phone and can work pretty much anywhere, including car parks. "But clearly if your phone is dead, then you have a problem", says Andy. The system also collects data about where people are in buildings and their movements within those premises, including times and dates. This helps when planning the layout of buildings, but it also allows alerts to be sent. So, if there is a fire or other risk to the people on the property they can be alerted through their phone. "None of this is possible with the existing access cards. Monitoring the movement of people and how space is utilised is particularly useful in the current COVID era where workspaces are operating on a time-share basis. This isn't likely to change any time soon. If someone is coming in for a meeting you can send them the code beforehand which means you can avoid too much movement and congestion in the common areas and makes the whole visitor experience seamless", says Andy.
The collection of data is also useful for those organisations wanting to do more around the governance, safety and the security of a building. It's no longer about knowing who is in a building, but also about who has left and when. This allows a building manager/owner to better manage the security and safety of anyone who uses the premises.
Andy says that the company hasn't fully focused on Australia yet, but it does have a growing number of customers in Melbourne, Sydney, and Perth. "The American market is more comfortable with the early adoption of new technology. High tech and IT companies are the type of customers that are keen to get on board quickly. Getting Government on board in Australia has been slower because we haven't had the time and resources to focus on it yet. Having said this, there have been some very early discussions with some Federal Government Agencies but we know that this is going to be a long sales process", says Andy.
The team and access to the product
Safetrust and its SAAS business model are all cloud based through Amazon Web Services. Customers can pay a per user per year subscription or purchase an enterprise-wide subscription license.
The current Safetrust team is 42 people and counting with a third of them, the development team, based in Vietnam. Andy admits that managing a decentralised tech team has been a bit tricky during COVID but says that the company has a great manager based in-country. Eight people are employed in Canberra and the rest are based in the US.
Andy talks about some of the challenges associated with growing the team, particularly when many of the core staff have worked together before and have developed work practices based on trust and familiarity. "Identifying good salespeople is always hard, particularly when you have long sales lead times. There is an element of trust in the sales team that they are building the pipeline, but few businesses can afford to wait six months or nine months to find out whether this is actually going to lead to revenue; this time is hard to get back. When we started employing salespeople that were totally new to the organisation we put a series of metrics in place that are regularly tested to see that they are progressing", says Andy.
The company is doing some work in Europe and hopes to move into Asia soon, but COVID is making travel difficult. Andy believes that as a born global company the product will be available worldwide soon enough and the majority of the high growth will be through global partners who have their own system integrators and/ or installers and an existing customer base.
"We have the software and the hardware, but our aim is not to have a team that does everything but rather work with our channel partners. We signed an agreement with the largest distributor in the Access Control Market and one of the largest integrators in the US. We get access to their customers who don't want to "rip and replace" their current systems and we have the opportunity to up-sell them to this new technology, including our new, state of the art IoT sensors. We are also investing in training, so that our partners can go into the market and have a full understanding of how our products work", says Andy.
Marketing to the big end of town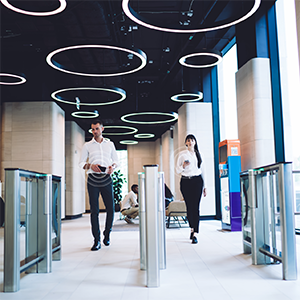 Andy says that the company's approach to marketing is simple. "We start by using a video that follows a day in the life of an everyday person. This highlights the different places and ways our technology can be used (home, office, gym, follow me print etc); demonstrating that it is contactless, simple, easy and integrates into the tools that are already in place. It's a simple way to tell our story regardless of who or where our customers are. It makes a keyless world more probable, and this is something that appeals to those already comfortable with technology and want to do more digitally",says Andy.
What's next for Safetrust? "We have actually raised quite a bit of money out of Australia as well as the US and used this to refine the technology and build out the team. We are now launching our Series A round that will allow us to expand and build on some of the agreements we have signed with the largest worldwide distributors and resellers of Access Control technology. If demand grows at the levels we are experiencing – we need to have the team in place to support that growth", says Andy.
Some of the lessons learned
Understand your minimum viable product. Your product doesn't have to be 100% perfect before you start selling. If you do this, you are likely to miss the market. You just need something that is good enough to get you that first sale and prove that customers will value and pay for your product.
When you are starting out you can't put too much emphasis on customers that are going to absorb huge amounts of time and effort. You have to target the lower hanging fruit; you have to keep the cash registers ringing. Major "lighthouse" accounts are important, but so too is cash flow.
That idea of breaking up roles and activities with little performance metrics along the way, especially when it comes to sales teams, is very powerful. It allows you to see what you have before you are too far down the track with a resource that is costing you money. Metrics such as number of meetings, number of presentations, number of pilot projects, pipeline etc.
Surround yourself with good people. Those you can learn from and that will be honest with you.
For more information about Safetrust visit https://www.safetrust.com/
An initiative of the ACT Chief Minister's Export Awards
The ACT Chief Minister's Export Awards aims to showcase and celebrate the achievements of Canberra region exporting businesses. These Canberra and region businesses transact significant parts of their business activities (legal, accounting, production, research etc.) through the ACT as they develop international markets. The ACT Chief Minister's Export Awards aims to build the pathway for new and emerging Canberra region businesses seeking to internationalise their business. If you are a new or existing exporting businesses in the Canberra region, you can access a range of support as well as network with other exporting businesses, including

The ACT TradeStart Program helps ACT exporters to achieve long term success in international markets. The TradeStart program allows the ACT Government to work closely with Austrade and access key Austrade resources such as their export database, trade mission activities, their off-shore offices, intelligence and international connections for the trade and investment activities to support ACT exporters.

The International Business Engagement Program is being delivered by Canberra Business Chamber on behalf of the ACT Government. Its main objective is to maintain, rebuild and find new opportunities for Canberra and region businesses to engage internationally. The program focuses on building the Territory's exporting community; providing training and support by facilitating seminars and workshops; creating links between local industry and other government support programs; assisting the ACT Government in co-ordination of business trade delegations (outbound and inbound).