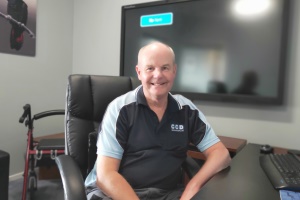 Let's face it the words innovation and mobility aids are rarely used in the same sentence.
Sure, we now have motorised scooters and improved safety features. However, anyone who has had to navigate or assist someone using a mobility aid can relate to the bulkiness, heaviness and general inflexibility that describes a majority of mobility aids available today. Furthermore, the general premise of the wheelchair has hardly had any innovation since it was first invented in 1783.

Not only are most mobility aids somewhat impractical and not particularly user-friendly, a US study1 showed that attitudes and beliefs strongly affect a person's decision to use a mobility aid. Social pressures and the perceived stigma around getting old deter mobility aid use. To combat these deterrents the study found that having positive peer models and safe and visually appealing mobility aids would promote greater acceptance and usage.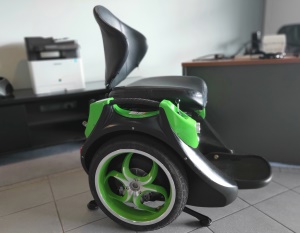 Well, it is time for you to meet the game changing Omeo. This award-winning wheelchair is like no other. It completely re-thinks mobility and its fun vibrant design makes it less wheelchair and more personal transportation device.
Based on several years of research, the Omeo successfully incorporates self-balancing technology (like you have in a Segway) in its patented 'Active Seat Control'. This means you can control speed, direction and braking by shifting your body weight. Where you look, you go. It does require a bit of training at first to get the hang of it, but what it means for the user is that they no longer have to look at the ground for obstacles and miss out on their wider surroundings.


Stuart King is the Canberra based agent for Omeo, providing his services across the ACT region all the way from the Murray Darling Basin to as far as Aubury Wodonga. Stuart, who has a disability, is also the proud owner of an Omeo. He describes his first time using an Omeo as feeling that he had his freedom and independence back. From his first try of the Omeo he knew that it was perfect for him and he bought one on the spot.

Stuart teaches people how to stop, start and turn in the Omeo. Stuart says that the Omeo gives people their life back and everyone who has tried one has fallen in love with it. One of Stuart's customers lives at the South Coast and wanted to be able to visit the beach. The Omeo has an off-road kit with larger wheels so it can handle the soft sand at the beach easily, impossible in a traditional wheelchair.


"After going for her first time practice, she came around the corner with a big smile on her face and said I want one. She was an absolute natural with navigating the Omeo," says Stuart.


The story behind the Omeo is a compelling one. According to Stuart, Kevin Halsall, the founder and designer of the Omeo watched his friend Marcus struggle with his wheelchair in rough terrain as they participated in their shared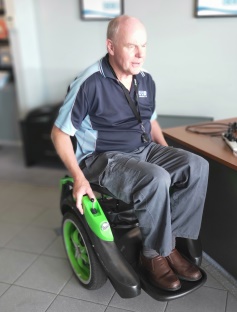 sport of archery. Kevin wanted to make things easier for Marcus so he spent 4 years designing the top frame of the Omeo that would allow his friend the mobility to participate fully.


Stuart also pointed out that Omeo wants every agent to be disabled, because a disabled person knows the true challenges of everyday mobility.
"When you look at the agents all of them have a disability; they may have a chronic illness or they've been hurt in a motor vehicle accident".


According to Stuart, Omeo made an appearance at the Invictus Games. For amputees and returned service men; this can give them some of their independence back. He also sees applications in rural areas where he believes the Omeo can help farming people with a disability and break the isolation of being house-bound, getting them out so they can do some of the everyday tasks around the farm again.
For more information visit https://omeotechnology.com/
1 https://www.ncbi.nlm.nih.gov/pmc/articles/PMC2768139/


About Lighthouse Business Innovation Centre
Lighthouse has a strong track record of supporting entrepreneurs, researchers and inventers on the path from concept to commercialisation. Since July 2008, Lighthouse has worked with over 990 distinct enterprises and provided group and peer based services to over 3400 enterprises and individuals. For over five years Lighthouse has successfully delivered business advice, education, mentorship and networking opportunities to help these businesses commercialise their ideas and grow their companies. Lighthouse also delivers programs such as the ACT Microcredit Program for the ACT Government. Visit www.lighthouseinnovation.com.au for more information.