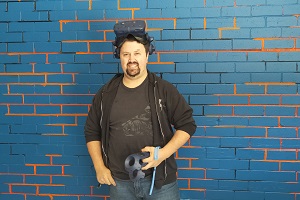 Who would have thought that escape rooms would become a global phenomenon? But there has been a steady growth in the number of rooms around the globe. For the uninitiated, an escape is a physical adventure game.
Up to 6 players are locked in a room and have to use the various things in the room to solve a series of puzzles and escape the room within a set period of time. The games are said to be physical versions of 'escape room' video games but are limited by the constructs of the room. They are a great team building activity or just a way to have some fun with a group of friends.
Canberra is about to get a new breed of escape room.
Lightning Rock has been operating in Canberra since 2013, initially as a game development company that moved into virtual reality as a way of enhancing those games. While virtual reality hasn't really taken off in the gaming sector, Lightning Rock has developed some unique expertise over the years that have attracted interest from a number of sectors including education, health and defence.
The opportunity that really caught Lightning Rock's attention was the growing interest in virtual reality arcades.
"People really want to try virtual reality and the different experiences you can have, but you can only do this in short spurts and not many people have the space to dedicate to the experience, so we are opening our own', says Lightning Rock CEO Shannon Pickles.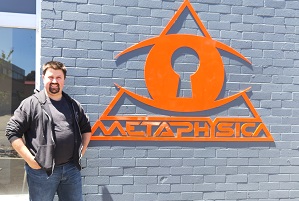 Metaphysica will be Lightning Rock's new virtual reality arcade. Two custom-designed rooms at the new location in Mitchell will provide a fully immersive experience in two formats. A room can be split it into quarters and have 4 people in the space at the same time – each doing their own thing. Or up to 6 people can work together to solve a virtual reality escape room.
"This is the advantage of virtual reality", says Shannon. "We can open doors and move from one environment to another creating kilometres of space, even though players never leave the one 36 square metre room. We can do things you can't or shouldn't do in the real world like play with gravity and time, fire and electricity. Doing this wouldn't be safe in a normal physically based escape room. We custom design and create our own virtual escape room experiences ourselves, which include a diverse range of narrated adventures with sound effects and all sorts of interesting enhancements'.
At Metaphysica players will get a choice of hundreds of single player experiences and adventures, and coming early 2020 we plan to be rolling out a new Virtual Reality escape room experience every few months. Our escape rooms will allow players to set the level of difficulty to suit the group.
The Metaphysica Virtual Reality Arcade should open before Christmas.
Shannon says the level of interest has already been very high, and they have already had a number of requests regarding Christmas functions and parties.
Prices will range from $40-50 an hour for single person experiences, up to $150 per hour for large groups and venue bookings.
To find out more visit www.metaphysica.com.au or you can hear more at the upcoming Festival of Ambitious Ideas on the 29th November, where Shannon is a speaker.