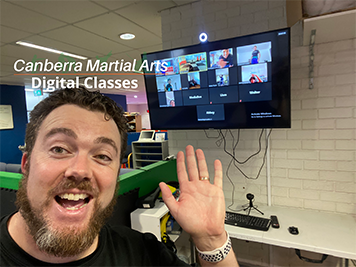 With gyms, fitness centres and health clubs classified as restricted activities and forced to close on the 23rd March, the fitness industry was forced to adapt or shut up shop completely. Many have embraced online and app-based training and are not only surviving, but embracing new avenues for growth that they will retain once restrictions have lifted.
One such business owner is Tom Adam the founder and chief instructor at Canberra Martial Arts. Based in Phillip, the club still has over 300 members and was providing over 40 face-to-face classes per week for ages 3 to over 60. Canberra Martial Arts teaches HapKiDo, TaeKwonDo, Kumdo, Brazilian Jiu Jitsu (BJJ) and Taekyun as well as Women's Self Defense courses, early morning bootcamps, and cardio boxing. Tom is forging a new path, embracing online training and in the process is appealing to a whole new group of families.
Re-thinking design as you move from a physical to a digital environment
Just like the physical space in a gym where the configuration of the room, equipment and space needs to be optimised to cater to a diverse group of ages and abilities; so too does a digital space.
According to Tom, Canberra Martial Arts streams classes via Zoom so that it's interactive.
"We've managed to maintain about 35 to 40 classes per week to our membership base and use a CRM called Spark Member to manage our memberships and payments. It has a Member App that people can access via their phones or tablets, and we use an online university program where we set-up courses with recordings and more," explains Tom.
One of the changes Tom has made is moving from age-based to skills-based lessons for his children's classes.
"In the past we've had classes for kids based on their ages, all different levels of knowledge mixed together. Now we're running a Skills & Drills session for all of the 7-14 years kids, then with different Belt Level classes, so we can really hone in on what they specifically need.
"Other areas of training have really made us think about how it's being taught. Doing things in mirror image seems to be the biggest (and weirdest) change we've had to make. You can't physically move someone's arm or foot into the right place, so you need to be a better communicator and trainer.
"One of the most interesting things is having to go into much greater detail about body positions, angles and weight - things that normally I can easily show and repeat," says Tom.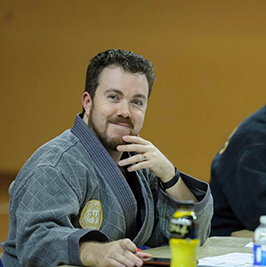 Harnessing the opportunities technology provides
When designing a physical space to cater to the needs of a diverse group of people, the changes you need to make can be quite easy to determine. In contrast, the opportunities provided by digital products can take you in completely new directions, but also involve a steep learning curve.
Tom points to some of the challenges associated with using SMS or emails that sometimes go to Spam folders or overcrowded inboxes. Their solution was to use the Spark University system for their students.
"This means they have a place where they can re-watch the technique or pattern videos and use this to practice. Having an App also means that we can push messages to students directly.
"The other thing some of our instructors are doing is making the classes a lot more interactive, so we can switch to a student and they run a section, then the next student for the session after that, and so on. This allows them to feel like they're not just participating in a class but actually leading one.
"We're also launching our Junior Leaders program virtually at this stage, of course. We'll be training our future instructors and leaders on how to run classes and how to assist their colleagues with the view to getting them to organise some online events and work together on their training material".
Just-in-Time: The devil is in the detail
One of the challenges of digital instruction is that you need to plan for every detail, including the equipment that will be needed and whether or not your students are likely to have access to it.
Tom points to the importance of preparation.
"We sweat even more than we did before because we have to do everything too. You work much harder as an instructor because the classes are a lot more focused and there is less downtime between activities, so you need to be better prepared".
"We are putting together a Grading document that has everything students will need and one thing I did do was produce a video showing them how to make their own long staff. This was followed by a video on how to do the basic steps (in the garden so they don't break things). I'm planning to do more things like that - 'how to make your own XXX'," says Tom.
Tom also points to ensuring little details aren't forgotten like using the Captions systems for videos available in Youtube and Facebook to make content more accessible.

Putting innovation into practice
Creating a positive experience for the end user can come with a steep learning curve for the team involved in implementing online instruction.
"Technology wise, I was quite comfortable, but some of my staff have had to learn how to trouble shoot," says Tom.
"The biggest learning curve has been truly understanding how much bandwidth (internet) and processing power (pcs) that Zoom needed. We had an issue at the start where at around 5:20-5:30pm our classes kept cutting out. We were using wireless internet at that point and what we suspect was happening was that the local neighbourhood residents were all switching on their streaming services around that time on the same Wifi Frequency of 2.6Ghz (which is the normal stuff at home). So, I wired the PCs and the problem went away. The next issue was the PCs we had weren't powerful enough for Zoom, so they kept overheating. I had to have a plan B solution while I ordered in more powerful PCs."
Tom jokes that he felt like he was constant IT support for about 3 weeks.
The potential of new markets
As we increasingly straddle "real" and "online" lives with various degrees of success, the potential for innovating in terms of new products and niche customer groups is a real opportunity for many businesses. While many businesses have been talking about online delivery for a number of years, there has been no real impetus to change. Success can breed complacency, but being pushed out of their comfort zones has changed this and opened their eyes to new possibilities.
"I suppose we were lucky," says Tom, "if you could say that - the bushfires really impacted our business in December and January so we were already looking at ways to run the classes virtually. It took a few iterations and versions of PCs and set-ups, but basically we installed 2 TVs with webcams and mini-pc's behind the TVs."
Tom acknowledges that the changes they have implemented have already seen interest from new markets.
"We've had families join that have wanted to in the past, but they're either too far away or some other constraint has stopped them. We've actually had 12 new families join since we went Virtual.
"We're also chatting with people who have been too hesitant to get in touch or come in, but have joined now that we can teach them from the comfort and safety of their living room or homes".

Where to from here? Embracing #CBRBusinessUnusual
Major events like a recession or pandemic have the power to kick-start a period of innovation as businesses are forced out of their comfort zone to survive. While some of the changes implemented are short-term responses to the current crisis, others will change the nature of businesses, products and services for years to come. It is also an opportunity to reimagine the future we want in a post-pandemic society, including making services like Tom's accessible to everyone.
"Just the other day I was saying to my team that some of the changes we make now will not be rolled back. Some classes won't come back, other programs will be expanded. We will come back a much leaner organisation too," says Tom.
"I think the biggest take-away will be really looking at what's working or not, and then focusing on enhancing what is working to make it outstanding.
"For example, we're about to set-up the Term 2 Digital Grading program for the kids, where they'll still have their attendance requirements and technical learning requirements. However, the most awesome thing is the process we set-up now will carry forward, so the kids will have access to all of the materials, videos, etc. that they need to progress each term and potentially (for those who are very studious) they can practice at home too".
Tom believes that when going back to the "new normal" after they are allowed to re-open, they will definitely run a hybrid model.
To find out more about Canberra Martial Arts online classes visit https://sparkpages.io/?i=3ir.