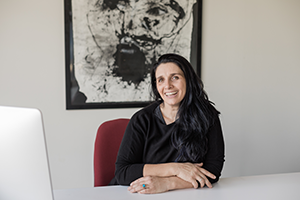 Goterra is a waste management infrastructure company that delivers modular infrastructure for biological services. Founded by Olympia Yarger, the company is changing the world by re-imagining the interplay between biology and technology.
Goterra supplies hotels, restaurants, farms, supermarkets and hospitals with robot-managed capsules. Inside shipping containers, these shelves of black soldier fly larvae turn food waste into fertilizer. In a perfectly circular and sustainable ecosystem, once the maggots have consumed the waste, they, in turn, become a high protein animal feed.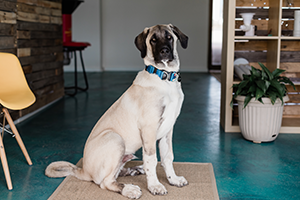 The company has seen dramatic growth over the past few years. Growing from six to twenty staff in only 4 months with all but one staff member being located in Canberra. Goterra has also relocated from a 280 square metre facility to a 12,000 square metre facility located in Hume. This new facility will allow them to move from processing 20 tons of waste per week to 45,000 tons of waste per year.
The company was started by Olympia in her garage with an idea to disrupt supply chain logistics. Olympia wanted to be able to grow protein closer to the source of the food needed to grow this protein. Five tons of food waste makes one ton of protein. Because you make less protein per ton of waste, and initially Goterra was focused on the protein, this meant that they were missing out on a large portion of revenue from the waste. This epiphany caused Goterra to flip their business model and what they were actually creating was a waste management business.
Olympia says they originally built the prototype of the shelf design and then approached investors. "We've got a colony, we've got clients, we've got the shelf, we just need money. Then we'll make the shelf a thing and make the colony commercial and we'll get more clients and prove that we can do this," says Olympia.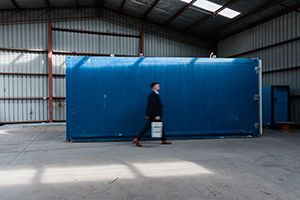 "We built one shelf and proved that the shelf functioned. We did that for two years with a $1.2 million seed round. Then we went back out and I said, you gave me $1.2 million on the premise that we could do these things, and we did. Now I need $8 million and I'm going to execute on this design and commercialise it, manufacture it, and then we're going to accelerate the growth of the colony using this technology so that we can scale this across Australia."
Olympia closed the series A funding round, led by agtech venture capital firm Tenacious Ventures and Grok Ventures, the VC fund of Atlassian co-founder Mike Cannon-Brookes.
Along the way, Goterra also received support from the ACT Government in the form of an Innovation Connect grant.
Olympia says the company has a global vision. They plan to sell into Asia in the next year, starting with Singapore and they have already exported some of the protein product to Japan.
"In Asia, there's just so much opportunity to interact and work with governments that are really working to turn things around and create opportunities within their own nation and so it's just a great place to move for us," says Olympia.
Keep going in the face of challenges
Like so many businesses, Goterra has faced its share of challenges this year.
"The hail damaged a lot of our infrastructure. We lost both roofs on the warehouse due to the hail. It also damaged every single staff car. Then it flooded because the next two weeks were full of rain. However, we just kept going. We had tarps and buckets and it was just a case of right, we now do this wet," says Olympia.
An opportunity to turn inwards
Olympia believes that major challenges like the COVID-19 pandemic are an opportunity for a business to be more inwardly-focused.
"I think what this has done for us is that it has forced us to reimagine how we work. If things are going to continue to be difficult, it's a time to think about what that might mean for us. You don't often get forced into thinking about worst-case scenarios," says Olympia.
"I think there's a real tendency to grasp at stuff, almost as if you're drowning and flailing around. This is not the time to be scrambling and making rash changes. Now is a great time to be building relationships that will matter and continue past your sales cycle".
Olympia believes that if you've got some downtime, invest it in meaningful relationships.
"Actually, take the time to learn more about your people and ask them for engagement. Find ways to connect with people where you can return value. This then creates relationships that are really strong".
Olympia believes this approach to building relationships is better than desperately chasing quick sales although she understands how businesses can feel desperate.
"You can feel desperate to secure a sale because suddenly you've lost half of your clients! Now you've got to get more out of your existing clients or go and find more clients. Then you become desperate and it's really hard to do this because you are desperate".
Future Opportunities
Olympia says the premise that the business is built on has evolved over time.
"It's not just waste. What we do really well is we get robots to make insects do jobs. We've got other robots that we've designed and created and we're looking at how we deploy them as infrastructure and as a service provider in different spaces. For example, we have a system that produces protein for human consumption.
"We are rethinking what infrastructure is going to mean when we're also combating climate change and food insecurity. How do we create infrastructure opportunities for all kinds of demographics and regions, not just big metros that can handle the capital expenditure of large infrastructure? For example, Canberra will never get an AD facility because at 430,000 people, we don't have enough constituents paying rates to justify one, let alone generate enough waste to feed one. Whereas Sydney has lots of ratepayers and lots of volume, so that's a good place for one. What that means is that Canberra is reduced in its capacity to create a circular economy or create more environmentally friendly opportunities because that infrastructure tends to be really massive and expensive. So, how do you service a smaller area?
"Because our systems are modular, you can add volume, and there is a smaller capital expenditure than you would need if you were trying to build a large landfill that was commercially viable. So, that's the direction we are going in. The company as a whole is about infrastructure and how we've reimagined that".
Photos by: O Photography
An initiative of the ACT Chief Minister's Export Awards
The ACT Chief Minister's Export Awards aims to showcase and celebrate the achievements of Canberra region exporting businesses. These Canberra and region businesses transact significant parts of their business activities (legal, accounting, production, research etc.) through the ACT as they develop international markets. The ACT Chief Minister's Export Awards aims to build the pathway for new and emerging Canberra region businesses seeking to internationalise their business. If you are a new or existing exporting businesses in the Canberra region, you can access a range of support as well as network with other exporting businesses, including

The ACT TradeStart Program helps ACT exporters to achieve long term success in international markets. The TradeStart program allows the ACT Government to work closely with Austrade and access key Austrade resources such as their export database, trade mission activities, their off-shore offices, intelligence and international connections for the trade and investment activities to support ACT exporters. The International Business Engagement Program is being delivered by Canberra Business Chamber on behalf of the ACT Government. Its main objective is to maintain, rebuild and find new opportunities for Canberra and region businesses to engage internationally. The program focuses on building the Territory's exporting community; providing training and support by facilitating seminars and workshops; creating links between local industry and other government support programs; assisting the ACT Government in co-ordination of business trade delegations (outbound and inbound).