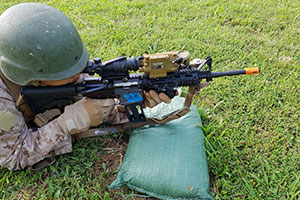 US Marine Testing RIC System [Outdoors]Kord Group is a privately owned group of technology companies with its head office in Canberra and offices in Stafford and Ogden in the United States. Founded in 2007, it is comprised of KordTech Pty Ltd and its subsidiaries, Kord Defence Pty Ltd, KordUSA Inc, and Shotdot Pty Ltd.
Kord designs and develops innovative control and shot recording technologies for the Defence, law enforcement and homeland security markets in the US and Australia.

The company has contracts with the US Marine Corps and is moving into the US Army, with strong support from the US Congress. Recently, Kord Defence was awarded a $3.4m Australian Defence contract to help soldiers in the battlefield control electrical devices on their weapons and body. Today's frontline soldier carries numerous electronic devices. This innovative push-button control system integrates weapon-mounted and body-worn electronic devices and systems, helping soldiers to perform their job better and safer by reducing the cognitive load that comes with having to manage numerous separate controls.
The journey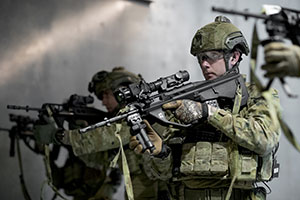 Australian Army Soldiers testing RIC Controller [Photo credit: Department of Defence]Managing Director of Kord Defence, Dr Peter Moran, says Kord has had a long and complex journey to get to this point.
"We started as a small company trying to commercialise underwater computing technology that came out of the Australian Institute of Marine Science, where I used to work," says Peter.
"We had the idea of taking the technology and then moving it into Defence and then commercial underwater use. However, like a lot of good ideas, we found that while it had promise we couldn't make a business out of it.
"To commercialise the technology was going to cost us a lot of money. We realised that what we needed to do was to change the model to something that was much more likely to generate sales. Like any early stage company, we were agile enough to be able to move across into a more promising market and refocus the technology into that sort of problem space. In 2007, we restructured to form Kord and set up the business around eyes-on hands-on push button control. And over that time, we've focused on two markets effectively - the first being the Australian Defence market and secondly the US Defence market".
Deciding to pivot to a new market
According to Peter, serendipity had a lot to do with going from underwater computing to more military base operation.
"We were working with clearance divers at the time and they pointed out that there was an application for soldier use. So, we started to think about it and while building an underwater computer and building a controller are two different things, it would cost us less to build a controller. Also, the barriers to getting the technology into the military were less".
Peter says the change in focus from a commercial market to a military market was a lightbulb moment.
"There was a clear problem that we could solve. Also, the military will uptake new technologies and will train their soldiers in new technologies if they can see a benefit".
Getting customers to trial your product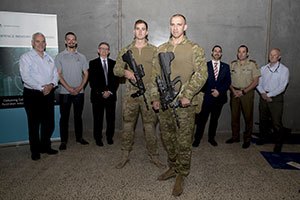 Kord staff and Australia Defence Force staff after Demonstration [Photo credit: Department of Defence]Peter says that getting the military to actually trial a new product is pretty difficult.
He believes there are windows of opportunity that come and go when you're commercialising technologies. He uses the example of the smartphone to explain.
"If you look at Apple, and what it's done over the years with the iPhone. No one realises that Apple was working on that technology in the early 1990s and so was IBM. IBM had a thing called Simon, which was a very brick-like object that was tantamount to a smartphone. Apple was doing the same, but they could never actually get it into the marketplace because the (phones) were so big and they didn't have a lot of power or a lot of functionality. As technologies improved, it enabled them to be able to develop a technology that is small, has great display, and meets everyone's requirements.
"That is what happened to us in a way. We were well in advance of the requirement. Initially, when we were talking to brigadiers, we would say that soldiers are going to have to control all these different things. And they were putting their hands up and, and saying, 'I don't want my soldiers to push buttons'. And we would reply that they are already gamers and all of these technologies are coming into their lives now.
"And that's what has happened over time. The market has caught up with us and now militaries are saying that they want this technology because they recognise that they've got a problem.
"After 2007 we probably spent four or five years pioneering the market and now that's been done, we're not pushing we're being pulled".
Getting your product into the hands of users
Peter says it's really important to get your product into the hands of users, where they can test and evaluate it.
"One of the big things that we've become very good at is being very strategic. You get a lot of companies with great ideas, but they've got no strategy. They just know that they've got a great technology and a vision, but they've got no idea how they're going to make it happen. We were very similar; we had a great idea. However, what we've learned over the years and after going down many dead ends is the importance of having a very clear strategy that's well focused about how we are going to execute.
"The first step for us was we heard that army was getting Special Forces to test a lot of new technology. We thought that may be a way in. We got some advice and we started pitching to Special Forces and it actually got to the right ears. In 2013, we held a trial and we received really good feedback. That started us on the path, but it took us five years".
Having the confidence to think global
Peter says that they have always thought global.
"Even when we had the underwater computer, we've never thought that it would be beyond us to go out into the world market. The market split for us at the moment is 60% US and 40% Australian, although that will probably change with new Australian contracts.
"I've always taken the view that we're an island nation and our markets are small, and for this sort of technology we've got to go overseas. When we formed the group in 2007, the idea was that we would go global, but we would pick a couple of key countries. The key one for us is the US.
"One of the things that we've learned about the US market is that it's very complex and it's slow moving. However, if you can get to the right areas, it can actually be reasonably fast. The US actually spins up technologies more quickly these days and they have a number of programs which really do that very effectively. It's all set by Congress and they have an 18-month mandate from the time in which they identify technologies they need, to the time that they get them in the field. If you can get into one of those programs, you're actually on the conveyor belt and it's a very fast conveyor belt. Having said that, it's getting to the right place and finding the right people - that is difficult. We've learned a lot about how to do that in the US space".
Peter says an early piece of advice they received was to hire someone on the ground in the US who could provide an entrée into the correct areas.
"In 2010 we were part of a Team Defence Australia mission to go to an industry day in Baltimore. We were provided with Austrade introductions and were introduced to a retired colonel from the US Marine Corps. He is actually the head of all of our business operations in the US now. He gave us an entrée to the Marine Corps. Literally within six months we were negotiating a contract and now we're on our fourth contract with the Marine Corps and going into the US Army".
Now, when Peter mentors other start-up companies in this space, he reminds them that breaking into the market is going to take you them a long time and you can't do it from afar.
"I always remember the people over in the Australian embassy saying that you shouldn't see a trip as being the one and only trip that you're going to do. They said you'll be coming back for years and that was a really good piece of advice."
The impact of COVID-19
Kord is a technology product company with a production facility in Ogden in Utah. Before the COVID pandemic Kord was getting all their Marine Corps products manufactured in the US and they were doing some assembly.
Peter says that because of COVID-19 they are having to bring all of that capability back to Australia and then turn around and ship it back to the US. But the idea is that they are standing up a full production capability in the US for the Marine Corps and for the US army.
"We originally started off thinking we would just build the technology to a point and then license it and wait for the money to come rolling in. That's how naive we were," says Peter.
"I look back on those days and I had read all this material about licenses and royalties and how they all work, but invariably it doesn't work like that, particularly for new technology. We've gone away from that and we're taking control of it all.
"All of our software and all of the key elements that we want to keep a hold of we're not letting go anywhere, it's going to be manufactured in Canberra. Over time we're going to build a business that morphs from hardware to substantially a software business, because of the applications that will come out of the hardware. For example, in training, computer gaming, extreme sports and a whole range of other areas where we're now starting to get a lot of interest".
Peter says one impact of the pandemic has been shipping delays.
"When COVID first started, we were seeing shipments between Australia and the US taking about a month to six weeks. Because there are so few flights, airlines have changed their hubs in the US. So, where we would ship out of Salt Lake City direct to LA, it now goes via Cincinnati and it could sit there for two weeks. We've had to rejig all of our production schedules around that to allow for lengthy delays in shipments. To some extent access to materials and some components have been difficult to source which means we have had to get our fabricators to look at sourcing other components".
Not only do you need a Plan B, but also a Plan C
Peter says Kord spent two years developing their production plans to roll them out in Utah.
"I went to Utah on many trips to source capabilities and to work out how we do it. Never once did we think we would have to deal with a pandemic. One thing that it's made us realise in our production planning is that you've not only got to have a plan B, but also a Plan C.
"We fortunately had some time to prepare and that made us think about doing things differently. For example, with assembly and testing, it made us think about putting in place alternative suppliers. We hadn't really thought about that because all of our components are very common and we never anticipated that we would have a problem with component supply. But of course, in these types of situations you do. We have had delays in production scheduling. We have actually had to do a lot more planning around those risk minimisation issues than we would have originally planned.
"One positive has been that it's easier to get to people than it has been in the past. People are more willing to take a Zoom meeting for half an hour than to actually have you go and see them. For example, our project manager in the Marine Corps is much more available to us through a Zoom meeting or a phone call than he would have been otherwise.
"This is something we will continue. It doesn't matter where the project manager is, they make themselves available so it's had a positive outcome for us".
Access the help available to you
Peter says that in the early days of the company they were able to tap into both ACT Government and Austrade support.
"I went on one of the early trade missions to Silicon Valley and while it didn't develop into anything for us immediately, it gave me a profound experience with the US market and how cutthroat it could be. I walked away thinking that this is going to be a lot harder than I thought. This was really good grounding because we have to pitch in front of investors and they can be pretty brutal in their comments. It made me really think about how we were going to play things when I got back. The other thing it did was help us meet other Canberra companies. I now realise the importance of having networks with companies locally.
"We have also received a small amount of grant funding and it helped us build our first controller. It wasn't a huge amount, but for companies at that stage of development, getting a small grant was really important. It enabled us to develop the technology and we built it up from there".
Peter stresses that building a successful technology company is a long and complex journey. There are many dead ends and false summits along the way and you often need to adapt and change. You can't do it on your own, so tap into the support that's available to you and look out for those windows of opportunity.
Photos: Copyright Department of Defence.
An initiative of the ACT Chief Minister's Export Awards
The ACT Chief Minister's Export Awards aims to showcase and celebrate the achievements of Canberra region exporting businesses. These Canberra and region businesses transact significant parts of their business activities (legal, accounting, production, research etc.) through the ACT as they develop international markets. The ACT Chief Minister's Export Awards aims to build the pathway for new and emerging Canberra region businesses seeking to internationalise their business. If you are a new or existing exporting businesses in the Canberra region, you can access a range of support as well as network with other exporting businesses, including

The ACT TradeStart Program helps ACT exporters to achieve long term success in international markets. The TradeStart program allows the ACT Government to work closely with Austrade and access key Austrade resources such as their export database, trade mission activities, their off-shore offices, intelligence and international connections for the trade and investment activities to support ACT exporters.

The International Business Engagement Program is being delivered by Canberra Business Chamber on behalf of the ACT Government. Its main objective is to maintain, rebuild and find new opportunities for Canberra and region businesses to engage internationally. The program focuses on building the Territory's exporting community; providing training and support by facilitating seminars and workshops; creating links between local industry and other government support programs; assisting the ACT Government in co-ordination of business trade delegations (outbound and inbound).