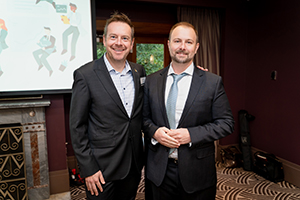 In 2014, Sam Spencer was in the public sector working on metadata modelling and registry design. Several national and international government departments were trying to find a better way to manage their data and sought access to the tool he was using. Knowing that access to government tools is always difficult; Sam saw an untapped market and business opportunity.
Sam spent the next six years developing prototypes and establishing the community behind the Aristotle platform. This was made up of organisations interested in a platform that could track a range of activities including hospital presentations across Europe; education outcomes across school systems across Australia; and financial literacy for migrants in Canada. Eighteen months ago, Aristotle started exporting their platform internationally.
A significant amount of Aristotle's investment and development has focused on making the platform accessible for the various users of data and providing training to help people understand why their data has value.
Metadata – the key to data
Metadata describes the structure of data. Not only does it define the fields and format of data, but it can tell us why, how and what data was collected. And by having a detailed definition of the structure, it can help us to better understand the data by highlighting similarities between data collections.
Sam spoke about a recent meeting with Coca Cola in Sydney that clarified how a certain beverage was classified and reported. This was important because the data was used to inform production, sales and profit and reporting to shareholders. To be accurate, the data must be collected and collated in the same way across the organisation worldwide.
"What we are trying to do is to record and present accurate business knowledge. Identifying who authorised that data, so users know who and what to trust. We are about building that literacy and trust around data. This in turn reduces costs associated with cleansing the data, reducing the cost and effort of producing products like financial and annual reports and addressing internal queries", says Sam.
A recent customer saw an increase in self-service queries, or people accessing data themselves by about 200percent and this led to a reduction in effort of about 15 hours a week. "We were able to rapidly impact the way things were done. It was a big team and things were done in a piecemeal way across the organisation. We were able to pull two and a half days out of thin air, because they did not have to search across multiple documents to find the definitions; they could access it through the platform. There are now over 600 active monthly users within that one department," says Sam.
The Aristotle point of difference
Aristotle's competitors are large well know organisations like IBM, Collibra and Informatica, but there is one key point of difference. Aristotle is standards based and unlike bigger data management tools, Aristotle is focused on usability to make data management accessible to everyone.
"There are a number of internationally recognised standards available within Aristotle and adhering to a standard makes sharing data within organisations easier. We also have a roadmap committee that can suggest other international standards to include. If there is enough support for the suggested standard it could be included. We actively involve our users in the development of the platform", says Lauren.
"One of the big successes of the platform is that the consistency in data means that people can be seconded into other agencies for specific projects, take their knowledge with them, and be effective from day one. This reduces labor costs and project timelines, making the sharing of human resources a powerful tool".
Aristotle always advocates for the client. "We work with our clients to really understand their problems, particularly those overseas. Standards adoption is something we advocate for very heavily as part of every implementation by demonstrating to people the powerful benefits", says Sam.
The mobile workforce has helped emphasise the importance of standards. There is a growing understanding that the adoption of standards makes this data more powerful because it provides consistency and continuity even when people move on. It also makes skills and knowledge transferrable which adds value to both.
Sam believes that the size and flexibility of the Aristotle team means they can listen to their clients and deliver on their specific needs. "Many of the big providers rely on their credentials, but the playing field is changing".
The path to export growth
"The big challenge for us, in countries other than Australia, and New Zealand, is procurement. Understanding how organisations purchase software as a service that is located outside their country", says Lauren Eickhorst, Aristotle's COO and co-founder. Every country does it differently and some require you to be on specific panels or know someone who can open the door. "
Lauren says that the Swiss government for example need a locally hosted solution. "The recent procurement process with them was a challenge. But we managed to address it by dealing with different server providers. Being across these different requirements as a small Australian based team is challenging."
"We have a targeted approach and know that the easiest expansion path is through New Zealand, the US and the UK. The communication barriers are lower in these countries. We are focusing on segmentation and employing more sales and marketing resources who understand how governments and large corporates in these countries purchase", says Sam.
Aristotle have found that Australia is a smaller market to target than other countries, but the size of the agency and their reputation makes it a bit easier to find a champion or advocate. In countries like the US where agencies and corporates are larger by a significant multiple, it will be harder to find those people willing to accept or advocate for taking on a new service or provider.
In-country partnerships is another way to grow exports for Aristotle. The company has partnered closely with Amazon Web Services and exists on its marketplace. Being able to use their sales channels to support growth has been a big enabler. It has also helped deal with trading in multiple currencies, allow the client to choose their preferred currency for their service subscriptions. The next step is to develop on-seller partnership programs.
Choosing the right in-country partners is made more difficult when you cannot travel to meet with them. Sam says that there are a few things he looks for when identifying new partners.
"An online presence is not always a guarantee, but their Facebook or LinkedIn presence gives you an indication of their reach and engagement and who they are working with. The quality of their website is also important because you can look for case studies and client testimonials. I look for positive messaging
While business to business software is a big market, the network behind it is small and if you are part of that network you learn to respect the feedback and opinions it provides. You listen to the community, and you trust their judgment".
Marketing virtual exports
Aristotle has invested a lot of time developing an international marketing plan, which involves virtual conferences and in country marketing through different platforms. Sam says, that doing these things virtually has been a bit of an equalizer, because no matter how big the company we all have been doing things the same way, but this will change.
"It doesn't cost much to host an online webinar; people are comfortable doing this and it isn't hard to get the right people along. The biggest challenge for us internationally is having to hit specific time zones. Online events mean we have to get up early or stay up until midnight running virtual events, but it means we can connect directly with our international market and expand our reach in a cost-effective way. No shows however are always a challenge when virtual".
Sam says that once they can travel, they will be looking at two to three months stints overseas seeking out conference and networking opportunities. They will also set up a business presence to help them start selling there. "The shift to online has been great, but the importance of a physical presence can't be understated".
Aristotle recently brought in some marketing expertise to help with some aggressive positioning in the market. The company is aiming to achieve a serviceable market of over 1000 clients in the next five years. To do this means identifying and investing in the right markets, but you need to establish some sort of presence first.
"To date, they have helped us develop the general marketing plan and our international marketing plan. They are looking at all our messaging across our social media channels to see how we speak to the national market, and international market", says Lauren. This advice has also extended to growing brand recognition.
Growing the team while growing the business
Aristotle currently have a team of 10 servicing six large Australian government agencies and one agency in Switzerland, and a university in the United States. Several international trials are also in place, including a pilot program with the English National Health Service
"The plan is to grow rapidly and have a couple of overseas offices. This will probably start with the US, because I know how they do business. We will then look at the UK and Europe", says Lauren.
As a Software as a Service (SaaS) provider, the company is very scalable, and they will not need to bring on a lot more developers. The current priority for Aristotle is to build the sales, marketing and project management side of the business.
The business has grown organically to date and while investment would see the business grow more rapidly it would have to be the right investment and investor for Aristotle to go down that path. Going down this path can be fraught says Sam. "It comes down to knowing what you don't know and then seeking out the advice that can support you. I know what I want our brand to represent but getting that message right is the hard part".
Sam and Lauren agree that Aristotle's success in many ways comes down to having built a team based on trust. The team works closely together so that everyone feels that they are contributing to the company's growth. "It's not often that you get to be a part of everything, and we give the team the opportunity to be involved as they want. The feedback we get from out team is what drives us".
The lessons so far
Lauren says that one of the biggest lessons they learned early on was about being open sourced. This approach did not work for many of their contracts, and they spent a lot of time redeveloping the platform and sales pitch. Only a few components are open source today. Sam said that being a little on risk averse side, it is important to have strong risk management protocols in place and to plan for the worst-case scenario (particularly in the early days) but then give it a shot anyway. He also said that you are never going to be fully prepared so do not let this dissuade you for chasing an opportunity.
For more information visit https://www.aristotlemetadata.com/
An initiative of the ACT Chief Minister's Export Awards
The ACT Chief Minister's Export Awards aims to showcase and celebrate the achievements of Canberra region exporting businesses. These Canberra and region businesses transact significant parts of their business activities (legal, accounting, production, research etc.) through the ACT as they develop international markets. The ACT Chief Minister's Export Awards aims to build the pathway for new and emerging Canberra region businesses seeking to internationalise their business. If you are a new or existing exporting businesses in the Canberra region, you can access a range of support as well as network with other exporting businesses, including
The ACT TradeStart Program helps ACT exporters to achieve long term success in international markets. The TradeStart program allows the ACT Government to work closely with Austrade and access key Austrade resources such as their export database, trade mission activities, their off-shore offices, intelligence and international connections for the trade and investment activities to support ACT exporters.
The International Business Engagement Program is being delivered by Canberra Business Chamber on behalf of the ACT Government. Its main objective is to maintain, rebuild and find new opportunities for Canberra and region businesses to engage internationally. The program focuses on building the Territory's exporting community; providing training and support by facilitating seminars and workshops; creating links between local industry and other government support programs; assisting the ACT Government in co-ordination of business trade delegations (outbound and inbound).