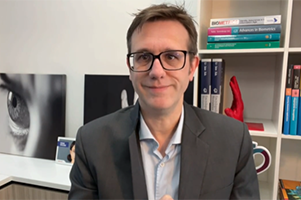 Most of us are now used to staring deeply into our phones hoping that it will recognise our face and unlock, or using our voice or fingerprints to access our bank accounts, but the technology behind all this is complex and growing rapidly. Having completed his PhD in the mid 90's in biometrics, Dr Ted Dunstone had always wanted to create an innovative business built around his expertise. So, he founded Biometix in 1998.
"There were a lot of innovative projects happening inside government at that time, particularly around border control. We started our growth by working with the Hong Kong government for around two years as it overhauled its identity systems", says Ted. In 2001, Biometix implemented the SmartGate prototype in Sydney. SmartGate is the automated passenger processing system that most international travelers are now familiar with. By the time international travel to and from Australia opens up again it is expected that 90 percent of travelers will use this technology.

Serving the needs of a global community
The identity projects and SmartGate were part of the global trend towards stronger security systems post 9/11. SmartGate was the first one of its type in the world and because the technology can be used in any country that allows passengers with passports to travel. The technology is seen as ubiquitous; the combination of these experiences opened up a number of global opportunities for Biometix. "Since 2002 we have worked with and continue to work with key government agencies in the United Kingdom, Europe, United States, New Zealand and Singapore. I also do quite a lot of work with NGO's like the World Bank", says Ted.
In 2020 Biometix spun off its evaluation and testing operations into a new facility called BixeLab. This lab has now only the second lab in the world accredited to undertake internationally recognized testing for biometric systems.
There is also growing interest in the BixeLab services from the financial sector. To date BixeLab has worked with several major financial players including Barclays in the UK and IG Group in the Netherlands. "We are not just working with traditional border security; we address pretty much anything that is moving across borders. When we think about border control, we think about people boarding planes and going to a different destination. But clearly, border control is much broader than that", says Ted.
From necessity comes invention
Biometrics as a tool is today being used in everything from identification to border control to the digital economy. One area in which Australia is playing a leading role is in the creation of a digital identity framework, which will allow people to transact online safely. "Think of your banking apps using fingerprints or face recognition. We are working with a number of Australian banks. There are many different ways that biometrics can be used to identify people", says Ted.
Biometix provide three core services: advisory, consulting and evaluation services. "We sell analytic software that sits behind the biometric recognition. When you have a large-scale identity or biometric system, you need software that could help make sure that the process is as accurate as possible. Essentially it is governance software – it puts in place all the right checks and balances. We also provide services to help manage the exchange of identity information", says Ted.
Ted says that there are a number of companies providing services around digital identity in the banking sector for example but very few are providing the specialist advice and management around governance. "If you're looking for firms who may provide the service, you will usually end up with one of the 'big four' who provide a general set of management services. Biometix is unique because of the governance specialisation we have developed", says Ted.
Marketing the not so ordinary
"When government agencies and banks are choosing to purchase services, they don't necessary turn to a website or a trade magazine. They have networks of people that they deal with and you need to be known to these networks in order to win work", says Ted. He says it is important to build connections and one of the most useful ways for Biometix to do this in the past has been to attend conferences and speak about what the company does.
Biometix employs around 15 people servicing clients around the world. Ted says that having a relatively small company really only becomes an issue when there a bottle necks in allocation of key staff. "Pre-COVID, I spent an awful lot of time on planes keeping across this. COVID has changed the way we work, and we can now service a client more regularly and in their time zone while working from Canberra. In a strange way COVID has been a net positive in our ability to work globally", says Ted.
Working across countries
A key lesson Ted has learned is that when dealing with governments is that each country is unique. "Every country has its own expectations about what they want to achieve and how they want to get there".
"Having said that, people, no matter where they are, respond to expertise and personal relationships. Things are much easier once you have that relationship in place", says Ted.
When dealing with the US government for example, Ted says that you usually have to deal through a Prime contractor that already has a contract in place with them. This is usually another big company with an established reputation. "The guys you deal with on the ground are fantastic but the people making the decisions are generally not in the room when you are talking about your product. As soon as you have left the country, the decision makers believe that they can save money addressing the problem in some other way. It is tricky, because you need to be dealing with the right person and the right person is rarely the technical person who is excited about your technology".
What's next for Biometix?
Ted says that COVID has forced a pivot for the business and the advisory services are being supported by an online training platform. "It's like an online community. It allows us to broaden our marketplace because there are a lot of countries that would find our expertise useful, but normally wouldn't be able to pay for it or we couldn't get to them. This is really exciting for us and provides the potential for some real growth for the company".
Ted has also created a highly successful spinoff from Biometix, BixeLab "We have been using biometrics testing and assurance for many years. But it's always been in the context of request for proposal evaluations . Now, that formal ISO standards are in place, we have achieved only the second ISO standard laboratory in the world recognized as able to test biometric and identity systems. And we've had all sorts of interesting new clients including some major names in the IT world.".
For more information on Biometix, visit https://www.biometix.com
For more information on BixeLab, visit https://www.bixelab.com
An initiative of the ACT Chief Minister's Export Awards
The ACT Chief Minister's Export Awards aims to showcase and celebrate the achievements of Canberra region exporting businesses. These Canberra and region businesses transact significant parts of their business activities (legal, accounting, production, research etc.) through the ACT as they develop international markets. The ACT Chief Minister's Export Awards aims to build the pathway for new and emerging Canberra region businesses seeking to internationalise their business. If you are a new or existing exporting businesses in the Canberra region, you can access a range of support as well as network with other exporting businesses, including

The ACT TradeStart Program helps ACT exporters to achieve long term success in international markets. The TradeStart program allows the ACT Government to work closely with Austrade and access key Austrade resources such as their export database, trade mission activities, their off-shore offices, intelligence and international connections for the trade and investment activities to support ACT exporters.

The International Business Engagement Program is being delivered by Canberra Business Chamber on behalf of the ACT Government. Its main objective is to maintain, rebuild and find new opportunities for Canberra and region businesses to engage internationally. The program focuses on building the Territory's exporting community; providing training and support by facilitating seminars and workshops; creating links between local industry and other government support programs; assisting the ACT Government in co-ordination of business trade delegations (outbound and inbound).