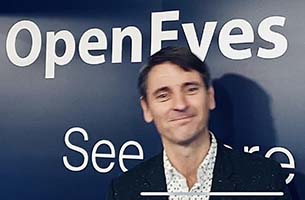 It's hard to imagine that many of the interactive medical systems we now use to book appointments, get test results and talk to a doctor were once paper based. One such system is the Pharmaceutical Benefits Scheme (PBS), that plays a major part in the Australian health system by providing affordable medicines. In 2012, ToukanLabs developed PharmCIS with the Department of Health – a centralised paperless system that allows streamlined and efficient processing of pharmaceutical products in Australia.
Clayton Blake, CEO of ToukanLabs says that the company has been working in health tech for many years and during this time has also worked with Defence, Export Control, as well as big national systems like the PBS in Australia and the UK. "About six years ago we made a decision to focus on health because this is the sector where we believe we can have the biggest impact. We had been working in other sectors like oil and gas and export control, but the bar is quite low in terms of impact and expectations. We are effectively an R&D shop and are driven to develop innovative technologies that help people live longer, better lives". The company has won a number of awards for its products.
The eyes have it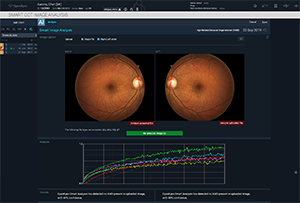 One of the areas where ToukanLabs is having a major impact is in eye care. "There are more outpatients for eye care than any other health condition, but it receives one of the lowest levels of service. While conditions like cancer and major organ ailments require focus, the cost of inadequate eye care is extraordinary. In Australia alone there are around 407,000 people that are blind or have vision loss due to conditions that are in fact preventable or treatable. We have worked with the Centre for Eye Research and the CSIRO, to help identify possible solutions", says Clayton.
One of the resulting products is called OpenEyes http://toukanlabs.com/openeyes.php, which is an Electronic Patient Record (EPR) application for Ophthalmology. OpenEyes is a web-based system that enables clinicians to access all the information they need in one place. It's an end-to-end system from the patient's appointment, examination, surgery or other treatment through to discharge notes, all in one paperless system. "We included advanced AI features to make the system highly graphical and interactive. The Ophthalmologist for example can draw on the "person's eye" to highlight areas of potential complication, a diagnosis can be made, and a treatment approache identified. We have a large network of clinicians around the world who donate their time because they like what we are doing. We have world-leading eye surgeons who invented laser surgery who want to be involved in the next big innovation in eye care, for example. There is no way we could do what we do without the expertise that they provide", says Clayton.
Over the past two years, ToukanLabs has secured contracts in Scotland and Wales. "We are working with 25 hospitals and 500 optometry centres, like Boots and Specsavers to connect them up. The aim is to reduce patient referrals to hospitals by up to 20 percent and in turn reduce waiting lists. The solution is a system of virtual clinics where patients go to optometry centres rather than a hospital and receive a virtual examination and/or treatment by an eye surgeon. This work has also helped address some of eye care issues during COVID", say Clayton.
Developing locally, selling internationally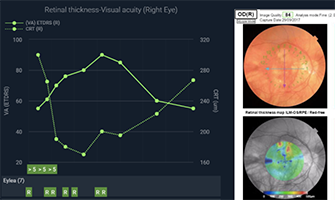 ToukanLabs is a Sydney registered company employing around 50 staff. The main office and R&D headquarters are based Canberra. The company also has development teams based in the UK, Sydney and Melbourne. Clayton notes that even though the majority of development work is done in Australia, the take up of their products has been principally by international customers.
"It's not impossible to sell to the Australian government, and we have worked with them for 10 years on the PBS project, but it is heavy going. It took a lot less effort to land two national contracts in the UK, but you just have to work with it. There are a lot of enthusiastic people in Australia and on a state-by-state basis there is a lot of interest and support. But it is hard to get things done on a national scale. Our OpenEyes product for example is difficult to put in place because there is no overarching approach to eye care in Australia", says Clayton.
The OpenEyes approach can also work in other health sectors. There has been interest from the dermatology and neurology sectors. Mental health providers and neurology professionals believe it could also be relevant in their fields. "Diversification is the big plan, but right now my focus is on trying to get OpenEyes into as many corners of the earth as possible. We are currently working in Greece where there are around 178 eye surgeons per million people; this is more than almost anywhere else in the world. The UK for example has around 1500 and Australia less than 500 surgeons in total. The eye specialists in Greece are all UK registered surgeons and they are prepared to provide services remotely. Our software provides the ability for surgeons in Greece to triage patients in other countries. This provides some really exciting possibilities", says Clayton.
Breaking into big markets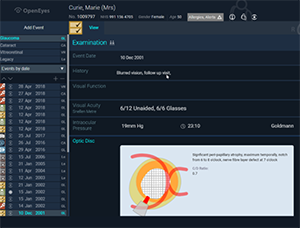 Although there are some competitor products in the market, Clayton says that many are still paper-based and a bit 'old school' and expensive. There is one product out of New Zealand that would be the closest competitor.
"Because we are an SME, the only way we can get the exposure and really get into market is through collaboration. We work with a lot of research bodies, including the CSIRO on the R&D. The way we work with hospitals, is also more of a partnership. We do a lot of trials with them and this works well in validating our products. We also work with a range of partners to test the compliance of our products", says Clayton.
Clayton says that medical compliance is complicated. The requirements across and within Europe are different and those in the US are different again. "We have access to around 15 ethical compliance officers that work on every release of the product to make sure it is compliant in every country we sell to", says Clayton.
Lessons learned
ToukanLabs understands the challenges and opportunities the health sector provides. Clayton says that the sector is continually changing, and COVID-19 has been a big test of the resilience and adaptability of the health sector worldwide. Clayton highlights a couple of the key learnings for him to date.
Australia has been a great development ground for ToukanLabs, but it is about learning to identify those contracts where you can affect the most change. "I've seen so many companies with fantastic products get into one hospital and never expand to the next level. They are not looking holistically, but rather believe that that they have the best product in the world, so everyone should just buy it. Ten years later however, that product is still in only one or two hospitals. I believe that it's not just about reviewing a contract it is also about evaluating the client and how you can partner to launch your product and grow acceptance of your product. As an SME, you have to be very choosy. You may get your product into an area or department of a hospital, then all the heads change, and you basically have to start again. I tend to look for places where there is a big incentive to drive change and they are prepared to invest not only their money but also their time in making that change happen", says Clayton.
"The impact of what we are doing is pretty easy to measure – it is in waiting times for eye care treatment and a reduction in blindness. How we are actually going to measure the reduction in waiting times is not clear yet, but we have fully engaged our client in working out the best way to do this. Waiting time on the NHS for eye care has blown out from one to five years and we use our expertise to identify approaches and test them in partnership with our client. It is the best way to get a positive and long-term outcome", says Clayton.
To date the company has grown organically. Clayton says that this has probably been a barrier to expansion. "While there has been interest from investors, our philosophy of helping people live longer and better lives is not always attractive to a VC who is looking to build up a company to sell it within 4 years to get a return. It can be difficult to find VCs where your values align. We could expand quickly, but we prefer to focus on the 10-year plan".
What's next for ToukanLabs?
ToukanLabs has a large R&D budget and around 10 percent of products have market potential. Clayton said that he encourages Greenfield thinking in the company and runs internal hackathons. "Over 24 hours we encourage staff to do anything they have an interest in and that they think will fit in with the company's portfolio. We then have a presentation day and if the team agrees on any product, we develop a prototype and test it. We encourage the use of technologies like AI and block chain to find the next big thing", says Clayton.
The company is currently working on an imaging solution to address the storage of images coming from optometrists, hospitals and other specialists involved in eye care. These need to be stored, retrieved and analysed but there is currently no platform available to store this amount of data. Clayton says that this is an enormous opportunity and ToukanLabs will be rolling out a solution in the next three months.
Working during COVID has been a bit of a shift for the company. "We have a lot of tools that we use to manage our decentralised team. We have sessions across our global team on a regular basis. We need the content, but they need the connection. We will keep this up even after COVID. Isolation and disconnection are a big danger with a decentralised model, so ongoing communication is key", says Clayton
"One of the biggest problems with working remotely is that it is relatively easy to switch off – literally", says Clayton.
For more information about ToukanLabs, visit http://toukanlabs.com/
An initiative of the ACT Chief Minister's Export Awards
The ACT Chief Minister's Export Awards aims to showcase and celebrate the achievements of Canberra region exporting businesses. These Canberra and region businesses transact significant parts of their business activities (legal, accounting, production, research etc.) through the ACT as they develop international markets. The ACT Chief Minister's Export Awards aims to build the pathway for new and emerging Canberra region businesses seeking to internationalise their business. If you are a new or existing exporting businesses in the Canberra region, you can access a range of support as well as network with other exporting businesses, including

The ACT TradeStart Program helps ACT exporters to achieve long term success in international markets. The TradeStart program allows the ACT Government to work closely with Austrade and access key Austrade resources such as their export database, trade mission activities, their off-shore offices, intelligence and international connections for the trade and investment activities to support ACT exporters.

The International Business Engagement Program is being delivered by Canberra Business Chamber on behalf of the ACT Government. Its main objective is to maintain, rebuild and find new opportunities for Canberra and region businesses to engage internationally. The program focuses on building the Territory's exporting community; providing training and support by facilitating seminars and workshops; creating links between local industry and other government support programs; assisting the ACT Government in co-ordination of business trade delegations (outbound and inbound).