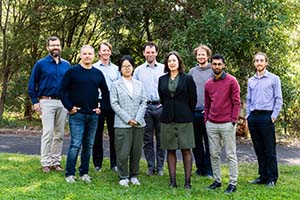 Monitoring and forecasting the impacts of land management practices on production, greenhouse gas emissions, food security and sustainable development is a rapidly growing industry. The need to reduce carbon emissions is becoming increasingly important to meeting international commitments, inform domestic policy imperatives, establishing and implementing more sustainable land management practices. This is not a simple process and it is made more complex by the diverse approaches to the Measuring, Reporting and Verification (MRV) of greenhouse gas emissions. The Mullion group works with its clients to replace often ad hoc processes with inclusive systems that make use of the best data sources available.
CEO Robert Waterworth believes that Mullion's key differentiator is that the company is not a startup or spin out from a research organisation that has developed a cool tool or algorithm. While those are important, they only provide individual parts of a total solution. "Because of our background, we came at the problem from the client's perspective and look across all their needs. Clearly these vary across client groups and the only way to meet these requirements is to have a system that can integrate all of those tools and algorithms in a coherent and customised manner. FLINTpro is this system."
This systematic approach also allows Mullion Group to work with new ventures and institutions that produce new tools and algorithms which adds continuous, incremental depth to the FLINTpro system. At present, we recognise no other companies currently working in the integration space. This enables Mullion to engage with a range of users and clients to offer a customised solution.
Robert says that the company's proven experience is also a big differentiator. "The founders have worked together on land sector and climate change for over 20 years and the core team has over 10 years' experience across policy, science technical and markets". This reputation has helped build a solid foundation for FLINTpro "We have a good pathway of projects that are generating solid income, and this allows us to focus on growing the business and customer base".
Changes in business direction
Like most Australian companies, the past 18 months has had its challenges, but Mullion has also used this time to build on the company's offerings.
The company's original subscription model has allowed customers to run a range of sophisticated models and query the data themselves through an intuitive web interface. Over time Mullion Group found that many clients lacked the internal capacity to run those models. They also discovered that some clients didn't need results as frequently as others; banks, for example, may only need numbers and analysis for annual reports.
However, there was strong recognition that the data FLINTpro produces is unique in its scale and detail. Mullion Group is pleased to witness a rapidly growing interest in accessing the data and the results on an ongoing basis, without taking responsibility for running of simulations.
"So, we automated large parts of our systems. Clients still log into the same FLINTPro subscription service, but they see the results without running the models. This is generally a cheaper and faster way for them to get the results they need. It also gives them the interfaces to do the reporting and address any specific queries".
Mullion also built an additional business model based on selling data services. Many groups have existing spatial data processes but need the type of carbon data that Mullion captures for a complete a site analysis. "In many cases they can't build those models, because they are very complex. We can either run it for them or we can sell them the data for them to use internally", says Robert.
Mullion is also working on automatically linking its backend systems to other apps to enable clients to receive data in apps they are already familiar with. This eliminates the need for clients to invest in additional apps and/or technology. "So basically, the big change has been diversifying the subscription services that are core to the business but opening up a whole lot of extra revenue opportunities", says Robert.
The importance of partnerships
Mullion has been developing strong partnerships in the US and United Kingdom. Among these are Space Intelligence and terraPulse, both of which are world leaders in applying machine learning to global satellite imagery to extract actionable and for land-use and business decisions.
"The data products from these companies complement our work perfectly, allowing us to provide our clients with ready access to high quality mapping products to improve the carbon modeling rather than relying only on the lower quality global data sets that are freely available. This changes our profile with customers and opens up multiple opportunities for us, and our partners", says Robert.
The market
Robert says that multiple opportunities have opened up in the domestic market over the past 6 months. "At the moment, I'd say our income is 60 percent export and 40 percent domestic, whereas last year it was more like 80 percent export and 20 percent domestic. Our monthly revenue has pretty much tripled during this period. I think that is in big part due to a better understanding and recognition of what we do. But as our income grows so does our investment in our platform", says Robert.
A lot of Mullion's current work is coming from the US and a smaller part from Latin America. Minimal work currently comes from the EU, but the company is actively targeting the region's financial sector where there is a growing demand for data to support responsible investment and help corporate reporting for Environmental, Social, and Governance (ESG).
Marketing in different countries has been struggle for Mullion in the past. "In some ways COVID initially helped us a lot because everyone was working on Zoom and that evened up the playing field. But we are beginning to see a shift back in the direction of the face-to-face business model. Australia's stringent international travel restrictions could disadvantage the company in the short term. In this regard, Mullion Group is committed to establishing strategic partnerships in the EU and US that can both market and deliver FLINTpro to their clients.
Robert says that the different regulatory frameworks also make working internationally fascinating. "Countries and organisations are developing their own guidelines and methods for carbon accounting and reporting. This means that your product needs to be flexible enough to deal with all those variations. And we need to keep on top of them all". Robert believes that FLINTpro system could play an important role in helping global organisations understand and measure carbon to facilitate the trading of carbon credits, but he is fully aware of the level of inconsistency in how organisations account for carbon both within and across countries. "These complexities all add time to the sales cycle", says Robert.
The challenge of resourcing a growing business
Mullion has added a few developers to the team recently, and the team will continue to grow rapidly in the coming months. "It's that small business problem – if you get a whole lot of business all at once and you don't have the staff to deliver it you can't just ask everyone to work twice as hard", says Robert.
Robert says that finding resources in some areas of science is easier because of current movements in the local research institutions. "Developer resources continue to remain tight given that there are some really good IT companies in Canberra. And then you are competing against the contractor market that services Government. But we are finding that many developers want to make a meaningful difference to the world while also working across a wide range of technologies that builds their experience. There are not a lot of opportunities to do this, so we have a competitive advantage".
The tough part is building an overseas team, says Robert. "It's not just the distance, but also the cultural differences. We have a few people overseas and we are looking to expand that pretty heavily in the coming six months in the US and EU. That is going to be an interesting process". Mullion plans to have 20 staff located in Canberra leading the policy. The company may look at partnerships to help with this growth.
"Resourcing is a challenge. The key thing for us is automating as much as possible and we have come a long way in being able to run these models very quickly. We tested this on some projects in Australia and where it was taking up to three days to estimate carbon stocks on a single project area, we could run it in about 15 minutes. In fact, we can run about 20 of their projects in about 15 minutes," says Robert.
What's next for Mullion
Mullion is currently in the middle of a capital raise to continue building up the back end of the platform and the team around it, as well as the sales and marketing team. Building additionally functionality in the platform is also a key focus including concepts for biodiversity and water to service the growing need for broader environmental reporting. This will enable Mullion to increase its market coverage and customer base.
What are some of the lessons learned?
Robert says the company has learned many lessons over the years and that there are many more to come. Some of the key learnings so far are
Having a strong background and reputation helps. Being recognised as experts in your field gives initial clients confidence that you can deliver.
Focus on the market. Building the early customer base and earning income is important but understanding what the market really needs is key.
Having an "Advisory board" in some of your target countries would help establish your reputation and help you identify/access potential clients.
Focus on targeted and relevant marketing. A good informative website, LinkedIn has been good, but no one engages with companies like Mullion on Facebook or Instagram.
Build your networks because a lot of work will come through your own contacts and other linkages.

For more information on Mullion Group visit https://www.mulliongroup.com.au
An initiative of the ACT Chief Minister's Export Awards
The ACT Chief Minister's Export Awards aims to showcase and celebrate the achievements of Canberra region exporting businesses. These Canberra and region businesses transact significant parts of their business activities (legal, accounting, production, research etc.) through the ACT as they develop international markets. The ACT Chief Minister's Export Awards aims to build the pathway for new and emerging Canberra region businesses seeking to internationalise their business. If you are new or existing exporting businesses in the Canberra region, you can access a range of support as well as network with other exporting businesses, including

The ACT TradeStart Program helps ACT exporters to achieve long-term success in international markets. The TradeStart program allows the ACT Government to work closely with Austrade and access key Austrade resources such as their export database, trade mission activities, their off-shore offices, intelligence and international connections for the trade and investment activities to support ACT exporters.

The International Business Engagement Program is being delivered by Canberra Business Chamber on behalf of the ACT Government. Its main objective is to maintain, rebuild and find new opportunities for Canberra and region businesses to engage internationally. The program focuses on building the Territory's exporting community; providing training and support by facilitating seminars and workshops; creating links between local industry and other government support programs; assisting the ACT Government in co-ordination of business trade delegations (outbound and inbound).