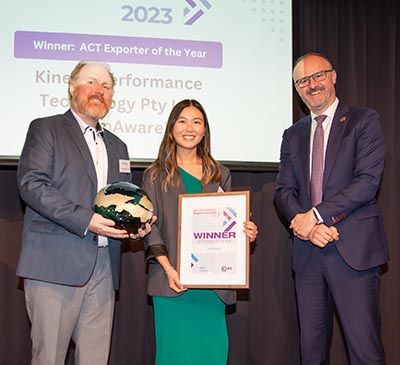 Kinetic Performance Technology (GymAware), has been awarded the prestigious 2023 ACT Exporter of the Year Award in an awards ceremony held at the Canberra Airport's Brindabella Conference Centre on the 18th September.
GymAware is a Canberra business success story with 89% of their sales being exports; 80% to the USA, followed by 10% in the UK and 6% in France and China. The company has also won the Advanced Technologies award category.
GymAware is the global leader of Velocity Based Training solutions. Their products, GymAware RS and FLEX, are designed to help coaches and athletes of all levels measure and track strength training activities in the weight room. Their technology has been a crucial component of weight training for professional athletes across various sporting disciplines, helping hundreds of teams and individuals prepare for their career-defining moments on the field. Their systems are used in weight rooms across 65% of all professional US Sporting teams, all teams in elite leagues like the NRL and Super Rugby, as well as other esteemed international teams like NZ National team (All Blacks).
Category Winners:
The award ceremony held at the Canberra Airport's Brindabella Conference Centre showcased a number of emerging and established exporting companies in the event proceedings.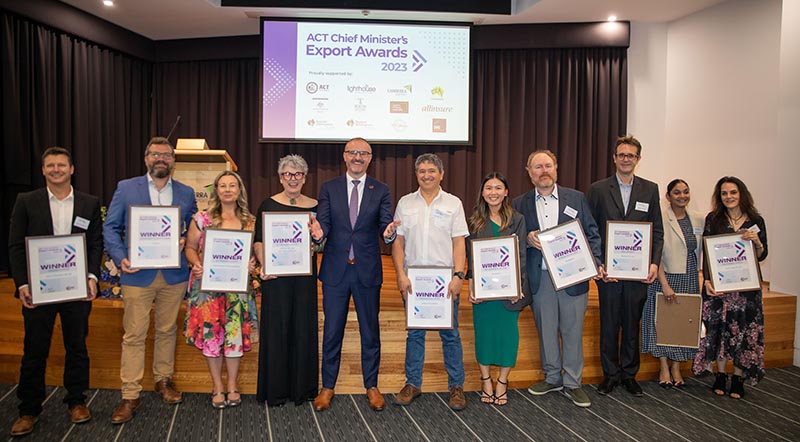 The ACT Exporter of the Year trophy is a one-off piece designed by Annette Blair a glassmaker based in the Canberra region. Working out of the Canberra Glassworks as well as her home studio in Burra NSW, she has dedicated her practice to refining technical processes to make beautifully crafted objects and create one-off artworks for exhibition and export. She also works regularly as a gaffer; making glass works for other high-profile artists as well as traveling to teach glassblowing and glass painting nationally and internationally.
The Australian Export Awards is one of the longest running business awards programs in Australia. Now in its 61st year, it is a national program that celebrates the achievements of extraordinary Australian exporters, and the far‑reaching impact they have on the nation's economy.
The Export Awards operate as a two-tier process. The ACT winners in six categories will progress as finalists in the Australian Export Awards. The ACT Promising Exporter category is an ACT specific category that recognises the strong foundations and potential of the awarded companies.
The National Export Awards ceremony will be held in Canberra in November.
Photo credit: Canberra Airport.