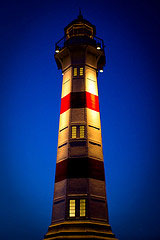 Sensors have played a role in government asset management for a long time, but new technologies like digital beacons may provide opportunities for entirely new industries. It's no longer just about the content, but also the context and the way information is experienced.
Beacon transmitters are now much more accessible and affordable and allow notifications to be sent to smartphones whenever the user is in the vicinity of a beacon. Beacons could be used in a variety of settings to trigger a free app, loaded with all sorts of content about the location, including maps, video and coupons.
Lighthouse spoke to Bree Winchester, the local Account Director of digital agency Isobar, about iBeacon Technology and its potential for providing new connections between people, technology and their environment.
Q: What are some of the ways this technology could be used in Canberra?
iBeacons have great potential when it comes to leveraging our cultural attractions as well as our amazing natural surroundings. It makes it possible to convert static facilities into interactive environments.
You could walk into a museum and as you pass a beacon it could provide you with information about an exhibit or a reminder about the starting time of a guided tour. It could be used on guided walks, paddleboat water trails around Lake Burley Griffin or for delegates at conferences or trade shows.
Q: What could this mean for retailers?
Beacon technology provides invaluable information to retailers and shopping centre managers. It can track shoppers as they walk around a store, providing valuable information that can help them plan in-store promotions and improve the experience for shoppers. Those retailers that really embrace the technology will be able to deliver highly personalised information to shoppers.
This increase in connectivity will provide an exciting platform for digital agencies such as Isobar to develop innovative and engaging story-telling opportunities as customers move through a specific environment.
Q: Is this currently being used in Canberra?
Isobar is currently working with the ACT Government to design a trial of the technology at the Canberra Stadium.
Imagine being able to use the technology to find out where your friends are sitting or receive discounts from the food kiosks or even order hot dogs to your seat?
Lighthouse Business Innovation Centre
Lighthouse has a strong track record of supporting entrepreneurs, researchers and inventers on the path from concept to commercialisation. Since July 2008, Lighthouse has worked with over 990 distinct enterprises and provided group and peer based services to over 3400 enterprises and individuals. For over five years Lighthouse has successfully delivered business advice, education, mentorship and networking opportunities to help these businesses commercialise their ideas and grow their companies. Lighthouse also delivers programs such as the ACT Microcredit Program for the ACT Government. Visit www.lighthouseinnovation.com.au for more information.