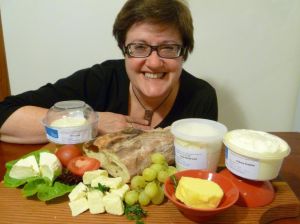 At Lighthouse, we hear about great business ideas every day and many of these ideas originate from the things people are really passionate about.

Maureen House is just one such person, she started her business around something she really loves - cheese!
Cheese has always played a role in Maureen's life, particularly when she was younger.
"I've always liked cheese; I grew up on a family farm in Western Australian and we used to make our own cheese all the time."
After spending a year in Italy with her husband, Maureen's love of food and cheese in particular flourished.
"We were fortunate enough to spend a year in Italy where fresh cheese is everywhere!"
"When we came back to Australia, I felt the cheese here just wasn't the same and that there might be a business opportunity in that."
Not wanting to return for too long to her public service job, Maureen wanted to do something new.
"I left my Public Service job at the end of 2012 to go and study cheese making at the Artesian Cheese Making Academy of Australia in Adelaide."
"Next was finding a property to lease to build a cheese making facility and finally in 2014, the Cheese Project was launched and I started selling fresh varieties of unripened cheese."
The Cheese Project is the first commercial cheese making business in Canberra and offers a unique selection of cheeses.
"I make what is known as unripened cheese," says Maureen.
"Most Camembert or Parmesan have a mould growing on them and have hardened or ripened. My cheeses are very mild and very fresh."
"You can import Parmesan, Brie and other aged cheeses and you can get cheese from anywhere around the world, but it is much harder to get something that was made yesterday. This is now my speciality – fresh cheese."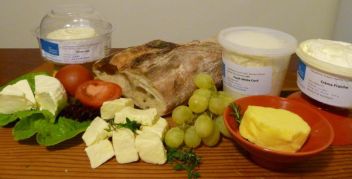 When starting out in the food industry, Maureen knew she needed to get as many people as possible trying her products, so she started selling her cheeses at the Southside Farmers Markets.
"With food, it's all about taste; you have to engage every person, offer them a taste and you might get a customer out of it and you might not."
"My original plan was to release the products through the Farmers Markets as well as to go knocking on doors, giving samples to chefs at different restaurants to see if they were interested."
However, Maureen admits that at the beginning even when people are receptive to your product, there isn't always a lot of profit to show for it.
"At first I did think, 'I'm the first local fresh cheese maker – everyone will want me!' but that's not always the case."
"The 'tasting' customers won't always be the 'buying' customers," she says.
Maureen cautions new food businesses not to underestimate the time and costs involved in introducing new food products to restaurants and potential distributors.
"Initially you might only sell enough to cover the cost of petrol and ingredients, certainly not your time.
"At the start up stage, you just have to be out there. You definitely won't be making a fortune straight away."
Maureen has learnt a lot from starting her own business, in particular the amount of effort and commitment required.
"For anyone wanting to start a business in the food industry, I'll let you know that the startup phase is very hard," she says.
Maureen has the following three tips for anyone wanting to start a business.
1. Make sure you've got access to the resources you need, particularly in the first 12 months.
2. Whether it's your ingredients or suppliers make sure you always have a backup! Sometimes suppliers fall through, so always have two!
3. You need to back yourself, but also make sure that your product does have a place in the market.
So what's next for The Cheese Project?
Maureen sees the business continue to grow with new customers and new cheeses.
"Most Canberrans love Camembert and Cheddar and they know Mozzarella and Haloumi as fresh cheese; I'm giving them some of that and something new in fresh cheese."
About Lighthouse Business Innovation Centre
Lighthouse has a strong track record of supporting entrepreneurs, researchers and inventers on the path from concept to commercialisation. Since July 2008, Lighthouse has worked with over 990 distinct enterprises and provided group and peer based services to over 3400 enterprises and individuals. For over five years Lighthouse has successfully delivered business advice, education, mentorship and networking opportunities to help these businesses commercialise their ideas and grow their companies. Lighthouse also delivers programs such as the ACT Microcredit Program for the ACT Government. Visit www.lighthouseinnovation.com.au for more information.